Jimmy's Hall |

reviews, news & interviews
Jimmy's Hall
Jimmy's Hall
Loach's latest - and last? - is accomplished, human, beautiful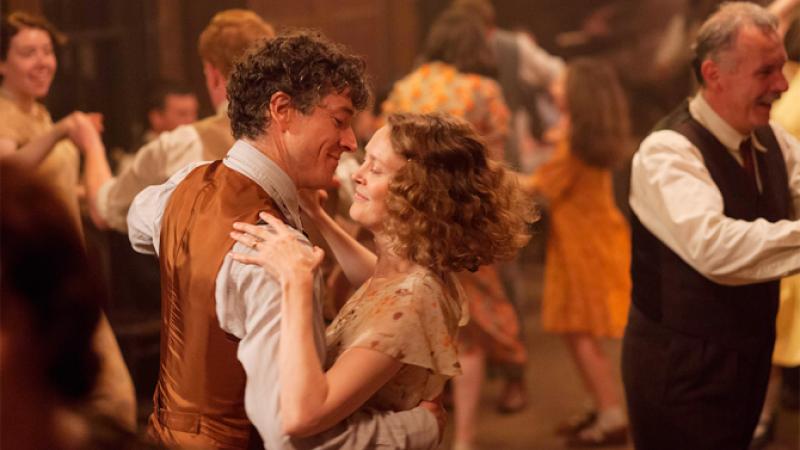 Caught up in the dance: Jimmy (Barry Ward) with Oonagh (Simone Kirby)
Ken Loach's regular collaborators have said that Jimmy's Hall will likely be the director's last film, at least on the level of major projects. And his latest work is a big piece, both in scale and in heart; it's not a defining work in Loach's oeuvre, but more than a reminder of some of the familiar motifs that have recurred in a remarkable career that now spans half a century.
The film it's closest to is clearly The Wind That Shakes the Barley, Loach's 2006 Cannes Palme d'Or winner (Jimmy's Hall came away without awards from the Croisette last week). Its main action, starting in 1932, takes place a decade later than the Irish War of Independence setting of the earlier film, but though the country's conflicts have died down, they certainly haven't extinguished: the entrenched interest of landowners and the Church (the "masters and pastors") is as strong as ever, with the varied political loyalties of different IRA factions hovering in the background.
It's the appearance of the devil's music, as Father Sheridan terms jazz, that proves the final straw
It's into such a County Leitrim landscape that the film's hero, James Gralton (the lean and handsome Barry Ward, a "hungry whippet"), returns after a decade away in America, foreshadowed in the opening black and white documentary footage of New York in the Depression, set to a jazz score that hints at the film's future musical direction. Jimmy's Hall is far from biopic material, instead Loach's regular scripting collaborator Paul Laverty has written a piece based on a real-life character, embellishing character elements to complete the dramatic picture.
Gralton was a Communist who had fled his native land a decade earlier when the political atmosphere there got too hot for him. Before that departure he had funded and established in his village the hall of the film's title, named after the heroes of the Easter 1916 Uprising Pearse and Connolly, as a gathering place for the locals that was independent of traditional hierarchies, offering an environment in which education (classes on art and literature) was encouraged as much as leisure (boxing and dancing). He's come home now, after the death of a brother and a change in government that looks likely to usher in a more liberal regime, to look after his aging mother (Aileen Henry, a non-professional who turns in as solid and emotionally affecting a role as any here) and the family small-holding. He's warmly greeted as something of a returning hero by almost everyone – the exception being the local priest, Father Sheridan (Jim Norton, another stand-out performance), who can see trouble ahead.
The hall has been long shuttered, leaving the local youth with nowhere to congregate, instead practising their Irish dancing in the open air. Their pleas to Jimmy to reopen it duly win him over, and everyone provides a happy helping hand to restore the building; a flashback fills in details on how the place was originally set up, and adds a romantic strand, introducing Oonagh (Simone Kirby, restrained beauty, with Barry Ward, main picture). When he ran away Jimmy had invited her to come with him, but she, tied down by family concerns, had refused; by the time of his return, she's married, with children, but their earlier passion hasn't died – nurtured here, chastely, in a dance sequence that is, visually, one of the film's most striking moments.
There's a wonderful sense of creative bustle in the building once it's come back to life and previous occupations are renewed – with the difference this time that Jimmy has brought back with him a gramophone and a collection of jazz records. If the mere fact of the hall's rebirth has raised Church hackles, it's the appearance of the devil's music, as Father Sheridan terms jazz, that proves the final straw, leading to pulpit denunciations about the "Los Angelization of our culture", and the ultimatum: "Is it Christ or is it Gralton?" Laverty's script makes it clear how the Church dominated, even repressed, society at this time, its popularity confirmed by the 1932 Eucharistic Congress, marking the visit to Ireland by a papal legate. On the secular front too, Gralton's activities in helping to restore tenants evicted from their homes proved no less controversial.
Laverty's script is stronger in chronicling the details of everyday life and action than some of the film's ideological points, and the villains of the piece certainly seem shallower than its heroes. That said, Norton's role as the dominant priest – who's prepared to resort to effective blackmail to get his way – has an ambivalence that makes him perhaps the film's most complex character; Father Sheridan at least comes to respect Jimmy as a man of principles, even if those principles run up against everything that's natural for this man of God. Sheridan's younger curate (Andrew Scott, pictured with Norton, above right) is also prepared to go against the official line, hinting at the different, more humane face of the Catholic church that would emerge, however slowly, in decades to come.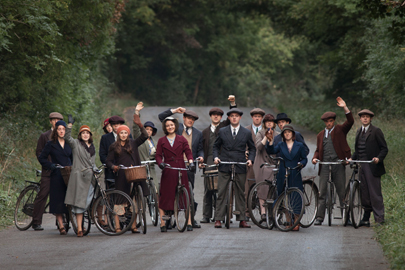 Outside the main cast, some supporting players strive valiantly to distinguish their characters. The ensemble youth cast, played by local Leitrim non-professionals (pictured left), give a real sense of enjoying themselves on screen, and Loach achieves moments of humour that aren't always associated with his work (though recent films like The Angel's Share have proved that he can handle comedy as well as anyone). And it's as beautiful a film as Loach has ever made, with cinematographer Robbie Ryan (shooting on 35 mm stock, likely another "last" on the technical front) catching the glorious greens of the Irish countryside, as well as the warm hall interiors brilliantly. Loach's veteran composer George Fenton presents a loving score, which mixes traditional Irish melodies with jazz, and an emotional texture all of its own, all of which combine in the film's final moments. There's closing tragedy here (though nothing fatal), but Loach has once again done what he has so often achieved before – reaffirming the human spirit in the face of adversity.
Overleaf: watch the trailer for Jimmy's Hall