Caspar Gomez hits Glyndebourne Opera Festival |

reviews, news & interviews
Caspar Gomez hits Glyndebourne Opera Festival
Caspar Gomez hits Glyndebourne Opera Festival
theartsdesk's hedonic rock festival regular takes in his first opera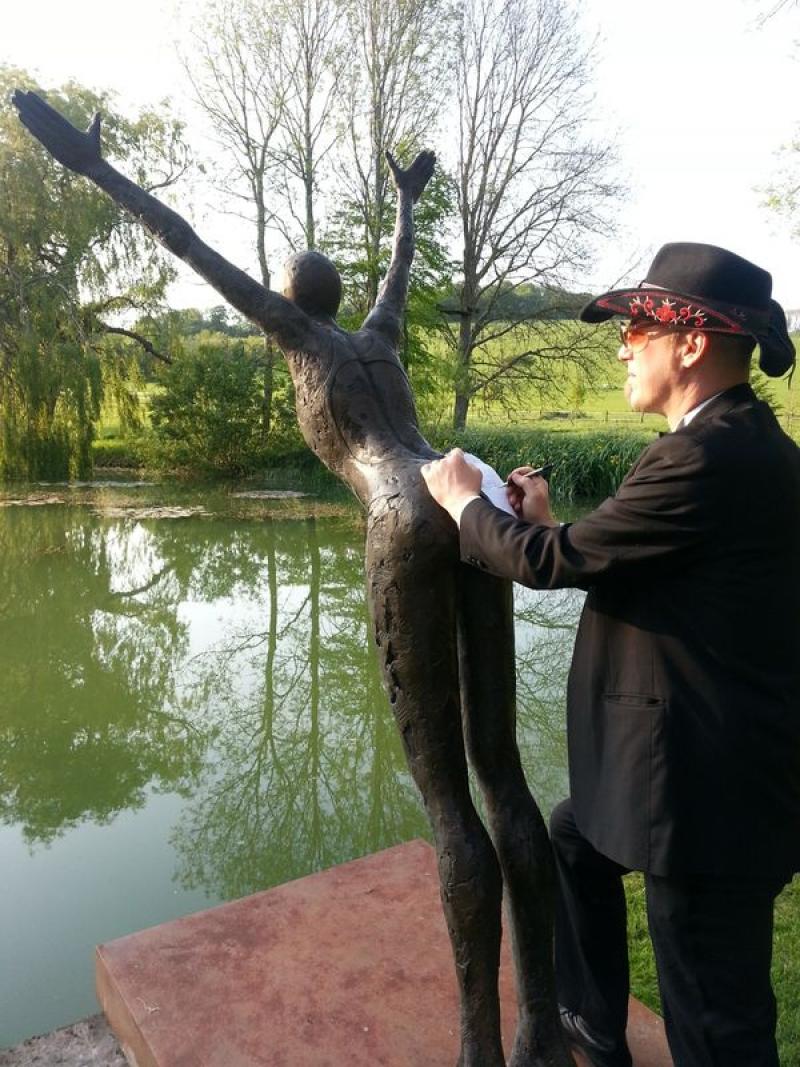 Gomez gets behind the situation
It's certainly different from the Glastonbury shuttle, I'll tell you that. I'm sitting with Finetime on the minibus that takes festival-goers from Lewes Station to the opening day of Glyndebourne Opera Festival 2014.
Finetime's looking very much the peacock today, a suit of many colours and he's even wearing an earring with a blue feather. I clank my Asahi beer against his.
"The first of too many," I say.
All around us the full minibus is silent but not unfriendly. Opera people do anticipation differently from us rockers and ravers. A man of 50-ish in a kilt sits down next to us, smiles and asks about the bus's air conditioning. It's bloody hot. The guys are all penguined up, with only Finetime all Joseph and his Amazing Technicolor Dreamcoat, so it's down to the ladies to add rainbow spirit. They do. Not as posh as Ascot, although there are amazing outfits, notably a stern-looking lady of about 70 in a ruff-collared white shirt and an iridescent floor-length skirt possibly made out of pink metal from the future.
I, on the other hand, am wearing evening wear I once bought from a Scope charity shop to fancy dress as James Bond, albeit along with army boots and a cowboy hat. I'm carrying a freezer bag containing two chilled bottles of Morrisons Prosecco that will soon be holding their own in the company of tables laden with Taittinger, Krug, Mumm and Boërl & Kroff.
I'd been looking forward to Glyndebourne and dreading it in equal measure. I was almost afraid of it. I can't start liking bloody opera! We're off to see Strauss's Der Rosenkavalier and if you want a proper review, check David Nice's as he's theartsdesk's man-who-can in this area.
I've never even been to an opera and haven't liked what I'd heard when I accidentally caught it on the radio. Years ago, a girl tried to seduce me with it late one evening, but despite her protestations to the contrary, it was about as sexy as denture cleaning fluid so that didn't work out. I like techno that peels the hair from your scalp. I like rock music that bleeds edge. I printed a précis of Der Rosenkavalier's plot off Wikipedia and read it out to Finetime on the train earlier. It was both ludicrous and complex, a convoluted affair about an aristocratic lady's young lover who falls for another and has to disentangle her from an engagement to an odious baron, all riddled with nonsensical sub-plots. As I read it, a large, sweaty man sitting opposite smirked at us, as if to say, "What gibberish." I wanted to punch his smug mug, though he may have been correct.
The day is glorious, sun high and hot, a light spring breeze taking the edge off. We step off the coach and are ushered into the grounds of Glyndebourne House. The manicured lawns gleam with verdancy, overlooked by 19th-century brickwork and the balustrading of a country mansion. The roof of the theatre, built in the early 1990s, pokes out of the top, akin to an incongruous industrial processing plant. I keep having to remember that tickets cost a ton to rev up my writerly cynicism as I look across this idyllic English pastoral. Then again, they've started selling them cheap lately to encourage non-Tories to dig a bit of opera.
We've brought chairs but we needn't have as they provide us with a picnic table near the main flowerbed. We lend our fold-up chairs to the couple next to us, who must be in their sixties, posh but approachable. We then go to the press drinks reception where people are very excited to hear we're opera virgins. A man from the New York Times tells me about the Santa Fe opera which, he says, is "all cowboy hats and hot pants." Wish I'd worn hot pants.
David Nice from theartsdesk is there too and enthuses about opera in general. He tells us that since this is a Richard Jones production, we will not fail to be impressed. I look enthused but am imagining that my response, my façade of willingness to engage, is like that of a maiden aunt being played a late-period Autechre album. Still, I knock back a couple of white wines and a £6 crustless smoked salmon sandwich, then open one of the Morrisons Proseccos, which quickly disappears. Then it's time for Der Rosenkavalier. There are three acts. The first two last about an hour each, with a short interval in between, then there's an hour-and-a-half for picnicking, then a final hour.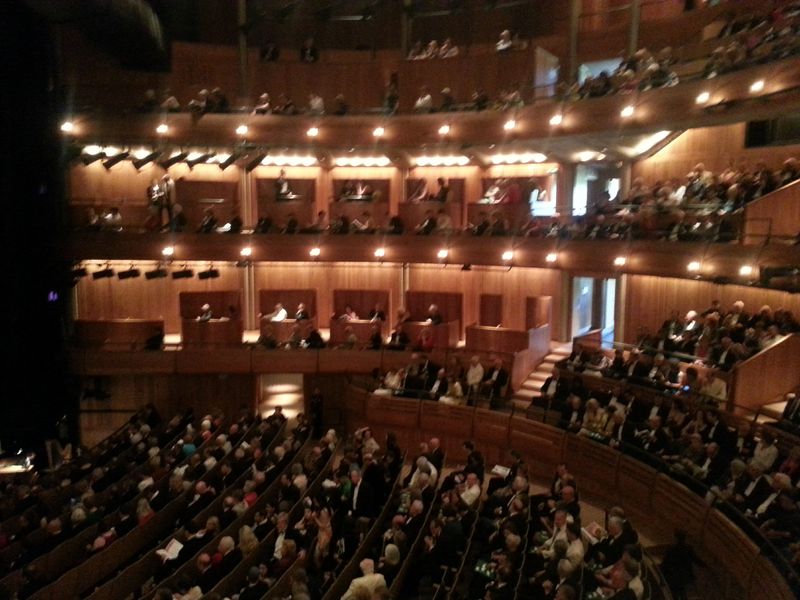 No drinks are allowed in so I have to do this weird trick I've grown good at, where I put our two full wine glasses under each armpit inside my jacket, and walk to my seat like a tightrope-walker, staring intently at my programme held in front of me, as that's the only way to make the posture of my arms look vaguely normal.
Gus Christie, the Chairman of Glyndebourne, gives a speech before the show. His father, who ran the whole thing until 2000, died a couple of weeks back. Gus pays tribute, dedicating the festival to "my dad". It's simple and moving and makes me feel a little like an imposter at a funeral as everyone cheers and claps the grand patriarch whose vision resulted in the auditorium we're all sat in, but whom I've never heard of.
Next thing, it all kicks off. There's a naked lady onstage - the Marschallin (Kate Royal) - amid a sumptuous set. She's with her lover, Octavian (Tara Erraught), who's a woman but is supposed to be a man. I initially think it's a topical gender-swap but, no, they just haven't made her look at all male. Upon closer inspection the Marschallin is not naked at all. It's a body suit. Never mind. What follows is a bit like a Carry On film with orchestral backing, the pair flirting, placing apples over breasts to be eaten, and so on.
It occurs that this opera first appeared in 1911 and there's something of the early silent film farce about these melodramatic antics. The plot starts spilling all over the place as the oafish Baron Ochs (Lars Woldt) arrives and acts the arch sexual predator. Things grow messy and I can't follow them. The truth is that the music loses me too. I simply don't get the whole opera voice thing. How do people work with that? I'd thought seeing it in context might draw me in but I feel further out. I slyly swig more Morrisons Prosecco while Finetime fidgets for England. The man next to him keeps turning and looking disapprovingly. I don't blame either of them.
It's amazing really, this whole orchestra under the stage. No amplification, all done with acoustics. These classical sorts have no truck with amplification if they can. It's a different world. When I go out, not just amplification but distortion is often treasured. Opera is like prog rock. They come up with an idea and then they over-egg it. However, there's a bit at the end of Part One that's touching. The Marschallin bemoans the passing of time. The whole opera has a feminist slant - strong female roles and women guarding each other against a predatory male - but it's wrapped in layers of "comedy" which isn't funny. There are surtitles above the stage, a good thing, otherwise it'd be gibberish. The Marschallin mourns encroaching age in German: "Time is a strange thing. When we don't heed it, it's nothing, but then suddenly you're aware of nothing else." True enough, but overall Finetime and I are feeling more the latter than the former as Act One ends.
We decide we're going to swerve Act Two. We grab our Prosecco and hide behind a bush. When all but one couple have returned to the theatre we walk over to the lake. Taking a seat as far away from the action as possible, sheep and lambs gambol in the field to our left, the rolling downs rise to our right, ahead of us is the lake, a large pond, really, covered in lily pads and giant water daffodils (only I just Googled them and "water daffodils" don't exist). Beside us is a Carol Peace sculpture of a diver in the act of leaping into the water. The only sounds are the bleating of lambs and the occasional gloop of a fish hitting the surface and taking a fly. The afternoon sun caresses it all. Life couldn't be better. I turn to Finetime in his peacock finery and have a moment, mano a mano. It's not the sort of thing I usually do but, hey, let the moment take you where it will.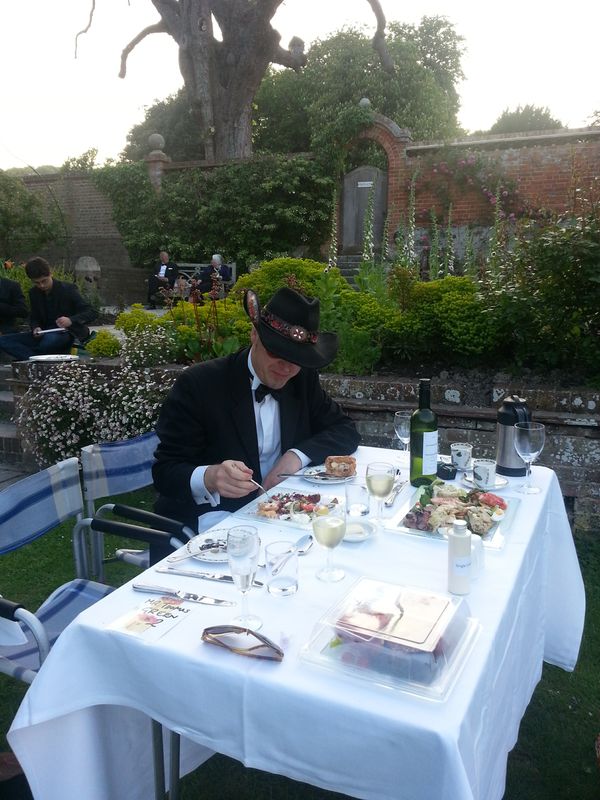 Whether you enjoy opera or not, Glyndebourne on a sunny day with a couple of bottles of fizz inside you is quite something. Finetime and I wander back as the crowds start pouring out. A wicker picnic hamper has appeared on our table along with a bottle of white wine. Finetime lights up the first in a series of hand-rolled Rizla cigs, rather the antithesis of our table neighbour's giant cigar. We settle to a feast, smoked salmon and salad starters, a main of lobster, chicken, beef, more salad, and a dessert so big I put it in a chiller bag and some of it's still sitting in my fridge as I write this.
Chatting with our neighbours helps to break down prejudices. He looks like he belongs in the House of Lords but he talks about Neil Young, Johnny Cash and Leonard Cohen, languidly sucking on his giant cheroot. We bid our farewells to them and take a moment to have a freshly poured shot of Energizer Z, seeing how rock festival antics will mix with opera and surprising an elderly waiting gentleman as we bounce about together, ramping ourselves up for Der Rosenkavalier's climax
Bells ring. White wine bottle up my armpit, I hit the theatre. This is the longest section, an hour, but, you know what, it flies by. Sure, it grows unnecessarily convoluted in the middle, when crowds of sinister people with masks overtake the stage but the sequences where the pervy and now wig-less Baron tries to chivvy Octavian, dressed as a woman again, into his pull-out bed, is actually amusing.
I wouldn't say the music grabbed me. Those voices still leave me cold, but the final three way sing-song has a melancholic something, perhaps because it's so familiar, one of those you hear taxi drivers playing on Classic FM as they try to keep sane at night. The way in which the Marschallin handles the loss of her lover is also impressive, especially given the period this was written.
So, no, I'm no convert to opera. It looked amazing, the production values, psychedelic drawing-room sets, fruity costumes and occasional raunch, but the music didn't persuade me. That said, Finetime and I had a real time of it, a memorable afternoon that will live in the memory long after yet another 3/5 passable rock gig has drifted out of mind forever. It's good to explore different stuff, leave your comfort zone, and if you live in my world, Glyndebourne is kingsize different with a side order of booze, food and sunlit landscape gardening.
Next thing, it all kicks off - there's a naked lady onstage
Explore topics
Share this article