Episodes, Series 3, BBC Two |

reviews, news & interviews
Episodes, Series 3, BBC Two
Episodes, Series 3, BBC Two
Any laughs left in the special-relationship com-com with Matt LeBlanc?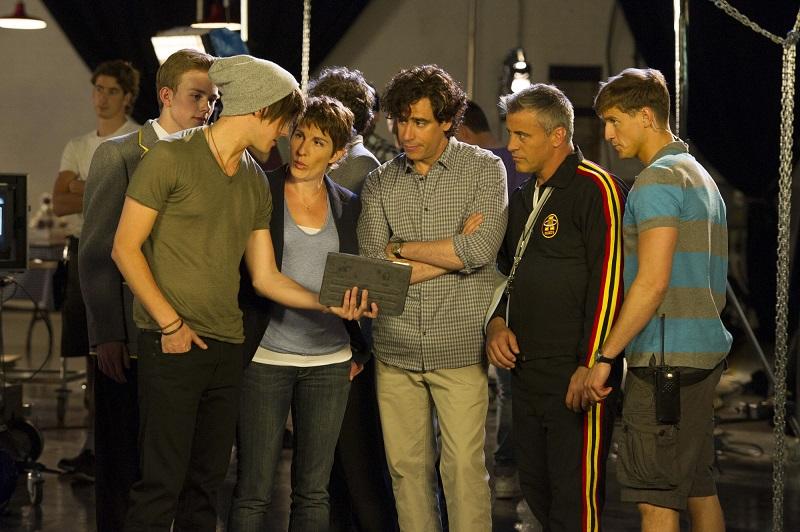 Candid camera: the cast of Episodes watch themselves
How much is too much of quite a good thing? They – whoever they are – always say that two series is the platonic ideal for the perfectly formed sitcom. The example forever cited is Fawlty Towers, joined latterly by The Office. To that short list you could now add Rev, which after two series ceased to be a comedy in order to become something else.
While nothing like as well shaped as any of the above,
Episodes
looked to have ingested that wisdom, having terminated its second series with a satisfactory clash of cymbals featuring a thunderstorm, a showdown and a reunion kiss. Where to now?
The answer seems to be soap. If you took out the punchlines, it would be possible to deliver a plot summary of each week's instalment and make it sound like a daytime drama. Take the first ep of the third series. Married writers Bev and Sean are back together after a rocky patch, but she still hasn't told him she just slept with hunk Rob. Big boss Merc has been sacked, and dumped by his fuck buddy Carol, who thinks she's going to inherit his job, and left by his blind wife for Matt, who is having custody issues with his children, and must prove he can reform only to get caught speeding.
The show is trying to go places, which is fatal for a sitcom
For this stuff to work you have to give a shit, or else the jokes have to knock the ball out of the park. Or it has to be as camp as Ugly Betty. In its current incarnation Episodes is not doing it as romantic drama nor as farcical comedy. Where Daisy Haggard as the humourless comedy exec used to do all the gurning, now the whole cast seem to be at it, filling for where the gags should be.
The problem is that the show is trying to go places, which is fatal for a sitcom: the best ones stay pretty much rooted to the spot for as long as they can interest their audience: Steptoe and Dad's Army obviously, but also Frasier and even Friends in which the dynamic remained basically the same despite shifting relationships. Episodes has cut itself adrift from its original set-up, which was a promising comedy about the less than special relationship between British and American popular culture: class meets crass, or swanky scriptwriters Sean and Beverly Lincoln (Stephen Mangan and Tamsin Greig) get to work with super-rich superstar Matt LeBlanc (a fictionalised version of himself). They formed an awkward triangle fraught by shifting alliances, attended by a supporting line-up of gargoyes - monstrous exec Merc (John Pankow, pictured above right) and his neurotic stick-thin AdC Carol (Kathleen Rose Perkins).
They are tolerable enough company for this sceptical viewer to stick by them and find out if Merc's replacement can kick some sand in a few eyes (yep, Carol didn't get the job). But in asking us to care about and be tickled by dysfunctional higher-ups in LA-la land, series creators David Crane and Jeffrey Klarik have gone out on one hell of a limb. Thirteen episodes of Episodes felt like enough.
If you took out the punchlines, it would be possible to deliver a plot summary and make it sound like a daytime drama
rating
Explore topics
Share this article