theartsdesk Q&A: Writers Ray Galton and Alan Simpson |

Comedy reviews, news & interviews
theartsdesk Q&A: Writers Ray Galton and Alan Simpson
Fifty years on, the creators of Steptoe and Son explain its enduring appeal as the classic sitcom is revived onstage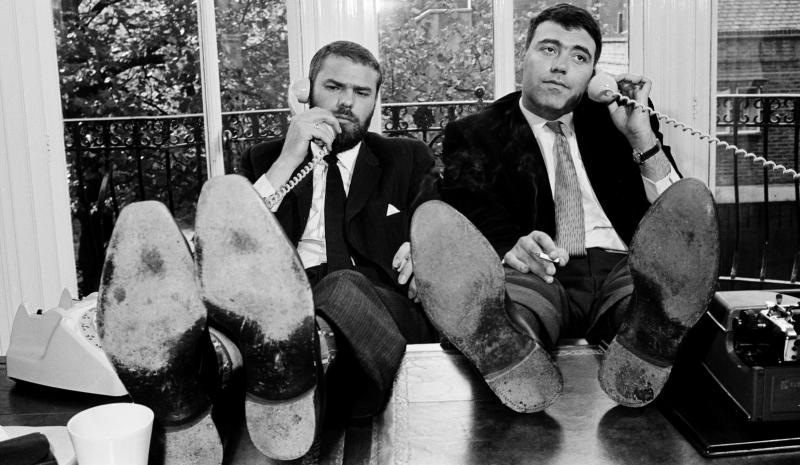 'If we wrote it now we would side with the old man': Steptoe creators Ray Galton and Alan Simpson
Is Steptoe and Son the platonic ideal of the British sitcom? Two men trapped in eternal stasis, imprisoned by class and bound together by family ties as if by hoops of steel, never to escape: it's what half-hour comedy should be. Posterity would seem to agree, because since the sitcom ended in 1974 the two rag and bone men have never been out of work, appearing in the cinema, on stage and radio. For 30 years they made and reran the show on Swedish television, underpinning the widely held theory that Steptoe is but a step from Strindberg.
Half a century after its creation, last summer Steptoe and Son dragged their horse and cart down to Cornwall, home of the experimental company Kneehigh. Their adaptation of four episodes of the show for the stage has now pulled up at the Lyric Hammersmith. When director Emma Rice sent Steptoe's creators Ray Galton and Alan Simpson the script, the opening page proposed to introduce a sort of female guardian angel who would allow audiences to see father and son through "the lens of femininity". She didn't mention that her cast would use Cornish accents. So this incarnation of Steptoe and Son is certainly different.
The episode Rice begins with is "The Offer", the first ever Steptoe script, which was written as a one-off for Comedy Playhouse in 1962. This was a series gifted to Galton and Simpson after years of sterling service writing Hancock's Half Hour, from whose star they had just acrimoniously split. Steptoe and his son Harold, played by Wilfrid Brambell and Harry H. Corbett (pictured below), took up residence in Oil Drum Lane for the next three years. The show came to a halt in 1965 and then returned in colour for another four years in 1970.
I meet the two great masters of television comedy in Ray Galton's splendid Georgian home next to Bushy Park in south-west London. Portraits of the pair – paintings and photographs - fill the hallway. Now both in their early eighties, they've known each other for 65 years, having first met in a TB isolation ward as teenagers. Both long since widowed, they complete each other's sentences.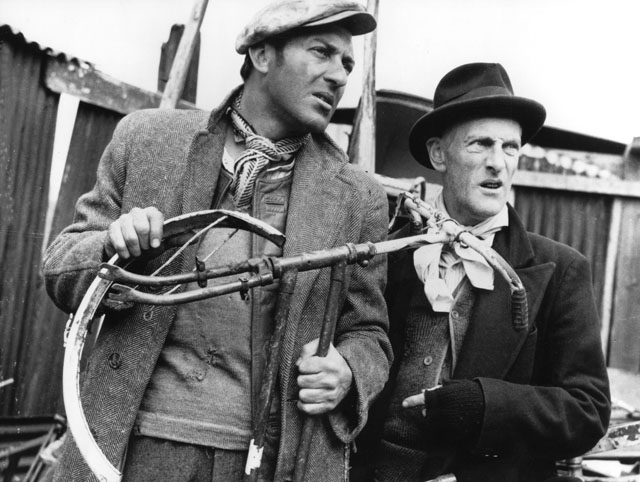 JASPER REES: Could you take us back to the moment these two men sprang into being?
ALAN SIMPSON: We were stuck for an idea for show number four in Comedy Playhouse. To pass the time I remember coming up with ludicrous ideas just to make us laugh. It was always two of everything. Two rat-catchers in Buckingham Palace. Ray said, "Two rag and bone men." I went, "Oh yeah..." I didn't realise he was serious. I thought he was joking. I couldn't think of anything myself and suddenly I thought, "What about these two rag and bone men?" He said, "What about them? I thought you didn't like the idea." We were getting to the stage where we had to start writing something. I said, "Let's give it a go." So we started writing. We didn't have any names: first rag and bone man, second rag and bone man. Ten pages of arguing. They've come in off the round. It was flowing very nicely. We got what would have been halfway through the script and we couldn't go on like this for half an hour. So we had to decide who were they, what they were doing and what their relationship was, were they brothers, related in any way? It was obvious one was older than the other and the one who stuck in the yard was moaning because he couldn't get out and about any more. And then the idea came they were father and son and that solved everything. If they'd just been cousins or even brothers it wouldn't have worked, or not in the same way. And it was the fact that the younger one was 37. He wasn't 27. He was 37 and he was trying to get away. As soon as that crystallised we finished writing the script.
We found that sometimes it's a blessing to be restricted
Who came up with the name Steptoe?
RAY GALTON: We both used to spend a lot of our time in Richmond in a gang of guys. We had a place we rented and we all used to congregate there. There was a place opposite.
AS: A photographic shop that sold old cameras called Steptoe and Figge.
RG: We didn't want Fygge.
AS: The idea "and Son" had already occurred to us. Dombey and Son. We tried Figge and Son. Steptoe and Son? Ah that's it. I always said two syllables is better than one.
RG: We knew when we finished it that it was good. Tom Sloan - [the BBC's head of comedy] who had given us this marvellous opportunity to write what we liked every week, cast it, be in it, direct it, everything, which had never happened before to writers and never will again I'm sure - first came down to rehearsals and was saying, "You know what you've got here?" We were playing it dumb. "No no no, what Tom?" "It's a series." After 10 years of doing Hancock, this star vehicle, we had different actors every week and thought, we don't want to go back on that treadmill again. In the end we ran out of excuses but played our trump card. We said it, "If Harry Corbett and Wilfrid Brambell want to do it, we'll do it." Thinking, they'll never want to do it. They jumped at it. It was a big hit and right after the first series the BBC repeated it immediately, which is very unusual. To had a run of 12 weeks instead of six.
'You dirty old man': Harry H Corbett as Harold Steptoe
There was no social mobility for them. Mobility for them was get on the horse and cart and go out for a couple of hours
More Comedy
Share this article
We at The Arts Desk hope that you have been enjoying our coverage of the arts. If you like what you're reading, do please consider making a donation. A contribution from you will help us to continue providing the high-quality arts writing that won us the Best Specialist Journalism Website award at the 2012 Online Media Awards. To make a one-off contribution click Donate or to set up a regular standing order click Subscribe.
With thanks and best wishes from all at The Arts Desk