A 21st-century Three Sisters |

reviews, news & interviews
A 21st-century Three Sisters
A 21st-century Three Sisters
The playwright Anya Reiss on modernising Chekhov for Southwark Playhouse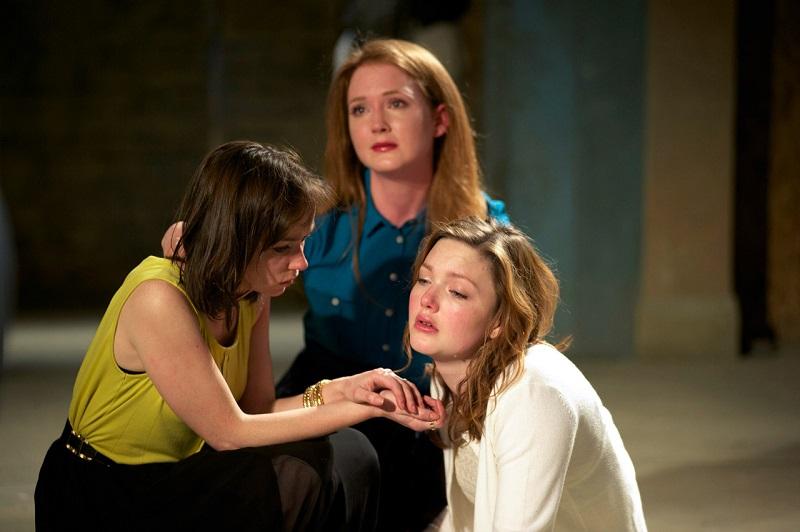 Three Sisters: Emily Taaffe, Olivia Hallinan and Holliday Grainger
About a week after my modern adaptation of The Seagull closed in 2012 at Southwark Playhouse the director Russell Bolam texted me, "Same again?" So it's now in 2014 that at (the new) Southwark Playhouse we've got our modern take on Chekhov's Three Sisters, which has just opened.
I made it modern because I can't see any other reason for me to do it. There are loads of eloquent, clever versions of the original knocking around and I don't feel any need to throw another one in unless I'm doing something different. The reason to make it modern though is more than that, and I have more than a patronising "for the kids" type attitude. Whenever we revive a play there is the standard page-five programme article from the director or whoever trying to explain to an audience why it is necessary, why we should revive now and how the play still is relevant to us. In making the version itself modern I think we answer that question, maybe even stop those questions being asked.
So that's my ethos, so Three Sisters (and indeed any adaptation of a classic I will ever do) is and was always going to be modern.
Finding a modern setting was, I'll admit, difficult. With The Seagull the requirements were slightly simpler but with Three Sisters the girls are longing for home and feel isolated, lone voices of culture in a rural backwater, and that's always going to be harder to relocate into the much smaller and easily connected modern world. I thought it would be impossible. I remembered it was about three girls whining that they can't got home to Moscow and today you simply could, so there's no way I could make it modern. (Pictured below, Anya Reiss)
But then I read it. And I realised, yes, it's harder for them to get to Moscow in the original because of cultural and economical reasons of 19th-century Russia. But could they go? Hell, yes. It's not a play about cultural and economic restrictions, it's a play about psychological barriers. About the dreams we hold our in front of ourselves and are too scared to grab. About blaming the problems of a life on a scapegoat. In the same way Irina spends the first act longing to work then the second act half asleep and dreading the next day. It's not a play about how the girls can't go home, it's a play about why the girls don't go home. And once I realised that, it all becomes pretty simple.
Updating it to an unspecified Middle Eastern country with the girls stranded after the death of their father, who worked for the British embassy, helps set up some of those practical barriers that the girls of the original have, but it's not really about those. It's about the barriers in their heads.
For me the adaptation isn't about where we set it or how we choose to solve the problems of updating. That's what everyone focuses on but it's not why I do it. For me the joy of adapting is in the language, Chekhov's ideas are beautiful and breathtaking but often in my experience trapped in archaic language and old-fashioned structure that stops me getting to grips with the idea itself. I love the challenge and process of freeing those ideas whether it's through rephrasing or just simply cutting down blocks of text and soliloquies into something more active and 21st-century.
And that's all I'm trying to do. Not trying to reinvent Chekhov, not trying to radicalise him, or to dramaturg his plays. His plays are masterpieces. They don't need me trying to set them on fire. When I want to change the face of theatre I'll be trying to do that with my own work, not someone else's. But I love the plays and I didn't before; before I couldn't see the wood for the soliloquising, samovar-ing trees. And that's all I try to do when adapting Chekhov: write his plays in a way that I can see the beauty of them and not worry about my grasp of the Russian economy in the late 19th century. In the end, that's not what his plays are about.
It's not a play about cultural and economic restrictions, it's a play about psychological barriers
Explore topics
Share this article