Maudie's Rooms, Bute Street, Cardiff Bay |

reviews, news & interviews
Maudie's Rooms, Bute Street, Cardiff Bay
Maudie's Rooms, Bute Street, Cardiff Bay
Inventive site-specific family entertainment reclaims an abandoned dockside customs house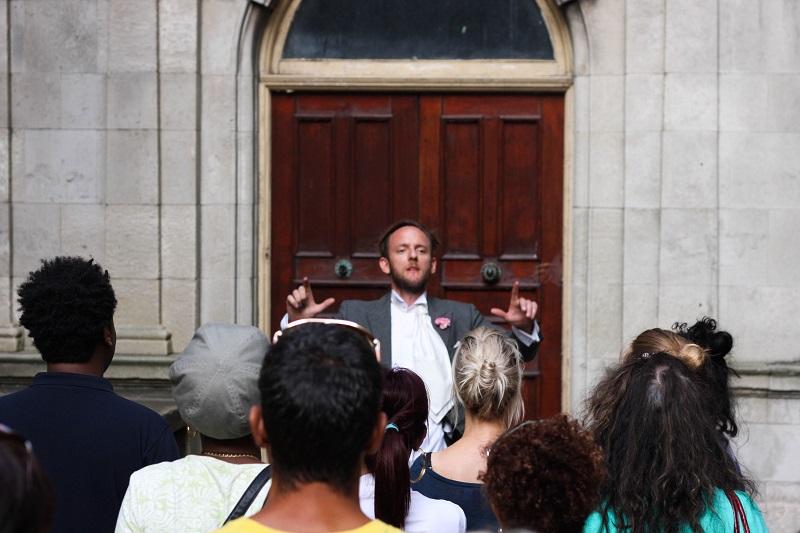 Found space: the audience gathers for 'Maudie's Rooms'
Cardiff Bay's Bute Street is home to many imposing buildings, a large number of which are derelict. They have the potential to become something more than they currently are. They can be revived, and that's what Louise Osborn has done by mounting her site-specific production to one of them. Roar Ensemble and Sherman Cymru have brought Maudie's Rooms back to an old customs and immigration house in Cardiff after sell-out performances last year.
An intimate audience of just 20 is summoned to a bus stop opposite the house, where it is met by Professor Arlo Butterworth, who appears to be lost and wearing his wedding tails. He invites them to come on a journey with him back to the house where he was brought up, which has also been provided a home many other intriguing inhabitants. Called into the courtyard by two startling puppets with Polish accents, Arlo nervously opens the door and steps inside the abandoned foyer to reveal a treasure trove of a set full of eerie Victorian penny arcade amusements and plenty of little significant symbols that crop up later on.
The bizarre journey continues as Arlo taking a dubious sip from a potion made by the wildly eccentric Miss Sweetpea. He is duly transported back to a time where the house was occupied by theatrical types and an old cleaner with a fondness for doughnuts called Maudie (Julia Barclay, pictured right) who cleaned the rooms. And it turns out that each room is a character in itself. Designed with impressive attention to detail, they offer an insight into a different era and a different life.
Of course there is a villain: the evil Sir Titus Spicketts who has kidnapped Arlo's father and is drugging his mother in order to marry her and inherit her father's great fortune. Arlo must decide whether he's a man or a mouse, and whether he's going to stop the wicked Sir Titus from ruining both his and his parents' lives.
Each room contains its own story, all carefully linked by Arlo and Maudie who all the while attempt to hide from Sir Titus. The last room introduces Teppo Kollowitz, a Polish mechanical genius who reveals a traumatic past housing a Jewish family during the Second World War, a story which for all all its plausibility might work better for young audiences with more exposition.
The production had flavours of Lewis Carroll's Alice's Adventures in Wonderland, but offers something unique. A delight to the senses, alluring and magical, Maudie's Rooms will capture the imaginations of many young children this Easter Holiday. But it is also wonderfully captivating for an adult audience, with simple yet effective moral messages underpinned by witty dialogue and energetic performances.