William Kent: Designing Georgian Britain, Victoria & Albert Museum |

reviews, news & interviews
William Kent: Designing Georgian Britain, Victoria & Albert Museum
William Kent: Designing Georgian Britain, Victoria & Albert Museum
The unrestrained creations of a neo-classicist described as both a genius and preposterous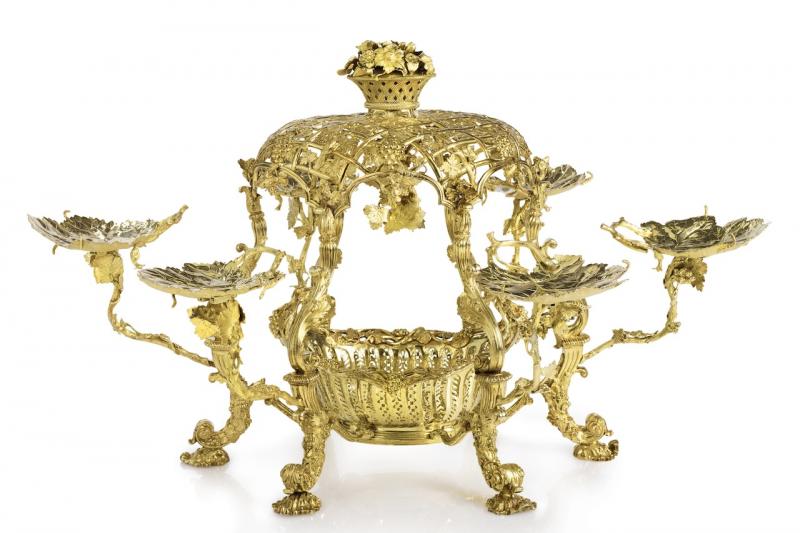 The Bute epergne, 1756, made by Thomas Heming, designed by William Kent
Initiating the tercentenary of the arrival of the Hanoverians and thus the foundation of our German royal family, this startling and beguiling exhibition of the work of the polymath William Kent (1685-1748) crams 200 objects – drawings, paintings, plans, photographs, furniture, illustrations, models – into an illusionistic array of gauzy rooms, evocative of real interiors.
The profusion is deliberate. Long before art nouveau, Kent's interiors left no surface without rich ornament. His own admirations are clear; the exhibition shows us at its very beginning marble busts modelled after Kent's terracottas of the great neo classicists Andrea Palladio and Inigo Jones.
We then glide into a sumptuous, over-the-top world of elaborately carved gilded furniture, amplified by a silver chandelier, candlesticks, gold cups, table furniture, resplendent Kent picture frames. All incorporate a welter of classically inspired motifs, unhampered by restraint.
Here are the model and drawings for the Royal Barge (the barge itself is at the Maritime Museum, Greenwich) for Frederick Prince of Wales, and the persuasive presentation drawings of proposals for his illustrious clients that Kent pioneered. Neither the proposals for both Houses of Parliament nor an impressive royal palace for Richmond were built (for the latter, you can see the massive wooden model measuring seven and a half feet in length).
Kent (pictured right: portrait by William Aikman, c.1723-25, National Portrait Gallery) was a half-educated, overweight Bridlington boy, the son of a joiner, whose early life is not reliably documented; he may have apprenticed as a sign and coach painter and he was sent to London by a group of early supporters. He was evidently also utterly charming, extravert, and enthusiastic, both genial and jovial. He became the shining star, the go-to designer, for architecture, gardens and landscape replete with follies, not to mention interior design and fanciful furniture; he was a decorative painter as well. He collaborated with many others, and for some of his interiors and houses the list of other designers and executants is as lengthy as the credits at a play or film.
In his own time he was described both as a genius and as preposterous; Hogarth thought him a contemptible dauber and labelled him CNT, as rude as it sounds, in an infamous print.
This exhibition sets out to clarify the known facts and to perhaps rescue him from Hogarth's dislike – it is ironically piquant that they are buried in Chiswick within yards of each other – and identify as well as possible the exuberant and indeed learned contributions of Kent, who absorbed with enthusiastic efficiency a cascade of Italian influences and made them, with the aid of Lord Burlington and others, his own.
Although much has been lost or destroyed in the stylistic upheavals of the past several centuries, much is left. In Norfolk, Holkham is the most complete Kentian creation, and nearby there are many interiors and substantial schemes and furniture at Houghton. There are the gardens and follies of Rousham and Stowe, artefacts at Chatsworth, decorations at Ditchley Park, and contributions to gardens and buildings at Badminton. In London there is a spectrum from Isaac Newton's monument in Westminster Abbey (a terracotta is on show), and there are significant contributions to Burlington House (the Royal Academy). Perhaps the supreme survivors are the Horse Guards and the Treasury.
The exhibition sets out to successfully beguile the visitor with Kent's enjoyment in ornament, material, and even showing off, with interiors and furniture of staggering opulence behind the austere elegance of the Palladian façades. Kent's gardens are a delightful concatenation of vistas with many a neo-classical temple or pavilion providing a welcome goal for an aristocratic perambulation. There is inspiration here for many a day out.
Kent's gardens are a concatenation of vistas with many a neo-classical temple or pavilion providing a welcome goal for an aristocratic perambulation
Share this article