World Enough and Time, Park Theatre |

reviews, news & interviews
World Enough and Time, Park Theatre
World Enough and Time, Park Theatre
A play about feminism through the ages is better in concept than in execution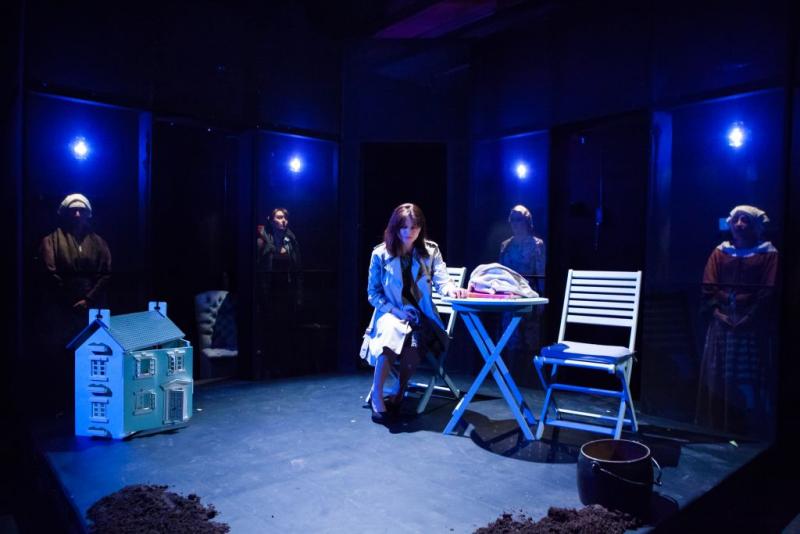 Ladies' night in N4: Jess Murphy (centre) in `World Enough and Time'
Performed by all-female theatre company, Fluff, Sarah Sigal's take on feminism through the ages drops us in and out of three time scenarios: the Royalist household of Lady Anne in 1646, the adventures of fashion journalist Pamela in 1936, and the discourse between corporate manager Celia and her recovering addict friend Lucy in 2014. Sound familiar in both structure and content? Well, if you follow the work of Caryl Churchill, it largely is.
The play's elliptical scenes and female-centric focus suggest Churchill's contemporary classic Top Girls, to which Sigal further adds an aspect not exactly coursing through her predecessor's1982 play: happiness. But as is rarely the case with Churchill, the concept here is better than the execution. Justin Audibert's direction allows a 2 hour 25-minute play to feel longer than it is, and the slide from century to century is noticeably clunky. That said, the writing does offer up some fantastically muscular characters, and Sigal – a Chicagoan now based in London – leaves us with plenty to chew over.
The play begins with Lady Anne composing what she hopes will be a speech rousing enough to inspire the women in her village to resist Cromwell's army. Her servants are encouraging but the eldest among them, Meg, reveals her doubts in private: "We're livin' at the mercy 'a these folk," she tells her fellow maids. "We work their land 'n we're bound to 'em like slaves." Delivered by the chameleon-like Yvonne Riley, her thoughts poignantly reflect more contemporary discussion on the rich as the creators and facilitators of jobs. It's the pragmatic Meg who thinks that women should safeguard their families against a selfish king and so calls for an end to discussion of loyalty.
The Civil War-era scenes, particularly the ones featuring Riley, are strongest and leave us wanting more. By contrast, those set in 2014 and focusing on the suited and booted Celia (played by Jess Murphy, pictured above, who also plays Lady Anne) are oversimplified. Privately educated Celia has landed in the corporate world from where she happily tells her jobless friend Lucy that women should stop whinging and "get their noses to the grindstone". Her narrow arguments exemplify the exclusivity of contemporary, capitalist feminism in the West. "I think feminism is too sharp a term," says Celia at one point. "It's become too loaded, too hostile. Alienating." But in fact it's her version of feminist success that is so horrifyingly sharp and leaves her little time to savour her achievements: "It isn't about being happy! You have to be willing to make sacrifices."
Pamela, by contrast, lives a whirlwind of excitement and controversy in 1936. The country is contemplating Hitler's policies and Prince Edward's relationship with Wallis Simpson is hotly debated. Pamela brings much-needed comic relief and is played to light-hearted perfection by Rebecca Dunn (pictured left). Through her clipped accent and witty observations, she reveals a woman on a steep learning curve gathering information about Germany and the influential role of women in the male-dominated political landscape.
Unlike Celia, Pamela's world is about to open up, and this is what Sigal wants for her audience. Her aim here is to get us to consider the obvious branches of feminisms (yes, plural) that have always existed and which ones are most effective in both culture and politics.
Although the production has its tiresome aspects and the images of men in it seem like an afterthought, the writing and the concept are refreshingly to the point. And if you have been here before, well, is that necessarily a bad thing?
Sigal's aim here is to get us to consider the obvious branches of feminisms (yes, plural) that have always existed
rating
Share this article