theartsdesk in the Shetlands: Seasick Vikings |

reviews, news & interviews
theartsdesk in the Shetlands: Seasick Vikings
theartsdesk in the Shetlands: Seasick Vikings
They're about to star at the British Museum. But in Britain's most northerly islands the Vikings are there all year round
Up Helly Aa: Viking Fire Festival in Shetland
"Would we be able to prosecute the Vikings today, should we? I mean are there parallels between what the Nazis did by plundering art and gold, or what the German soldiers did who raped Norwegian women when they occupied Norway?" Silke Roeploeg might perhaps fit the Viking caricature: tall, blonde, physically fit, ruddy weathered cheeks, and smart. She is however German, and a lecturer on the Highland and Islands Nordic studies, which includes a component on Vikings.
Now living on Shetland, Silke is philosophical about the controversy that the Vikings are still managing to cause, some one thousand years after their demise.
"There's undoubtedly archaeological and cultural evidence to suggest Vikings were great craftsmen: buckles, axe heads, jewellery, their long ships, all show evidence of a high level of craft. Yes, they were navigators, farmers, craftsmen, merchants. BUT they undoubtedly stole and killed. To go 'a-Viking' was a job description really, an activity that involved an extended shopping trip, with a bit of looting thrown in."
Next month brings a major exhibition at the British Museum in collaboration with National Museum in Berlin and the National Museum of Demark. It celebrates Viking identity as both raiders and traders between the 8th and 11th centuries. If Viking history is also partly our history, there is one area of the British Isles where it is more embedded than anywhere else, and that is in Shetland. The heated debate about the moral compass of the Vikings remains important for Shetlanders.
Brian Smith, the Chief Archivist at the Shetland Museum and Archives (a stunning, and thoughtful, contemporary museum, pictured right) has short thrift for the idea that the Vikings were "good guys" and thinks the clues are all in the language: there is no evidence of Pict-ish (Ogham) words or name places at all in Shetland, which suggests, to him, complete decimation of the original Pict populations. "The big clue in Shetland is the lack of linguistic survival. Our place names in Shetland are clearly Norse, for example Lerwick, this is recognisably etymologically directly traceable to Scandinavian. The strong likelihood is that the original inhabitants of Shetland were killed and cleared out by the new Viking population, it wasn't a peaceful assimilation at all. Monasteries were plundered, clerics killed. How that happened precisely, and at what speed, we don't know. If you could find mass graves or burial places, of Picts, would that change things? We know from accounts of other societies the Vikings created havoc - for example in France, mainland UK. You name it. Why would they have behaved differently here?"
Dr Val Turner, Shetland's regional archaeologist, has, with her team, found over 60 Viking longhouses on the Shetland Isles (pictured left). And they have been made vibrant and real for present-day inhabitants. On Shetland you can wander into recreated Pict-ish dwellings, sit inside an ill-lit kitchen and wonder what Viking gossip and poetry might have been, or even read Viking graffiti. Suddenly 1000 years ago feels rather recent. Dr Turner does recognise the Viking contribution: "The Vikings developed the sun compass, the keel, the long arm, in Northern Europe at least, and they got to China, Asia, Africa and Istanbul in AD 750- 800 and were obviously very good seamen". She sees strong evidence that in Shetland the Vikings co-existed alongside the Picts, through the adaptation of Pict buildings into longhouses and Iron Age objects found alongside Viking soapstone lamps.
Their reputation as rapists is still a problem though. There's no easy way round the fact that Vikings do appear to have rather dubious attitudes to sex, and no one wants to meet this one head on. Except Silke. Her face lights up when I mention women and Vikings. "Ah! Yes, we do have a bloodlust. The Vikings' narrative appeals to people who are fascinated by violence and find it exotic and sexy. But there's more to it than that. They were excellent farmers and shipbuilders, but still it's a bit pyscho, akin to collecting Nazi paraphernalia, to get too excited by weaponry, rape and military strategy". She pauses. "You have to remember that Viking women are described as mentally and physically very strong, they hold the keys to the house and are the head of the household, so in charge of food, money, which means they're the boss. So the fat Viking might be out pillaging, but he still has to come home!"
Dr Turner is equally dismissive of the idea that Viking women wandered around in tight bodices offering up mead and victuals - which is how they are commonly represented. In fact in the Icelandic sagas, written in the 12th and 13th centuries, Viking mothers and wives have power in the home: they hold the keys to the stores and the loot, and are described as leading troops (sometimes bare-breasted) into battle. A fabulously named Viking leader is the female Aud the Deep-minded who led a Viking sailors up to Iceland.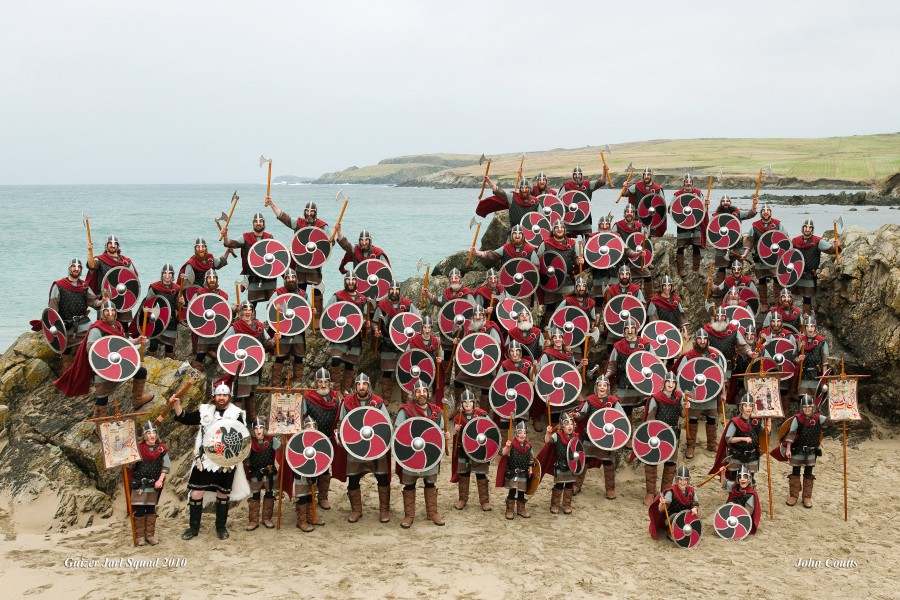 While the British Museum gears up for its blockbuster exhibition, in Shetland Viking and Norse identity is celebrated in the annual 12 Up Helly Aa festivals. All night "squads" of Vikings, led by the "Gayzar Jaarl" (head Viking) drink and dance their way in a riotous frenzy around the Shetlands. Those involved will have spent most of the preceding year crafting their costumes, their furs, shields, weapons, the long boat that is ceremoniously burnt, all funded out of their own pockets. In turn thousands of people come from all over the world to be part of these pagan "fire festivals". They are also a chance for Shetlanders to explore their very real connections with Vikings, the Norn language (precedent to modern Norwegian and Norse) and Scandinavia.
Whatever the Viking legacy, and whatever is actually "true", the Vikings contributed to an oral storytelling culture on Shetland that is going strong, and to a resilient imagination that finds ways to cope with months of driving rain and darkness. So it's no coincidence that Shetlanders are a funny, modest, hardy lot, given to creativity and resourcefulness. The music and crafts scene is evident everywhere in Shetland; scaffolding in the centre of Lerwick is "knit-bombed" (covered in Fair Isle patterns), ponies are bedecked in full Shetland wool jackets, and of course there are teddy bears, hats, slippers and jumpers all celebrating Shetland's diverse colourful knitted culture.
There are mandolins, fiddles and ukuleles for sale in Brian Nicholson's high street music shop, and most nights all ages are whooping it up in a pub with music (Nicholson pictured right with Maggie Adamson). "We didn't get electricity till 1968," Nicholson tells me. "We didn't have TV or anything. So we sang, under paraffin lamps, oil lamps, or gas lamps. I think our generation who grew up without electricity are more rounded human beings. We can entertain ourselves." These days Shetland children get free music lessons and free instruments in schools, and there is no shortage of role models to teach them. " It's very important for everything about you, your language, dialect, culture, your music, all that stuff is made more intense when you know it's also what your grandfather would have made, the songs he would have sung, or stories he would have told. It kind of fastens you to a spot, gives you a pride in who you are and where you come from. It's part of being rooted, the sense of having a place in this world. That's what we all want is a place in this world."
As if on cue, an elderly white-bearded man comes into the shop, takes a mandolin off the wall and starts playing. "Gaelic culture is more singing, Nordic culture is more instrumental," explains Nicholson. "At the end of the day we are Vikings!"
The Vikings' narrative appeals to people who are fascinated by violence and find it exotic and sexy
Explore topics
Share this article