Manon Lescaut, Welsh National Opera |

reviews, news & interviews
Manon Lescaut, Welsh National Opera
Manon Lescaut, Welsh National Opera
Puccini charmer rehoused in an airport lounge, saved by the conductor
Chiara Taigi at the terminal bar, already falling
As before, WNO have a theme for their new opera season: this time it's Fallen Women, a topic that might well attract the attention of the Equal Opportunities Commission. Surely men have the right to fall as well; we await, in June, The Fall of the House of Usher, a much fairer piece than Puccini's Manon Lescaut, which opened the company's winter season in a new production by the Polish director Mariusz Treliński.
In Debussy's
Usher
brother and sister both fall, and the house falls on top of them.
Treliński is in any case much taken with the theme. Not only is his Manon (Chiara Taigi) already fallen when she first appears in a red plastic raincoat and dark glasses, a gangster's moll to the life, but by the last act he has two fallen Manons, both very much alive and kicking but still falling. Poor Des Grieux (Gwyn Hughes Jones) doesn't know which way to turn, and nor perhaps do the audience. In between, whole processions of fallen women pass in review, culminating in the prostitutes with whom Manon is being transported to America, all dressed (if that's not too strong a word) like strippers in a fairly advanced state, their hands tied high above their heads, their abject humiliation in direct contradiction of Puccini's stage direction, which has them saucy, nonchalant and laughing.
When Manon reveals she is about to take the veil, one checks one's programme for a possible error
There is other evidence of Treliński's somewhat dubious taste in male voyeurism, and more or less continuous evidence of his contempt for the verbal and musical text he's supposed to be presenting to his eager public. When this slinky Manon reveals that she is about to take the veil, one checks one's programme for a possible error. Then the penny drops. Puccini's opera is being run in tandem with another piece loosely based on Prévost's novel, Henze's Boulevard Solitude, in which Manon is indeed a cigarette-smoking slag and Des Grieux goes druggy. If you assume that Treliński, who is directing both operas, has devised his Henze and simply tyre-levered the Puccini into it, you'll get some flavour of the perversity and stylistic dysfunctionality of this wretched show.
Leaving aside the libretto's specific 18th-century settings, which are anyway semi-contradicted by Puccini's richly textured late 19th-century score, we're left with a depressing repertoire of directorial clichés. Where else have we seen these dark-spectacled, black suited and brief-cased zombie executives masquerading as an opera chorus? Or these rectangular black-and-white sliding screens and whizzing city lights and back projections; this permanent airport lounge, whether a square in Amiens or a Paris mansion or a Le Havre prison (to say nothing of the Louisiana desert: just imagine dying of thirst in Terminal 5 – but then, precisely, Treliński's Manon doesn't really die at all). Boris Kudlička and Magdalena Musial designed all this, but they might as well have bought it second-hand on Amazon, for all the relevance it has to this soaring music. As for the warmth and human intricacy of Prévost's heroine, torn between the need to be loved and the desperate attachment to material possessions, you might as well forget them.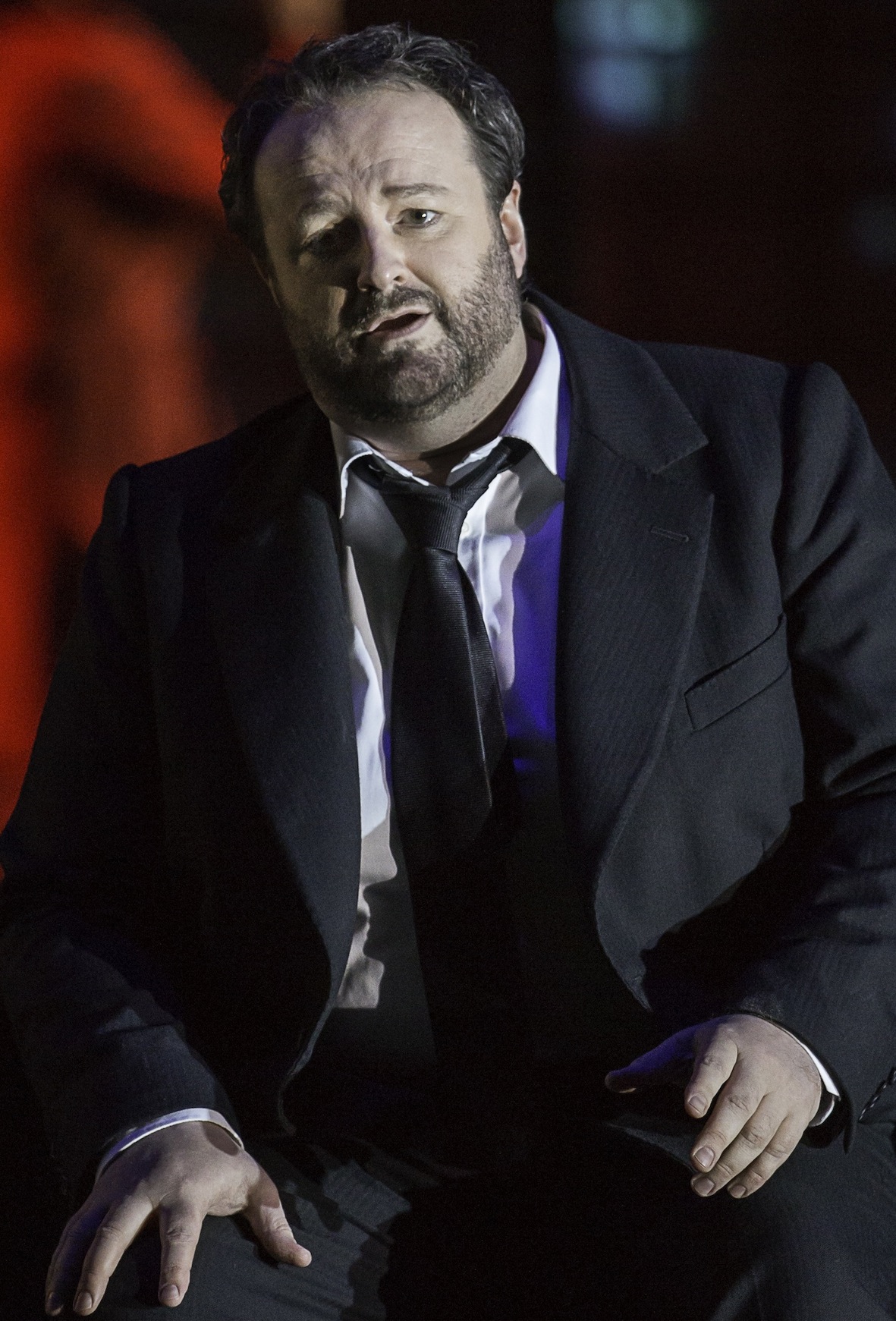 Musical virtues remain, though they do not consistently shine. Hughes Jones (pictured right by Johan Persson) is a vocally stylish if slightly reedy Des Grieux but an inert actor; Taigi slinks well and has the figure for it, but the voice lacks real colour throughout the range, and the director makes sure her presence is charmless. David Kempster is a strong Lescaut, though unable to make much of his volatile character. Stephen Richardson plays Geronte convincingly if disagreeably as a high-class trafficker in (fallen) women, re-emerging unexpectedly in the third act as the ship's captain. The chorus is excellent as ever, students no more but faceless middle management, and their chief spokesman, the amiable Edmondo (Simon Crosby Buttle), is ludicrously recast as a kind of clairvoyant airport-cleaner, who sees everything and cleans nothing.
The main saving grace, however, is some superb orchestral playing, eloquently masterminded by Lothar Koenigs. Some dodgy ensemble can be partly attributed to Treliński's frequently unhelpful upstage placings. He must have hoped that distance would lend enchantment. It doesn't.