Nashville, Series 2, More4 |

reviews, news & interviews
Nashville, Series 2, More4
Nashville, Series 2, More4
More soap, sleaze and cheese from Music City USA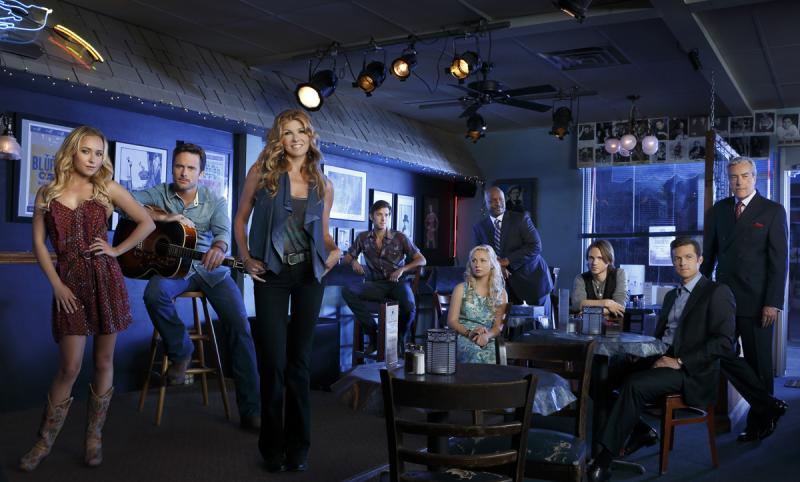 The extended family of 'Nashville' somehow manage to stay in a room together
Since Nashville and country music are one giant soap opera, it's amazing nobody turned Tennessee's Music City into a TV series before. No matter. Here we are with series two, and it's as deliriously cheesy and melodramatic as ever.
The first series ended with veteran country star Rayna James (Connie Britton) and her alcoholic guitarist/former lover Deacon Claybourne hurtling into a cataclysmic car crash. Series two opened amid the wreckage and the squeaking of tortured metal, with flashbacks to when Deacon and Rayna were young and in lurve (bravo for a splendid decades-rewinding job by the hair and make-up people).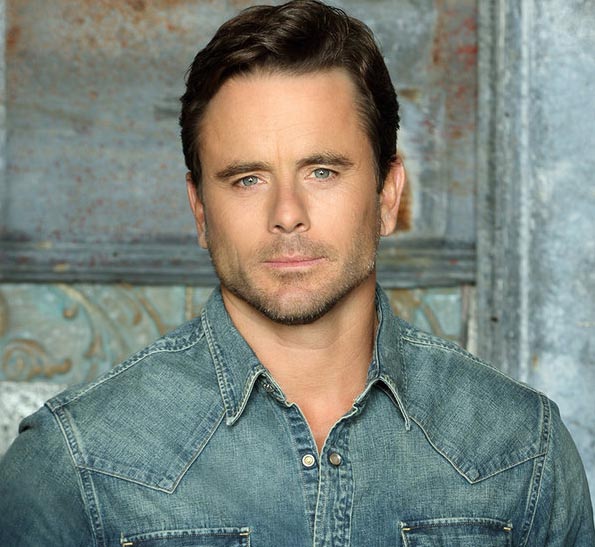 Cut to poor Rayna in intensive care, pin-cushioned with tubes and drips, where the medics had left her in an induced coma for the past couple of weeks. Meanwhile ol' Deke (Charles Esten, pictured right) was clad in orange prison overalls and was up before the bench for drink-driving. Were Rayna to die, he'd be staring at a manslaughter charge. Desperate Deke was unshaven and filled with self-loathing.
It was looking bad, and no wonder this episode was called "I Fall to Pieces" (there would have been room for a few more country song-titles, like"Wreck on the Highway" or "The Bottle Let Me Down"). Meanwhile, while everyone was terrified that Rayna would never get out of this world alive, her nemesis, bratty country-pop upstart Juliette Barnes, was disgusted by the outpouring of sympathy ("now I have to compete with a saint in a coma!" she snapped). But cunning Juliette (Hayden Panettiere) detected an opportunity, and cynically exploited Rayna's plight by posing as the world's greatest and most heartbroken Rayna fan, turning mourners outside the hospital into extras in her personal self-publicity campaign. After all, she had a new album to promote.
And let's face it, lurid and tabloidy though it may be, none of this stuff is beyond the bounds of possibility. The rivalry between jealous Juliette, with her trailer-trash background and dead junkie mother, and the queenly Rayna with her marital struggles and fear of being left on the scrapheap by a youth-obsessed music business, may even have been ripped directly from the pages of country music history.
The writers seem a little less convinced by the ongoing saga of the sleazy political career of Rayna's husband Teddy (Eric Close). Teddy is now mayor of Nashville, thanks to the blackmail-and-bribery skills of his father-in-law - and Rayna's pop - Lamar Wyatt (Powers Boothe, looking like a mummified ox in a suit). However, Teddy is beginning to show signs of bolshiness towards Lamar and of wanting to do his own thing. This ingratitude will not go unpunished, but for now Teddy is grappling with the news that his secret lover, Peggy, is carrying his child.
If this is all a bit too Dallas, the storyline concerning insipid tunestrel Scarlett (Clare Bowen) and the two men in her life, the surly Avery (Jonathan Jackson, pictured above with Hayden Panettiere) and the eternally dithering Gunnar (Sam Palladio), makes the BBC Parliament channel look quite racy by comparison. Perhaps they'll all be trampled by the Devil's herd from "Ghost Riders in the Sky". These quibbles aside, you have to love a show where Hayden Panettiere gets to sing the brilliantly-titled "This Love Ain't Big Enough for the Two of Us".