Alexander Hawkins' One Tree Found, Cafe OTO |

reviews, news & interviews
Alexander Hawkins' One Tree Found, Cafe OTO
Alexander Hawkins' One Tree Found, Cafe OTO
Brilliant fusion of baroque composition and jazz technique creates sumptuous musical mille-feuille
Tuesday, 04 February 2014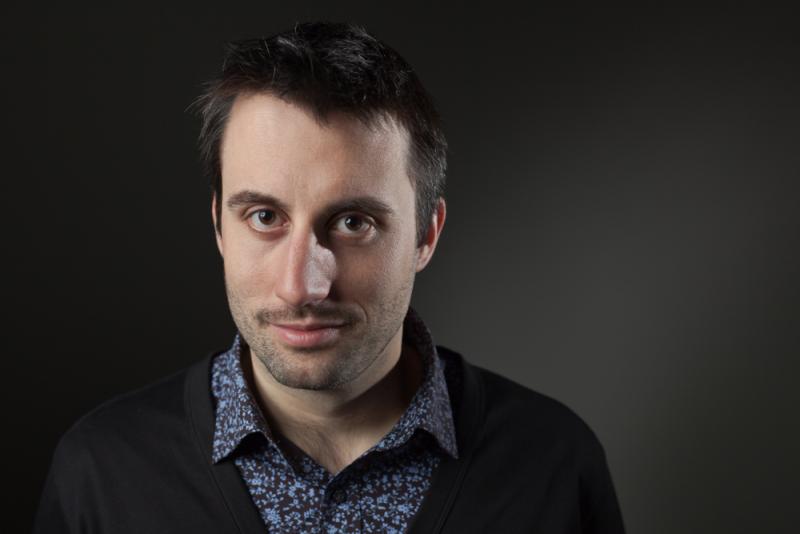 Composer Alexander Hawkins
Bach, Duke Ellington and free jazz improvisation met at Cafe OTO last night, and joyously warped some minds. Composer Alexander Hawkins' BBC Radio 3 commission, the nonet piece "One Tree Found", was part of last year's Baroque Spring season.
It takes the three-part structures of Bach's trio sonatas for organ, adds echoes of Duke Ellington's (known, Hawkins notes, as "The Hot Bach" at the height of his fame) numerous three-way orchestrations, and completes the creation with improvisations both contemporary and baroque in style.
Last night's was only its second London performance, but thanks to an invitation from German radio station WDR to record the piece for their festival the day before, the band had only just played together, and the ensemble was pin-sharp. Though complex, in some places quite abstract, and making ruthless technical demands on its players, it's difficult to think of an experimental, contemporary piece more suffused with the ecstasy of musical revelation.
The title of the piece is derived from "Antiphon" (a piece of choral call-and-response) via a kind of verbal play whose abstruse exuberance is typical of Hawkins' approach. Counterpoint is used extensively, and it was clear from the opening bars of paired trumpets that a complex formal structure lay behind the sonorous blending of instrumental lines, but that structure didn't impose itself in a self-important or dogmatic way. As the movements unfolded, their development seemed to have an organic ebb and flow, punctuated by periods of exploratory improvisation.
trumpeter Peter Evans seemed to transcend the physical limits of his instrument, conjuring at will clouds of butterflies, or a summer breeze through the trees
Attempts to weld classical composition to jazz performance are notoriously difficult to pull off, but by going back to first principles of composition, Hawkins has engineered a thrilling and complete musical experience. It was coherent internally, and a brilliant synthesis of baroque composition and jazz style. Even the improvisations, which a jazz audience might regard as quintessentially theirs, are matched with the baroque concept of ornament, and used similarly.
By orchestrating similar instruments together, Hawkins exploits their tonal similarities. The layered brass sounds were handled exquisitely, though more surprising and equally beautiful was the blending of the upper registers of Hannah Marshall's cello and Pete McPhail's saxophone. Peter Cundy's bass and contrabass clarinet melted into David Powell's tuba and Byron Wallen's euphonium, while drummer Mark Sanders' directed his swish and patter expertly at the rhythmical joints, like a musical masseur.
The eight players (plus Hawkins, who played a few bars on the piano between conducting) sounded like many more. This was partly because of the multi-instrumental skills of several band members, particularly Percy Pursglove (trumpet and bass) and Pete McPhail (flute and reeds), but also because of the blistering technical standard, which made many instruments sound quite unlike themselves: it was often necessary to watch as well as listen to follow what was happening. Outstanding even amid the general excellence was New York trumpeter Peter Evans, playing a four-valve pocket trumpet for much of the evening. He seemed to transcend the physical limits of his instrument, conjuring at will clouds of butterflies, or a summer breeze through the trees.
"Improvised" and "experimental" so often give a piece the kiss of death. If only a wider audience could see how much fun both can be.
It's difficult to think of an experimental, contemporary piece more suffused with the ecstasy of musical revelation
rating
Share this article