10 Questions for Harry Shearer |

reviews, news & interviews
10 Questions for Harry Shearer
10 Questions for Harry Shearer
He's been Montgomery Burns and Derek Smalls. Stand back for his President Nixon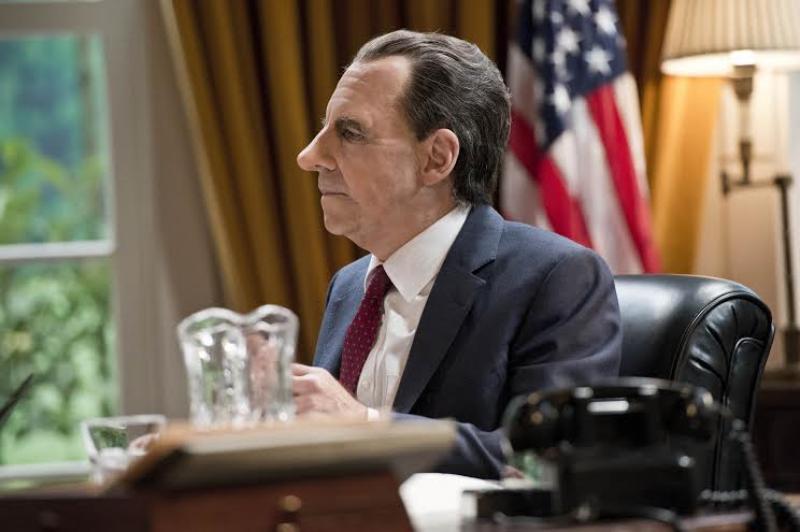 'I've always been an avid follower of his': Harry Shearer as President Nixon
It is the fate of political leaders to be played by actors. In the circumstances Richard Nixon hasn't been dealt a bad hand. He has been portrayed by Anthony Hopkins in Oliver Stone's Nixon, by Frank Langella in Frost/Nixon on stage and screen and by tall handsome Christopher Shyer in Clint Eastwood's J Edgar. But towering over them all is Harry Shearer, who has been impersonating Tricky Dicky since Nixon was actually president.
Shearer is best known in the UK for his voicing of Montgomery Burns and other characters in The Simpsons, and for Spinal Tap's priapically challenged bass player Derek Smalls (pictured below). His career as a Nixon impersonator is familiar to American audiences mainly from Saturday Night Live, and was introduced over here only two years ago when the pilot episode of his comedy Nixon's the One aired as part of Sky Arts' Playhouse Presents strand. Set exclusively in the Oval Office, it found Nixon harping on obsessively about Jews, blacks and gays while Kissinger flattered him like a lickspittle courtier and White House aides fanned the flames of the presidential ego. It sounded like the most hyberbolical of spoofs, and yet the film revealed at the end that every word uttered by the cast was once spoken by Nixon himself or by those in his inner circle.
The scripts are the comedic by-product of Nixon's obsessive desire to record conversations in the Oval Office. These were of course pivotal to his downfall. But the content of the tapes is mostly not well known. It is possible to dig the lot out of the Nixon Library, and a while back they were made available for the public to listen to them a warehouse rented by the National Archive outside Washington DC. Few, however, make the effort, and none of them are comedians and satirists. Apart from Shearer. Now the full series of Nixon's the One arrives on Sky Arts, with each episode introduced by Nixon's other scourge, the late Sir David Frost. Harry Shearer tells theartsdesk about a lifetime's obsession with nailing Nixon.
JASPER REES: How did your obsession with Nixon happen?
HARRY SHEARER: I grew up in California in LA so Nixon was a figure in the media and political life around me from earliest memory. One imbibed with mother's milk the stories about his really red-baiting campaigns for Congress, and the speech that saved his vice-presidential campaign under Eisenhower where he was accused of having a campaign slush fund and delivered a speech about his family's dog. He was the dominating figure in Californian politics prior to Reagan.
In a liberal democratic household he was also a figure of continual disdain if not worse. But he was also to me always a comic figure. There was something - even as a kid - about his personality or his public demeanour that fascinated me. Then when we got to his president it was just now being played on this grand stage and there for all to see the way that he seemed to spend the vast majority of his public energy trying to suppress what he really thought or felt and the amount of energy having what he thought or felt blurt out in uncontrolled ways. I've always been an avid follower of his.
He was obsessive about recording all conversations that took place in the Oval Office and it's these which form the basis of Nixon's the One. When did you first start listening to them?
Nothing is funnier than real life and so my job as I've deemed it is to observe and reproduce as accurately as I can
Having been exposed at the Watergate hearings, the first tapes came into the public domain when they were used as evidence in certain of the trials that followed Watergate. But aside from that very restricted exposure. They were not public domain until my writing partner Stanley Kutler was one of the plaintiffs in the legal actions that got the tapes published in the first place. The tapes have come to light in succeeding releases almost annually over the past decade. When the tapes first began to be made public I was one of the people who tracked to the warehouse out of Washington DC to put on headphones and listen to the tapes released in dribs and drabs. That was when I first fell in love with the tapes. Through that process I was asked to host a radio programme at some point about Nixon and Watergate and one of the guests was Stanley Kutler. We hit it off and started talking and would meet from time to time. It's the time when Frost/Nixon came out as a movie and I thought, that's not the Nixon I know. I thought Nixon was in danger in the public mind of dissolving into just what you might call a common movie villain. I thought it was appropriate to try to restore his reputation as what I knew him to be as the craziest motherfucker ever to occupy high office. I knew that couldn't be done in the US in the way that I wanted to do it, which was to base it on these conversations that were not political or about Watergate. So I approached a couple of folks in the UK.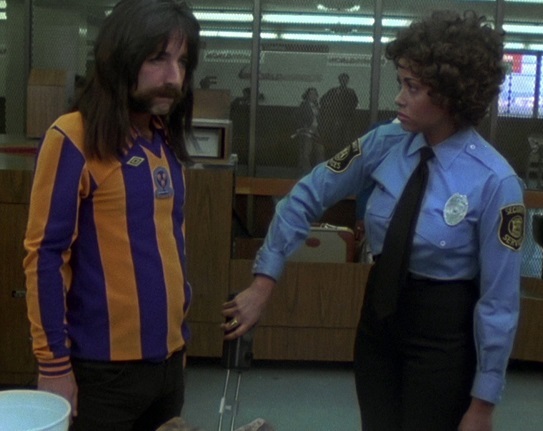 So Nixon's the One is the culmination of a long series of satirical assaults. How did you go about editing down the transcripts?
When you say transcripts that's a very interesting point. The tapes had been made public and are available for anybody to peruse and search online through the Nixon library. But only the conversations which had been relative for law enforcement have had transcripts made of them. When Stanley and I picked the ones we wanted to use it became necessary for us to have transcripts made. I've gone through the tapes that we flag and condensed the portions I want to use of the show.
It was obviously important to have a transcript to compose a script from but equally important was to have the tapes. I am fairly adept at audio engineering so I have done major clean-up work on them so the actors could work on the tapes. I wanted to be fairly rigorous about actors hearing the rhythms and intonations about the way conversation happened so these did not play as historical re-enactments but as much as possible played the way the actual conversations took place. I think nothing is funnier than real life and so my job as I've deemed it is to observe and reproduce as accurately as I can. This guy has given me a great gift and my job is to get the best stuff, without commenting, without winking, without doing any of that stuff. I don't think this show could have been done in America because along the way people would always have said - as they did literally when we were about to release This Is Spinal Tap – "Don't you think we have to wink in the first 30 seconds to let people know you're kidding?" That is a kneejerk executive reaction to comedy. The four of us [director Rob Reiner and co-stars Michael McKean and Christopher Guest] looked at the guy and yelled in unison, "Fuck no!". I knew that if I found a British execs with the proper sensibility this could work.
Overleaf: 'Kissinger knows Nixon doesn't like Jews'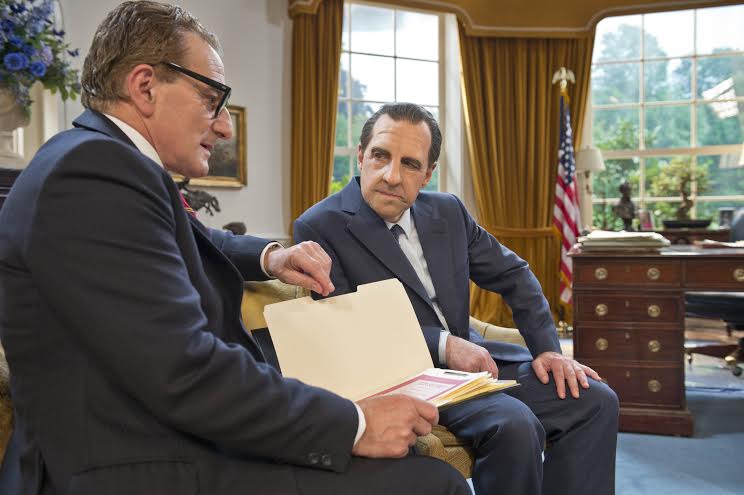 The other great star of the show is Henry Kissinger, played by Henry Goodman (pictured above with Shearer), and indeed the first episode of the series is devoted to their conversations. What did you make of him as – as it were – a character?
Kissinger is a flatterer par excellence. He clearly has read enough histories of enough monarchies to recognise that a chief role in any court is the flatterer. The psychological dance between those two guys is one of things that I find fascinating. Each is very smart, each thinks they are manipulating the other and has a cordial contempt for the other. They were locked in a really fascinating waltz for spiders - who is going to be the user and who the used? Kissinger knows Nixon doesn't like Jews. Nixon talks about Henry badly behind his back because not only is he Jewish but he's from the East Coast northern academic establishment, but he somehow relates to Kissinger's ruthlessness in foreign policy analysis. In the years to come - even as late as last year when I attended the centenary celebrations of Nixon's birth – Kissinger was delighted in saying the greatest thing about Nixon as a president was the fact that he let Henry run the show. It's remarkable that Kissinger is still around still being consulted by folks to this day. And certainly set the tables for odd recipients of the Nobel peace prize.
The tapes that Nixon is obviously best known for are the ones that got him impeached and thrown out of office. What does the mass of the rest of the tapes tell us about him?
To me what really fuelled my fascination about this guy is in stripped-down terms the fact that he had an ever-expanding list of people who he defined as enemies. Having succeeded in the great quest of his life he could not forgive them for having lost to him. That's the great twist of him. There is an episode where you see the remarkable obsession he had still with the Kennedys. One of the things that Brits will get over the length of this piece much more than American is the way Nixon is obsessed with something he would never have described so but was really clearly class. How he felt he was outside the good part of the class structure and barged his way and when he got in was still seething with class resentment.
To what lengths did you go to get the look and the voice right?
I'm an obsessive on that stuff. The gold state would be for there to be no trace of me in there. I've played Nixon many times in many situations. I was part of comedy group in the 1970s when he was president. We did sketches on radio and stage all the time about Nixon. I've done him several times since then, most recently before now in a sketch in a doomed series on NBC in the Nineties, imagining he was part of an infomercial. I had him in my heart, in my mind's eye. My goal was to get as close to him as I'm capable with a very talented make-up person. I studied his gestures. For a guy who was always to project an image of toughness and hardness he had a menu of some very delicate hand gestures, a tendency to flutter his eyelashes at times. That's an idea of Nixon that I've never seen portrayed fictionally. Things like that I was really determined to get as part of the guy, to make as complete a picture of who I understand him to be as possible. The dialogue has been played to sound as natural as possible. It's devilish difficult to memorise. It's not clean, it's not linear, it goes back and forth, it goes into cul de sacs and comes back out again.
Which of the other Nixon performances have you seen?
I steer clear of the Oliver Stone one for many reasons. I saw all the guys in the comedy world who used to do very broad Nixons at the time when he was still around and found myself very often being told, "Your Nixon doesn't sound like David Fry's." "Yeah, because David Fry is doing a very funny but a very exaggerated version." Aside from that I did not see one in a long time until Frost/Nixon. I must say Michael Sheen did a brilliant job.
Which brings us to the late Sir David Frost. He wasn't in the pilot episode but he introduces each of the films in the series and adds links throughout. How did that come about?
Sky had arranged a showing of Nixon's the One and two other oneoffs in the Playhouse Presents series at BFI, and Sir David was among the invited guests. Afterwards he made his affection for the show very apparent to me and I guess other folk and said he really would like to be involved in some way. When we got the go ahead that was one of the first phone calls we made to say, "How about you introduce this and give it context?" He totally clicked to that idea and I had the great fun of working with him on the scripts and attending the tapings and having the some conversations with him both before and after and finding out what a delightful and curious conversationalist he was.
Each of the episodes is organised around a theme: Henry, Secrets, Religon, Elites and TV. Why no Watergate?
Everybody else goes there. It has just been worked over by so many people from so any angles. It's political and historical, and this is an entertainment series. I wanted to make the distinction very clear this is not Open University stuff. This is a character in 20th-century history has done us a great favour in opening himself up to this kind of inspection.
Was there ever an anxiety that some of it might not be funny?
We went through a really rigorous and arduous selection process. A lot of it is mundane, a lot is repetitive, a lot is just nuts and bolts of doing business. What is remarkable is how much of it is this stuff. "OK he does this rant about 75 times. Which is the best version?" He really was obsessed by certain things and would use meetings which were called supposedly to talk with people as a platform for what can only be described as monologues. You had to give a realistic sense that he would get people in the Oval Office and then just almost trap them listening to his extemporaneous but well-rehearsed orations. I really wanted it to feel claustrophobic, I really wanted you to feel you were trapped in there with Nixon. We edited stuff out to make a half-hour show but we did not mix from one thing to another and we were very very obsessive – to use a work that's appropriate in this context - about being absolutely verbatim not just with the words but the inflections and pauses and trying to get every clue we could about what everybody was communicating both verbally and non-verbally.
We could have done 12 episodes just with aides telling him how great the speech was last night. Nixon in the eyes of his aides appeared to be in need of constant reassurance that he had hit this one out of the park. And who can argue with their reading of their boss? All we have is the evidence that this was really frequently repeated behaviour. We have the advantage of having this guy on tape. Who is to say is this isn't true of every major leader if that kind of insecurity lurks within them all? Nixon's intention was they would never be heard by anybody but him - these would be raw material for his memoirs. He would perform a different kind of selection process from the one my partner and I have employed – to make him look most statesmanlike. They were clearly intended to buff his historical legacy to a high sheen and it's one of the great ironies of history that it turned out otherwise.
Playhouse Presents…Nixon's The One is on Sky Arts 1 HD on 30 January at 9pm and will be available On Demand from 24 January. Each episode will also be available on to download on Sky Go a week in advance of transmission
Overleaf: watch the trailer to Nixon's the One