The Duck House, Vaudeville Theatre |

reviews, news & interviews
The Duck House, Vaudeville Theatre
The Duck House, Vaudeville Theatre
In a flap over expenses, Ben Miller plays an MP in this satire directed by Terry Johnson
Wednesday, 11 December 2013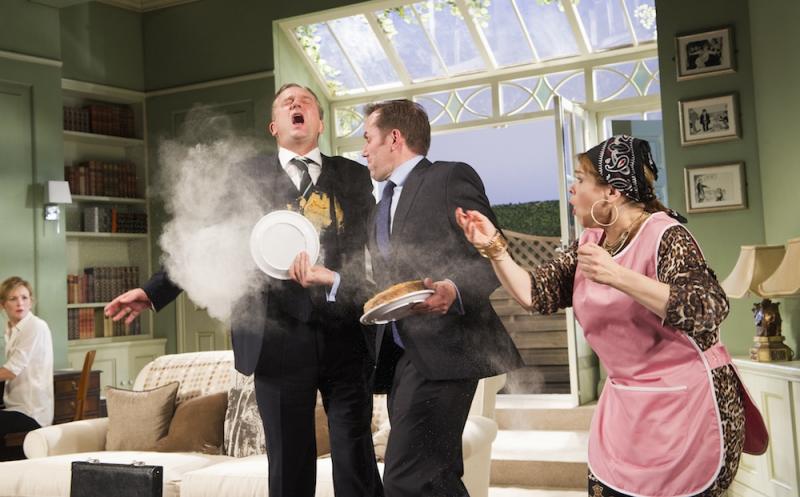 Simon Shepherd's Sir Norman takes a pasting from Ben Miller's Houston as Nancy Carroll (left) and Debbie Chazen look on
This political satire is hardly a case of rapid-response playwriting. Opening in London's West End last night, after a month touring the regions,The Duck House is a farce about a fictional MP caught up in the parliamentary expenses scandal which hit the headlines way back in 2009.
One certainly might have expected Dan Patterson (of TV's topical
Mock the Week
) and Colin Swash (from
Have I Got New for You
) to have been swifter out of the blocks in co-authoring the script. Or have they just belatedly extracted it from their bottom drawer (adding a prologue wherein the MP looks back on the debacle)?
As for director Terry Johnson's cast, they were almost relentlessly fast-paced at the performance I attended. Presumably they're hoping that the dialogue will seem less lame if they sprint through it with gusto, or that fewer punters will have time to notice how inept the storylining is. It's rife with either predictable or completely implausible plot developments. These talented actors deserve far better material.
Played by Ben Miller, Robert Houston (pictured below) is a smug career politician who is about to ditch the Labour Party and join the Tories. Lolling around in their plush living room, quaffing champagne, he and his elegant wife, Nancy Carroll's Felicity, are toasting his future promotion. David Cameron is supposedly going to offer Houston a ministerial post when he becomes PM. Miller tosses the receipt for the magnum onto a bulging heap of dodgy bills.
Then the expenses scandal breaks and we glean the Conservatives are sending over one of their bigwigs, Sir Norman (Simon Shepherd), just to check that Houston hasn't erred financially. Cue lots of frantic yelling and stuffing of unwarranted accessories into broom cupboards, aided by the illegal housemaid (Debbie Chazen with Russian accent and attitude).
Basically, Houston's catalogue of luxuries is a compilation of items for which real-life politicos put in claims: elephant lamps just like Michael Gove's; hanging baskets as with Margaret Beckett; an ornamental duck house resembling the one Sir Peter Viggers came to regret. The list goes on.
Having rumbled the situation, Sir Norman inexplicably declares it's no big problem. That means we have a whole second half to go, with the Houstons facing another visit, this time desperately redecorating their son Seb's squalid flat which the MP has registered as his own second residence. Handily, they catch Sir Norman hiding in the wardrobe. He has been paying Seb's girlfriend, a phlegmatic Diana Vickers, for a kinky spanking session. The paparazzi are gathering outside and, climactically, we're asked to believe that Cameron is coming to see what's going on, in person.
There are occasional hilarious moments of physical comedy: Miller's Houston trying to act nonchalant while trowelling splattered cream cakes off Sir Norman's waistcoat; Carroll's Felicity vainly pretending she's a skilled secretary, waving the computer mouse like a TV remote control. For the most part, however, your money would be better spent on box sets of Yes, Minister or In The Thick of It.
Follow Kate Bassett on Twitter
(See overleaf for the official trailer for this production)