CD: R Kelly - Black Panties |

reviews, news & interviews
CD: R Kelly - Black Panties
CD: R Kelly - Black Panties
Unpleasant R&B insight into a drearily atavistic masculine psyche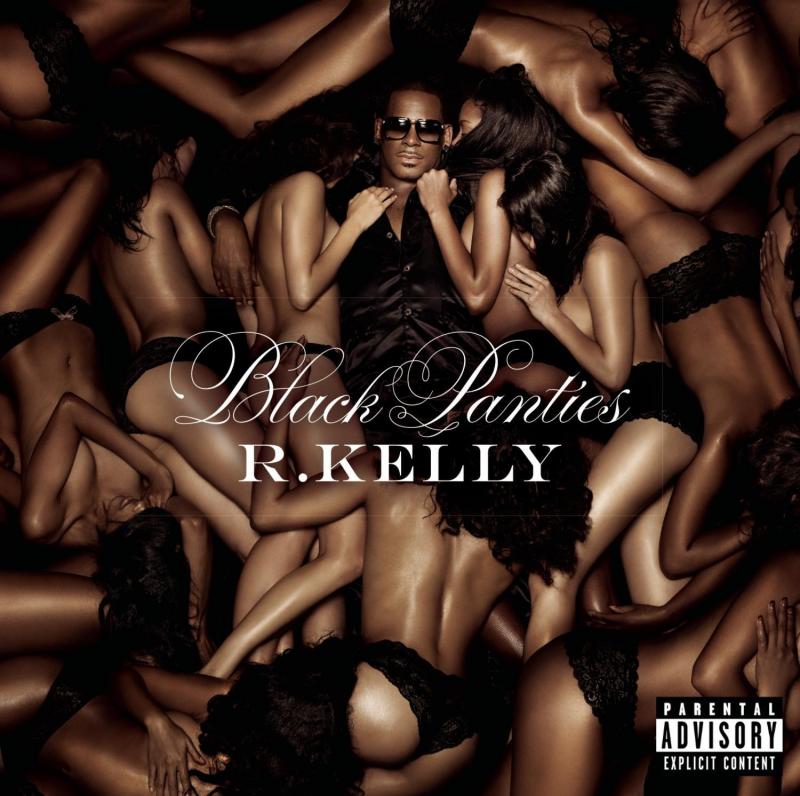 R and some meat for his use
Do people really find this sensual? R Kelly's rise to the very top of the R&B tree cannot, surely, be based on multi-million sales caused by a gigantic ironic in-joke. His Trapped in the Closet series of films showed a knowing wink but, no, the truth is that, like Barry White once was, he's become the emperor of bedroom music.
The album is called Black Panties. Given its content he should have called it Moist Black Panties, just to ram the point home. Listening to it is like biting into a doughnut filled with another man's day-old spunk. We can speak about the production, which is a glistening update of the classic R&B slow-jam, but it's the lyrics that draw the listener inexorably in. If there's a line in the sand which demarcates sexy and seedy, R Kelly not only crosses it, but fire-bombs it.
Take "Throw Money On You", for instance, in which "R" tells a lady he doesn't know her name but that, nonetheless, he's going to "make a baby" with her, throwing in the compliment that she has an "asshole like it's been stung by the whole hive." The first two songs are about cunnilingus. One of them, "Cookie", likens cunts to Oreos, wherein R threatens to "beat the pussy till it's blue." Perhaps we're supposed to be impressed such a macho hip hop fellow would go down on a woman but surely we're beyond that? On "Marry the Pussy" the female sex is no longer a "she" but an "it", recalling the way serial killer Buffalo Bill from Silence of the Lambs demands, "It rubs the lotion on its skin." Nice.
Perhaps my reaction makes me a Daily Mail-reading prude but the whole thing is just so backward, so tired, women and money interchangeable – especially the grotesque "Show Ya Pussy" where R says he's spending so much he deserves to see cunt. It's all such an unromantic vision of human relations, it's actually depressing. There's one good song, the single, "My Story", a chugging orchestrated hip hop epic featuring 2 Chainz on the mic but let's leave you with a more typical R Kelly couplet to chow down on – "Best pussy in the club and she know that/I make it rain so much you gotta mop that". Yum yum, eh.
Overleaf: watch the fan video for "My Story"
It's all such an unromantic vision of human relations, it's actually depressing
rating
Share this article