DVD: Pussy Riot - A Punk Prayer |

reviews, news & interviews
DVD: Pussy Riot - A Punk Prayer
DVD: Pussy Riot - A Punk Prayer
The mood of contemporary Russia revealed in outstanding documentary on punk protesters
Tuesday, 26 November 2013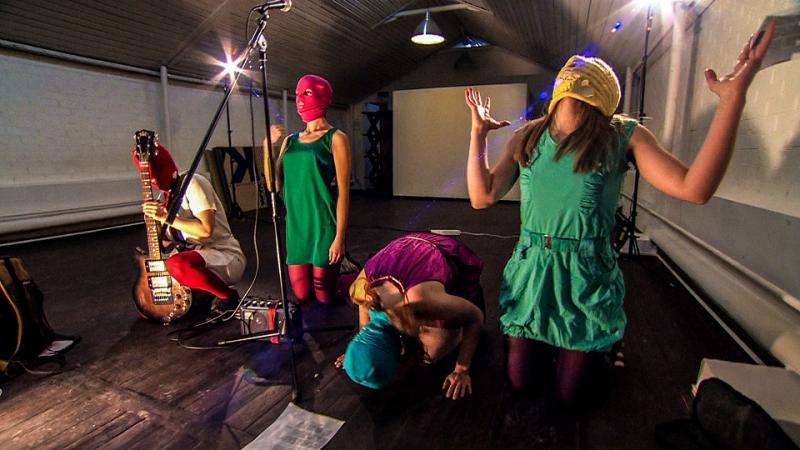 Anonymous in coloured balaclavas: Pussy Riot members rehearse before that fateful Cathedral performance
Access and trust are the key issues facing any documentary director, especially when the film concerned touches on questions that arouse controversy in society. It's a long time since I've seen a work that achieved so much on those two fronts as Pussy Riot – A Punk Prayer. The HBO-Storyville documentary by double directors-producers Mike Lerner and Maxim Pozdorovkin tells the brave story of the Russian conceptual art, feminist punk collective.
Two of the group's members are still imprisoned in Russian penal colonies for their participation in the "punk prayer" they staged at Moscow's Cathedral of Christ the Saviour on February 21 2012.
Pussy Riot's story has been told widely in the world's media, including on theartsdesk, and it resounds to this day. As well as interviews and archive, in Pussy Riot there's brilliant use of official material, interrogation interviews and courtroom filming: frankly, it's a miracle how the directors got it all out of police hands in the first place.
If there's a shortcoming on this DVD release, it's that the only extra is from the film's press conference at the Sheffield Doc Fest this year. As we see them there, the two directors are more distracted than illuminated by a slow skype connection with a third Pussy Riot member, Katia Samutsevich, whose two-year prison sentence was suspended. The story of the making of the film isn't told, and it would have been fascinating to hear more.
It would have been great to learn how, with the hindsight of a few months, Lerner and Pozdorovkin might have reflected on finding and securing their subjects, and quite how the two of them worked together. If we follow published information, they first set their sight on Pussy Riot after an earlier group protest on Red Square (pictured right), the latest in a series of anti-regime activities: that one happened a month or so before they entered the shrine of the church-state double act that so acutely defines Putin's Russia.
And then there's the story of how the directors secured all their material, not least commentary from various officials involved in the case, as well as the Orthodox swathes of the general public who became embroiled in the proceedings: taken together, it speaks volumes about the contemporary neo-Soviet mindset. The archive material from previous performances and rehearsals (main picture, above) that preceded that momentous 30-second Cathedral appearance is gripping viewing. The heart-to-heart interviews with the parents of the girls on trial do much to explain how these kids out of the broken post-Soviet Nineties got to where they are today – kids who, along the way, discovered such profound levels of political and cultural articulacy. The sheer quiet conviction in their closing court speeches is chilling, the voice of truth speaking back to power.
Nadezhda Tolokonnikova, Maria Alyokhina and Yekaterina Samutsevich made their own very distinctive mark in history with their performance that day. Directors Lerner and Pozdorovkin have broadened their subject, making it as illuminating a film on contemporary Russia as you'll find this year – or for many a year, in all likelihood. Atmospherically shot, edited and scored, too: documentary-making of the very highest order.
Overleaf: watch the trailer for Pussy Riot - A Punk Prayer
Two of the group's members are still imprisoned in Russian penal colonies for their participation in the 'punk prayer' they staged at Moscow's Cathedral of Christ the Saviour
rating
Share this article