Classical CDs Weekly: Bach, Prokofiev, Stravinsky, Refuge in Music |

reviews, news & interviews
Classical CDs Weekly: Bach, Prokofiev, Stravinsky, Refuge in Music
Classical CDs Weekly: Bach, Prokofiev, Stravinsky, Refuge in Music
Effervescent baroque keyboard music, sparky violin concertos and a gripping, sober documentary
Saturday, 23 November 2013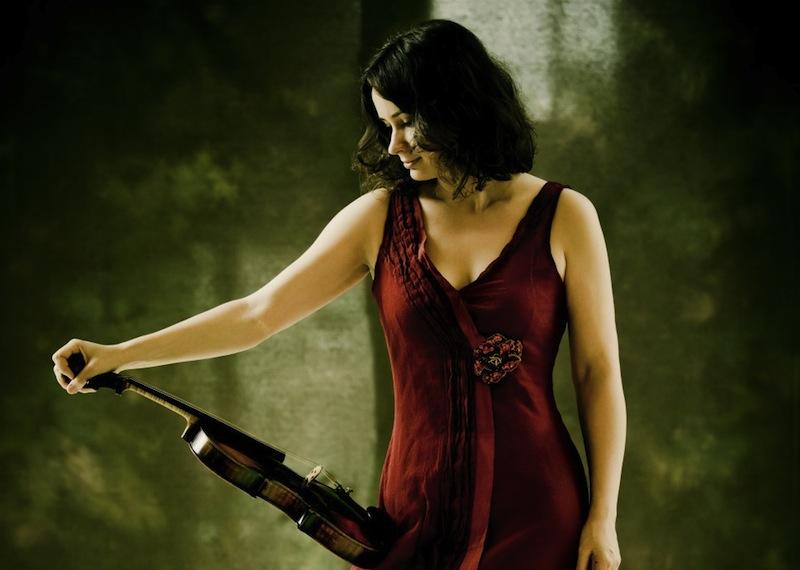 Patricia Kopatchinskaja
Bach: Goldberg Variations Jeremy Denk (piano) (Nonesuch)
There's a lovely online article by pianist Jeremy Denk entitled Why I Hate the Goldberg Variations, to which one answer is that they're too popular, "like a trendy bar that (infuriatingly) keeps staying trendy." Denk's piece describes how exposure to Bach's music saps his resistance, until he is "assimilated into the Goldberg Borg." His performance as recorded on this Nonesuch disc is pretty special, but even better is the accompanying bonus DVD, provided in lieu of a more conventional sleeve note. There are no visual thrills, apart from sporadic shots of Denk's fingers. All we have is an engaging bloke talking to camera and playing the piano. Yet it's compelling – the most lucid and entertaining introduction to a piece of music imaginable. Bach's technical complexities are unpicked with disarming ease; you're left marvelling at how a sequence of 30 variations on a simple bass theme, all in the same key, never sound boring. Denk's prestidigitation is remarkable; the playing here is consistently dazzling and it's useful to have a visual reminder of just how fiddly the faster variations are to perform.
Denk's reading dances with balletic grace. The dryish piano sound inevitably suggests a Glenn Gould, but you won't find any maddening eccentricities here. I marvelled the unforced elegance of Variation 25, its profundity abruptly shattered by the mad trills of what follows. I loved this performance – it's one to live with which can happily stand alongside classy acounts from Gould, Hewitt and Schiff. The accompanying DVD makes it a must-have.
Stravinsky: Violin Concerto, Prokofiev: Violin Concerto no 2 Patricia Kopatchinskaja (violin), London Philharmonic Orchestra/Vladimir Jurowski (Naive)
Look at the track listing and you'll notice that Stravinsky's delicious neo-classical Violin Concerto has an extra movement. Patricia Kopatchinskaja gives us a cadenza, "which Stravinsky didn't write", performed with the help of the London Philharmonic's leader Pieter Schoeman. It's fantastically done, sounding exactly like idiomatic Stravinsky. But it's a little protracted and would have unbalanced this perfectly-proportioned 20-minute work. Prokofiev waspishly dismissed Stravinsky's neoclassical output as 'Bach with smallpox'. You can only hope he was envious. Kopatchinskaja's outer movements are full of sharp wit and glitter. Vladimir Jurowski's chattering winds are appropriately prominent. The closing minutes of the Finale are spectacular, each gear change accomplished with devilish glee. Stravinsky's two Arias are sensational here – both rapt and full of cool beauty.
The coupling is Prokofiev's brooding Violin Concerto no 2; written just before the composer moved his family to the Soviet Union. Jurowski catches the chilliness, with the Andante Assai's ticking accompaniment suitably unnerving. Prokofiev's riper moments are well served by Kopatchinskaja – the first movement's second subject really soars here. Kopatchinskaja's oblique preface to the sleeve note suggests that the finale's castanets sound more like rattling skeletons to her, and there's a dangerous edginess, a feeling of desperate exhaustion alongside the exuberance. Both concertos receive wonderful performances – a shame that Prokofiev's earlier concerto wasn't included too.
Refuge in Music – a film by Dorothee Binding and Benedict Mirow (DG)
Theresienstadt is nowadays known as Terezín, a crumbling garrison town north of Prague. It became a concentration camp in 1941, housing over 50,000 inmates. Most of its residents were middle class Czech Jews, and the Nazis permitted a range of musical and cultural activities to raise morale, and a contemporary propaganda film presented the camp as a utopian community. This enlightening documentary is concise and sober, feeling much weightier than the 58-minute running time would suggest. The camp's history is related unsensationally; the surprise comes in seeing contemporary footage of the town today. Visiting it clearly unsettles British violinist Daniel Hope; how can normal life continue in such a place?
Short extracts of music composed in Theresienstadt are arresting, and the documentary is followed by an extended concert allowing us to hear the works in full. The performances are excellent, as you'd expect from singers Anne Sofie von Otter and Christian Gerhaher along with pianist Bengt Forsberg. There's a fascinating range of styles on display; Erwin Schulhoff's very cosmopolitan modernism contrasting with lighter items by Robert Dauber and Ilse Weber. Hope makes us appreciate that historical circumstance makes all this music culturally important. He's also perceptive as the reasons why so many of the pieces composed in the camp were relatively brief – "it was as if people had to fight for every note", alongside the fact that manuscript paper was in short supply. There are riveting interviews with two survivors - guitarist Coco Schumann and the 108-year-old pianist Alice Herz-Sommer, still lucid and now living in London. For her, "living in such a difficult time enriches one", and seeing her response as Hope plays a Bach saraband to her is deeply moving. Schumann, a sprightly 88-year-old, is a joy – still able to strum a guitar, and musing that he's "the sort of person who makes the best of things... I rejoice that I got out!"
There's a dangerous edginess, a feeling of desperate exhaustion alongside the exuberance
Explore topics
Share this article