Jaimeo Brown and Gogo Penguin, XOYO |

reviews, news & interviews
Jaimeo Brown and Gogo Penguin, XOYO
Jaimeo Brown and Gogo Penguin, XOYO
Popular Manchester trio left in the shade by New York drummer's sensational new setting of Alabama spirituals, Transcendence
Wednesday, 20 November 2013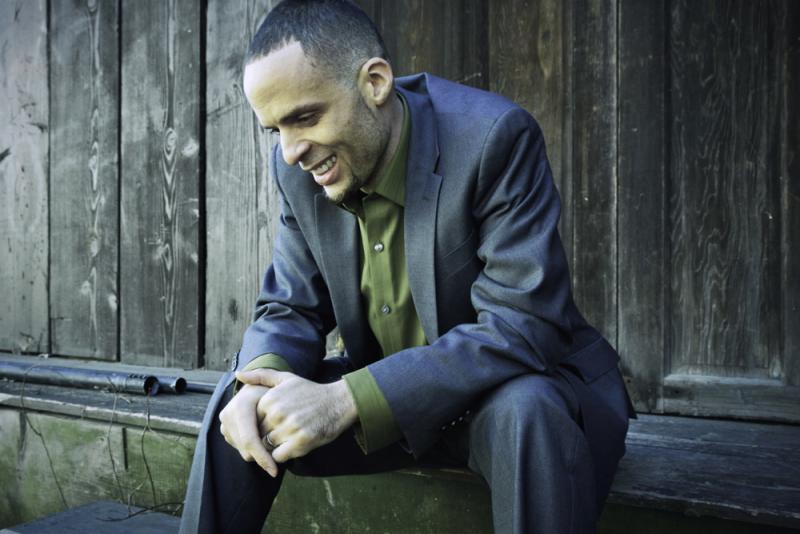 Jaimeo Brown
What does a stuffed penguin have in common with the religious concept of transcendence? Even less than you might think, it emerged last night, during one of the London Jazz Festival's less well matched programmes, featuring one trio named after each item. Gogo Penguin, an amiable and talented group, were outgunned by the intellectually and spiritually sensational vision of New York drummer Jaimeo Brown's improvised setting of sampled spirituals from Gee's Bend, Alabama, the Manchester band's light-heartedness in danger of seeming simply lightweight.
Gogo Penguin has risen quickly to national recognition, with a well received debut album, Fanfares, and largely positive press. The band's music is cleverly and effectively constructed, though its foundations owe more to contemporary minimalism, overlaid with the electronic dance rhythms of an artist like Aphex Twin, than the organic variety of jazz. Many pieces seemed to have a kind of foundation pulse, similar to that used by composers like Ligeti, (the title Fanfares is drawn obliquely from a Ligeti piece of that name), Glass and Reich. This was expressed in attractive harmony on keys and bass, then made danceable with some hooky and complex, but often quite consistent rhythm on drums.
The combination of harmonious, sometimes mesmeric underlying pulse, with the rhythmic hit of the excellent Rob Turner's drumming, was very addictive. There wasn't much dynamic variety, or improvisation. But in a setting like XOYO it hit just the right groove.
Jaimeo Brown began his set speaking with great conviction of the community values embodied by both the original Gee's Bend community, a unified settlement of freed slaves that remained in their nook of the Alabama River long after most black communities had had to move north to work. His use of the community's spirituals was reverential but not nostalgic, the blend of period recording and live improvised playing giving an immense visceral hit.
The spirituals were controlled by guitarist and hip hop producer Chris Sholar, with Brown on drums, and JD Allen on tenor saxophone. Allen's assertive tone was like a questioning voice, interrogating the past, while Sholar's blues guitar hung in the air like the spirit of the music of the black church. Brown gave a vital yet flexible performance on drums, mediating between the live players and the samples, his heavy use of cymbal suggesting both mystery and revelation. As a piece of live, improvised music, the range of textures and tempos was compelling. But it was also a statement of integrity and ingenuity about black music and history.
There's nothing new about sampling spirituals: Michael Tippett did it 70 years ago. What makes this a great piece is the way in which it succeeds on so many levels. The conversation that Brown is having with black music and history here takes place literally. Sholar controls what we hear of the spirituals in real time, and the band responds, live, collectively, an embodiment (or admonition, or commendation?) of the contemporary community's response to the past. It's both a literal statement and powerful symbol of how black music sees its past.
Gogo Penguin makes rhythms so catchy they could snare a greased pig. The success of these hooky, danceable tunes in clubs is understandable and deserved: it's music that makes you shake your ass. Jaimeo Brown makes music that shakes your heart and soul.
Gogo Penguin makes rhythms so catchy they could snare a greased pig
rating
Explore topics
Share this article