Taylor Wessing Photographic Portrait Prize 2013, National Portrait Gallery |

reviews, news & interviews
Taylor Wessing Photographic Portrait Prize 2013, National Portrait Gallery
Taylor Wessing Photographic Portrait Prize 2013, National Portrait Gallery
This year's shortlist highlights the often uneasy relationship between photographer and subject
Wednesday, 20 November 2013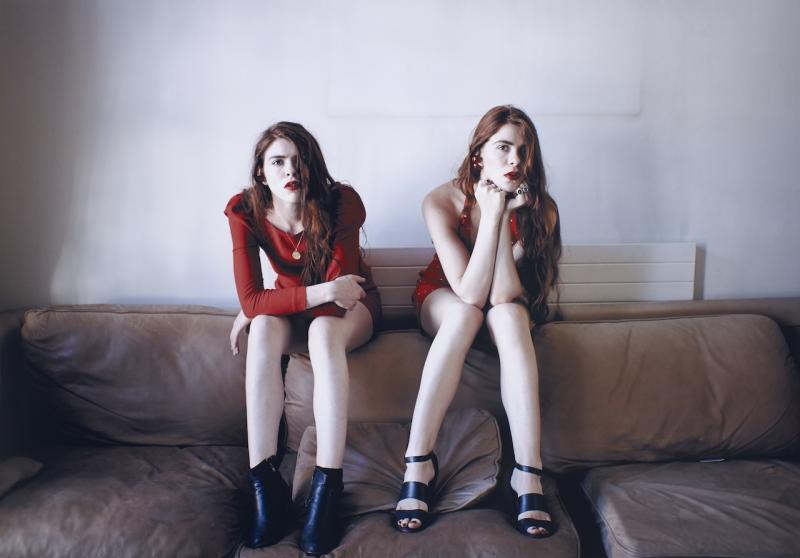 Hana Knizova's double portrait of would-be models Elza and Nellie
The precise nature of the photographic portrait has always been contested, and this year's Taylor Wessing Prize only fuels the debate. While historically photographers have questioned the portrait's ability to go beyond physical fact to reveal a subject's character, this exhibition of shortlisted entries challenges the notion that a portrait should tell us about its subject at all, while also raising questions about the ethics of picture-taking.
Selected from over 5,000 entries by photographers from around the world, the winner of the Taylor Wessing Prize must convince the judges that it "successfully transmits the circumstances and character of a sitter". For a competition with such broad entry criteria there is a correspondingly wide range of subjects and approaches, but there is, nevertheless, a tendency amongst those shortlisted to fetishise detail by minimising context and highlighting every imperfection to the point of the grotesque.
One might conclude that this is an inevitable and conscious attempt by photographers to distance themselves from the artifice of commercial image-making. Indeed, Hana Knizova's double portrait of would-be models Elza and Nellie (main picture) is almost an anti-fashion shot that makes a freakshow of the pair, whose good looks are distorted into caricature, their matching dark lipstick and red dresses emphasising the ghastly pallor of their skin. Both women's faces are half covered by their hair, a device that renders each incomplete, cruelly suggestive of some two-headed being, in a perversion of the cliché that twins are two halves of a whole.
There is something about the Queen's gaze up into the distance that suggests she has been caught off guard
The twins' uneasy expressions only confirm that all is not well here, and their relationship with each other, with the photographer, and with the viewer feels intensely strained. Knizova is frank about her treatment of the twins as curiosities, saying of Nellie, "I was immediately captivated by her striking presence, before I realised there were two of them". While the portrait is undoubtedly fascinating, the power struggle inherent in all portraiture seems unfairly weighted on the side of Knizova and one cannot help but feel that the twins, in Britain seeking fame and fortune after appearing on New Zealand's Next Top Model, have come away from the transaction with very little.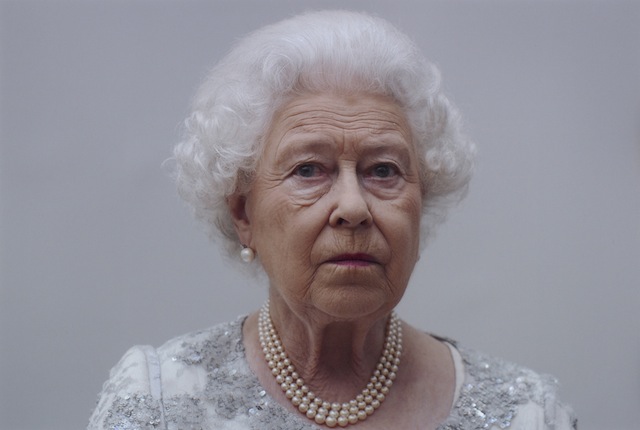 Enjoying the power that comes from standing behind the camera is something of a theme here, and while hand-wringing over the ethics of picture-taking might seem quaint, Carl Court's The Queen – Grey (pictured above), blurs the lines between portraiture, documentary photography and paparazzo shot. The portrait's stillness and head-and-shoulders composition give the impression that it has been "sat" for in the traditional way, and yet there is something about the Queen's gaze up into the distance that suggests she has been caught off guard, looking grey, elderly and vulnerable. Richard Avedon defined a portrait as "a picture of someone who knows he is being photographed", implying the importance of consent. Court's picture rejects Avedon's definition entirely: The Queen – Grey is a portrait that has been well and truly "done to" its subject.
While stripping back a portrait to its essential elements can leave a subject isolated and vulnerable, Patrick Fraser's portrait of ballerina Carla Körbes (pictured left) uses just this technique to achieve quite a different effect. Naked but for a leotard, the subject stands in the middle of an empty road that disappears into a foggy gloom, featureless aside from a bare tree and the muted green of a grass verge. A lonelier vision would be hard to imagine, and yet one feels that Fraser has done this not to belittle his subject, but in order to impress us with her energy, poise and strength. Körbes looks straight at us, her strong body exuding confidence and grace, a ballerina through and through. At last, this is a portrait where the photographer has struck a truly fair deal with his subject.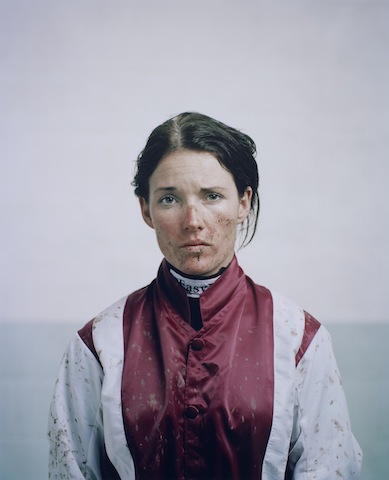 The precise nature of the deal between winner Spencer Murphy and jockey Katie Walsh (pictured below) is harder to fathom; like the twins Elza and Nellie, Walsh looks less than comfortable in front of the camera and yet Murphy has done nothing to put her at her ease. As is de rigueur, the jockey is utterly isolated against a neutral background, and aside from her mud-spattered clothes there is nothing for the viewer to engage with but a faintly anguished face – even her identity as a jockey is far from obvious. It is hard to know what we are to take from this: without the crutch of the accompanying text there is little to go on, and yet the judges evidently feel that of all the images, this one speaks loudest. The problem is that it speaks most of the jockey's discomfort, but in doing so the portrait is inadvertently genuinely revealing about the photographer himself, perhaps the ultimate revenge for any reluctant subject.
There is a tendency to fetishise detail by minimising context and highlighting every imperfection to the point of the grotesque
Explore topics
Share this article