Prom 38: Beethoven's Ninth Symphony, National Youth Orchestra, National Youth Choirs, Petrenko |

reviews, news & interviews
Prom 38: Beethoven's Ninth Symphony, National Youth Orchestra, National Youth Choirs, Petrenko
Prom 38: Beethoven's Ninth Symphony, National Youth Orchestra, National Youth Choirs, Petrenko
The first free Prom proves a very satisfying combination of youthful energy, talent and sheer force in numbers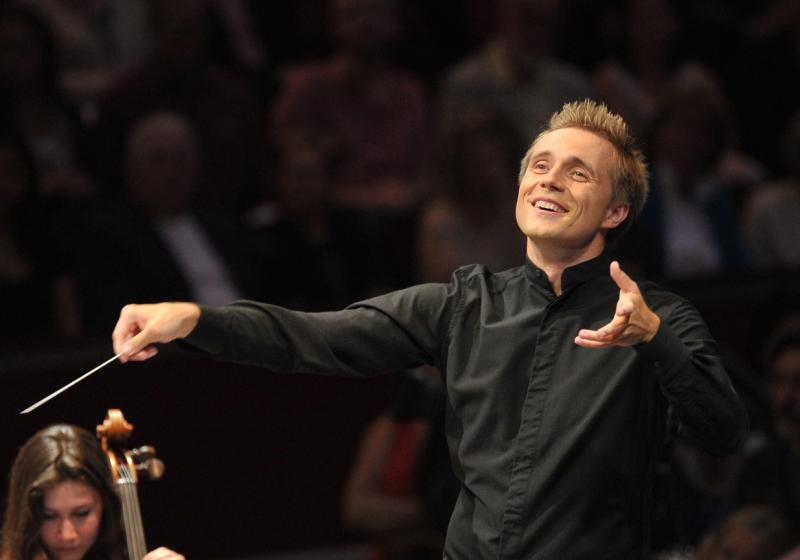 Vasily Petrenko coaxes commitment and precision from his youthful performers
It makes a lot of sense for the National Youth Orchestra to give the first ever free Prom. Both, one assumes, economically but also in terms of ethos and atmosphere. New and tentative concert goers would have had very little cause to be intimidated by the fresh faces on the Albert Hall stage last night. That's thing about youthful energy – you can't fake it. The same goes for musical quality, or course, and thankfully the NYO has bags of that too.
Vaughan Williams's Toward the Unknown Region showed off the beautifully rehearsed choirs, making controlled and expressive use of dynamic range through the early parts of the work, but holding something back to give real impact when the text demanded ("Then we burst forth…"). The piece itself manages to be rather grand but also somehow workmanlike: the thus-far-but-no-further harmonies, the organ roaring in at the end for that turned-up-to-11 effect, the harp flourishes, could all be seen as thrillingly involving or button-pushing slush, depending on your viewpoint.
Mark Anthony Turnage's Frieze, co-commissioned by the BBC with the Royal Philharmonic Society and the New York Phil, received its world premiere. It's designed as a companion piece to Beethoven's Ninth Symphony, following its four-movement structure and even with the occasional nod to its musical ideas (conductor with bust of Beethoven, pictured right). Turnage has prior when it comes to composing responses to other music, not least with Hammered Out, a reimagining of the Beyoncé hit "All the Single Ladies" which featured at the 2010 Proms. But Frieze is a much more circumspect homage, featuring allusions and gestural references rather than anything resembling quotation. A range of bells and tuned percussion gave an eastern flavour to Turnage's discordant but approachable sound world, with a bit of swing and jazzy syncopation never too far away.
The overall feel owed more to Hollywood than Beethoven, perhaps, but the piece was no worse off for it. It was entertaining rather than engrossing, though as a showpiece for the orchestra is was very effective indeed – syncopations are either tight or they fail, and the NYO ensemble certainly pulled it off. It may have helped if the orchestra didn't appear to be taking it so very seriously. Youth is all well and good but, while not suggesting any Venezuelan emulation (each to their own), a touch of youthful exuberance wouldn't have gone amiss.
The Royal Philharmonic Society is celebrating its 200th anniversary this year and has quite rightly been shouting about how illustrious that history is – commissioning Beethoven's Ninth Symphony and organising its premiere in London is a pretty good headline example. The forces for this performance included the National Youth Choir of Great Britain, the Irish Youth Chamber Choir and Codetta, a Northern Irish chamber choir. Together they provided ample choral oomph to bring off a finale which more than compensated in difficulty for what it might have lacked in subtlety.
The concert may have been free but there was nothing budget about the quartet of soloists: Ailish Tynan, Jennifer Johnston, Toby Spence and Gerald Finley (pictured left). They were positioned between the choir and the orchestra rather than at the front, which is hardly unusual for the piece but still made it quite a tough gig. Individually they managed, but as voice types they were not ideally matched. Tynan was distinctly operatic, while Johnston was more restrained and choral. Spence's voice is more suited to caressing subtleties than blaring teutonically over an orchestra of 100-plus, while Finley's somewhat heavier instrument carried well.
The orchestra, under Vasily Petrenko's sensitive guidance, played with real commitment and precision, not to mention vigour and power when required. As the frantic last few bars of the totemic symphony crashed to a triumphant close, the whoops and cheers of proud parents, friends and relatives of the musicians were joined by thunderous applause from the packed hall.
The assembled forces provided ample choral oomph to bring off a finale which more than compensated in difficulty for what it might have lacked in subtlety
Explore topics
Share this article