Interview: Serge Dorny of Opéra de Lyon |

reviews, news & interviews
Interview: Serge Dorny of Opéra de Lyon
Interview: Serge Dorny of Opéra de Lyon
Can a space-age 'Fidelio' really take opera into the future? Yes, says opera's outspoken impresario
Serge Dorny: 'It's not about being provocative or disrespectful, I'm trying to find a balance'
A lot has changed in the 10 years since Serge Dorny arrived at Lyon Opera. Attendance in a supposedly dying art form has risen to 96 per cent, and no charges of elitism or unfashionable nostalgia have deterred the 25 per cent of Lyon's audiences who are now under 26 – Europe's youngest opera-going crowd. But how has Dorny managed this, and at what cost?
Is he really the Opera Whisperer or are his innovations just gimmickry, shiny bandages temporarily plugging a fatal wound?
It's a question that UK audiences will soon be able to answer for themselves as Dorny brings his latest and most ambitious operatic project yet to this year's Edinburgh Festival. Reimagining Fidelio as a post-apocalyptic drama set in outer-space (production pictured below), complete with Segways for all protagonists, new spoken components, and elaborate dialogue between live action and 3D projections, video artist Gary Hill has taken Dorny's policy of cross-arts collaboration and run wild with it.
I'm not just bringing in a video artist just to be provocative, to be trendy
"I try to give any artist working here as much freedom as possible," explains Dorny. "Obviously there are certain conditions everyone has to accept. You have to accept Beethoven's score, the musical storyline and characters that he creates. But within that framework we've tried to give Hill as much freedom as possible. Initially I did expect a different response from him, because he is a very politically engaged artist. I imagined that he might produce a reworking focusing far more closely on political imprisonment, so his idea was a complete surprise."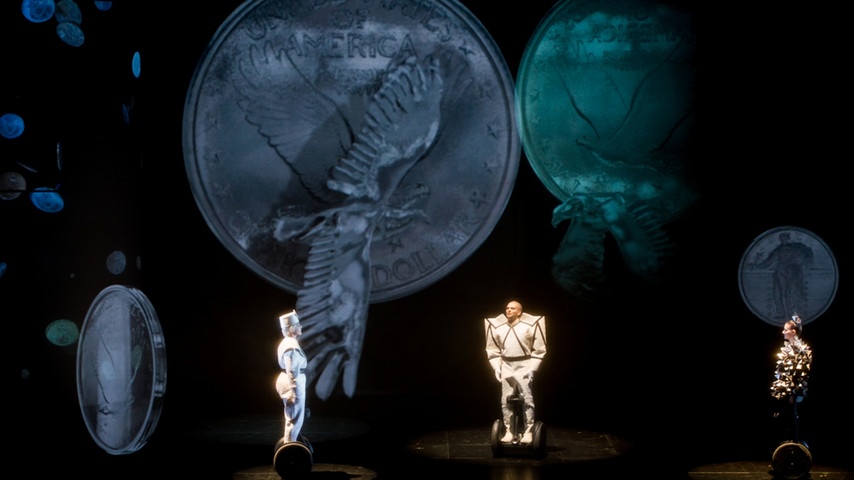 It was also a surprise to audiences in Lyon, where the production was debuted earlier this year. Critical reactions were mixed, not so much questioning Hill's concept but his execution. In a conversation in which the eloquent and expressive Dorny barely draws breath, the question of what Hill's concept adds to Beethoven's original mines a rare seam of cliché. "The fact that it is projected into the future demonstrates the timelessness of the opera itself, and of Beethoven's ideas. It's a story for all times, and however sophisticated our world becomes, there are still the same conflicts and tensions within the human condition, the same political actions. We live the same stories over and over again."
But whatever the philosophical limitations of this new Fidelio, the technical possibilities it opens up are undeniable. This production might not tell us much that's new about Beethoven, but it does give us a glimpse into a potential future for opera, as envisaged by Dorny.
"Video is an art-form that is being used more and more by stage directors – just look at Robert Lepage's work, or British theatre company 1927's recent Magic Flute in Berlin. The question though is how you use it. It can be extremely expensively used but not very well integrated into the fabric of the opera and performance. This project has been created by a video artist and is almost a video project rather than a theatrical one. It is almost a semi-staged opera around a video project."
And there is the paradox of the show – a genuinely dazzling and impressive visual spectacle, which in its first incarnation couldn't quite grasp the theatricality needed for good opera. But Dorny isn't alone in wrestling with this particular method of revivifying the genre. English National Opera's recent co-production The Sunken Garden was conceived not only as a digital spectacle, but integrated video technology into the thematic fabric of the work itself. It too suffered from some critical backlash, and in the face of such issues (and indeed English National Opera's other recent problem-productions) can Dorny and John Berry's faith in the input of collaborators from other artistic disciplines really be fulfilled?
"It's not that I'm bringing in a video artist just to be provocative, to be trendy. Respect for the score will always be my starting point, but I think it's interesting to have artists coming in with different perspectives on the genre. It demonstrates first of all that opera has the capacity to capture the imagination of those artists and also helps opera not to be something stuck in the past. Rather than being nostalgic and reproducing pieces that are from an earlier age, it is moving them into today's time and even into tomorrow's."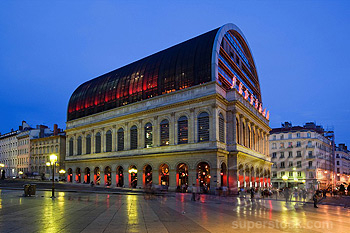 But while collaborations are an important part of Dorny's success in Lyon, the director is keen to stress that opera and the arts are not a one-size-fits-all world.
"Every arts institution should have its own signature. So many nowadays seem interchangeable, their programming could belong to any one of a number of international organisations. They are not connected sufficiently to their own place and context. If those things weren't important then we could just have a central production centre and dispatch operas and concerts out across the world. Every institution is and should be embedded in its city and its history and traditions. I consider these to be part of the assets of any organisation."
So what are Lyon's own assets? "Lyon (Lyon's beautiful Jean Nouvel Opera House, pictured above) has always had a very keen interest in commissioning new works and rediscovering lost ones. I have built on that. Each season there is at least one new commission, as we make a conscious effort to expand the repertoire. Since 1600 about 50 to 60,000 operas have been composed. If you look at the core repertoire today it consists of about 50, maybe 100. I'm not saying that all 60,000 works are great operas, but I find it unlikely that only 50 are worth listening to – that would be a very sad conclusion."
So innovation jostles with tradition in Dorny's philosophy, offering a picture that seems endearingly parochial and indigenous in today's globalised arts scene. The future health and success of opera, it seems, is less about growing your audience than knowing it – respecting the history and roots of the genre that may always have one foot in the past, but can also have its eyes facing ahead. But whether that gaze will linger long on space-shuttles and RoboCop villains remains to be seen.
'Whatever the philosophical limitations of this new 'Fidelio', the technical possibilities it opens up are undeniable'
Share this article