The Dealership, Channel 4 |

reviews, news & interviews
The Dealership, Channel 4
The Dealership, Channel 4
Would you buy a used car from these Essex men?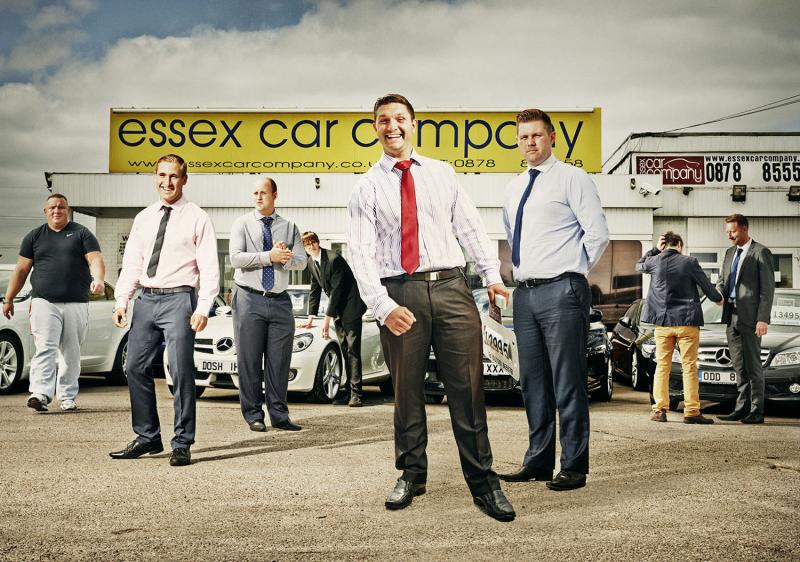 A cheery greeting on the forecourt is often followed by a distinct lightening of the wallet
Buying a used car is not for the squeamish at the best of times, but the notion of buying one from something called the Essex Car Company freezes the blood. Yet the idea of making a slice-of-life, fly on the wall, reality-tv-style doc about the aforesaid jalopy-shifting outfit radiates an unmistakeable allure.
The introductory voice-over laid out the floor plan: "Two hundred used motors, a team of fast-talking salesmen, and car-buying customers from all walks of life." Perfect. We were introduced to James, the most successful of the Essex boys when it comes to getting those lumps of car-flesh off the lot.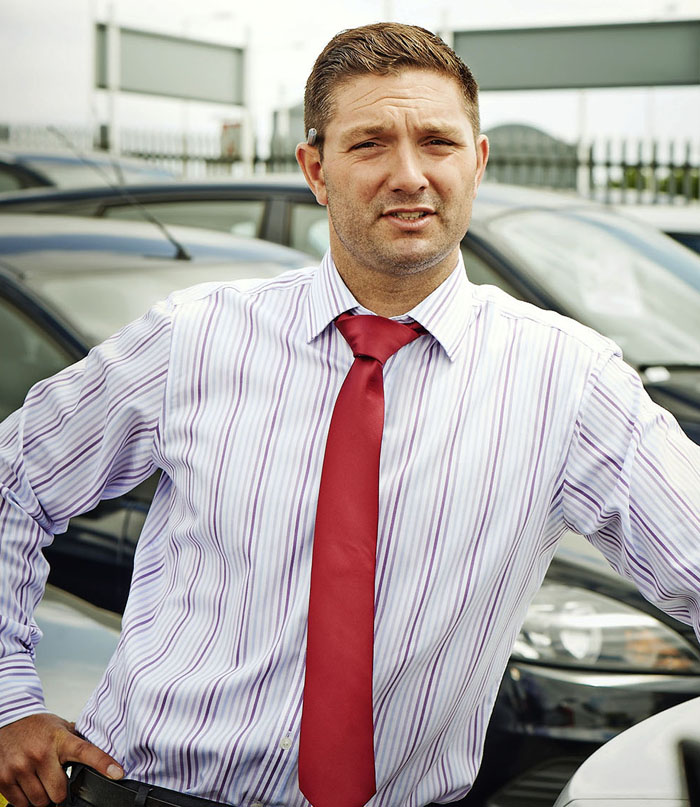 "They've got to be lovin' ya," James (pictured right) explained of his approach to his customers, in one of the mugshot-to-camera sequences in which we met the sales crew. The key to James's success seems to be that he plays the man (or woman), rather than the ball (or in this case car). "Cars bore me," he admitted, refreshingly. "I've got no time for cars whatsoever. It's the people bit I love."
That was kind of it in a nutshell. While the customers are usually wallowing on a choppy ocean of indecision about which car they want, how much it costs and how they're going to find the money, the salesman's task is simple: don't let them leave until they've bought one. He doesn't even care how much they pay as long as they buy it, since he chalks up a kill for every chassis he can shift. "Of course I'd sell a car at any price cos it ain't my car or my money," chuckled James. "I just want the unit."
James woos his punters with geezerish charm and an unstinting torrent of patter ("you come out with flannel all day," as he explained to Declan, the swotty work experience GCSE student). He flatters the ladies about their youthful good looks and shamelessly twangs the heartsttrings, as he did with the family trying to buy a Mini for their daughter Katie. "Aaah, look at 'er little face. Don't look so sad!" he cooed to Katie, as dad refused to stump up another 300 quid to seal the deal. "You're going to have to look at that face over the breakfast table," James reproached him. Then he cannily left them to talk among themselves for a bit. Sure enough, mum sided with daughter and dad caved in. Result!
James will never be Prime Minister or run Apple, but he undoubtedly has a natural gift. His colleague Scott, by contrast, doesn't. His previous job was fitting windows, and so far he's finding the art of selling used motors all a bit of a mystery. While James charms the loot out of the clients' pockets, Scott watches in dismay as they find his patter all too resistable and walk away.
For a moment, it looked as if he was going to unload 21 grand's worth of Range Rover (not dissimilar to the one pictured left) to a strangely androgynous chap called Jordan, who works as an assistant manager at Mothercare (as we were told with unusual precision). Jordan was becoming almost jellified with delight at being seen at the wheel of the head-turning "Range", but he was thrown at the final hurdle - he suddenly discovered that he still owed £18k on his current car, a Nissan Qashqai, having signed up to a piratical instalment plan with whose small print (or even the bits in bold capitals) he had failed to become acquainted. Another misfire for Scott, who's coming under the pitiless scrutiny of his boss Greg, who counts every bean like the Scrooge of Rainham.
I daresay Greg will also have been disappointed in young Declan, having brought him into the heady world of Essex Cars "to 'arden 'im up for the real world." Declan confided to the camera that "a lot of people my age want to be criminal psychologists," though after dogging James's footsteps around the lot for a few days, Declan decided that a career as a writer was more his cup of tea. Takes all sorts though, eh?