Silence |

reviews, news & interviews
Silence
Silence
Atmospheric Irish meditation on the nature of the transitory
Eoghan Mac Giolla Bhríde as 'Silence's' wandering sound recordist
A taciturn, bearded Irishman leaves Berlin to return to his homeland. He's travelling there to record silence. Arriving in Donegal, he wanders the countryside with a microphone trying to capture an environment where sounds made by humans do not intrude. In the rain and on moors, he stands or crouches with his equipment. Occasionally, someone encounters him.
He returns to the house of a raconteur for bread, cheese and ham (
pictured below right
), before he's drawn to the remote, Atlantic-buffeted Tory Island where he grew up.
And that pretty much encapsulates the 84 minutes of Silence (not to be confused with The Silence, a 2010 German film). The film is about this man's journey and his attempt to document something as elusive as his own past – a past which unavoidably surfaces after his return to Ireland.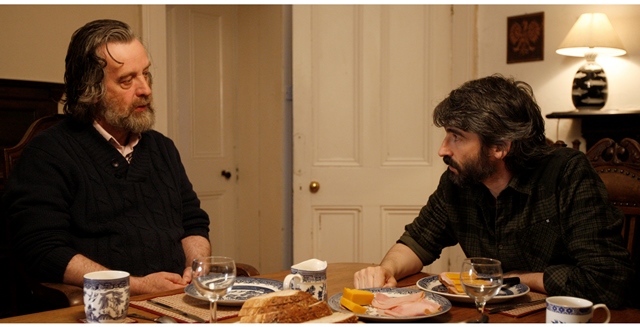 Silence is directed by Pat Collins, who has a string of documentaries to his credit, and its subject is played by Collins's regular collaborator Eoghan Mac Giolla Bhríde, also one of the film's co-writers. This personal meditation blurs the boundaries between documentary and fiction. When a puzzled walker comes across Eoghan and his equipment, it initially feels as though someone making field recordings for real has been caught in the act.
Collins has said that his inspirations include the mid-20th Century folklorists and song collectors Seamus Ennis and Seán ÓhEochaidh, the Irish counterparts to Alan Lomax and Cecil Sharp – men documenting the traditional and ephemeral before they vanished. The stories of those that the wandering Eoghan encounters are similarly collected in Silence, as are their environments.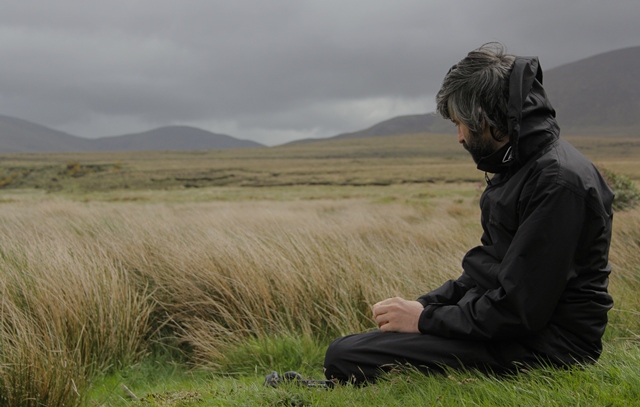 But this is a fictional reflection on the transitory. Once he's spent time on Tory Island, Eoghan will move on, returning to Berlin. A young man he talks to seems at one with the region, but then reveals he is thinking of leaving to study at university.
One of Collins's previous films was on Iranian filmmaker Abbas Kiarostami. Another was on Tory Island. Others have covered Irish history and the country's environment. Despite being a first venture into fiction, Silence conforms thematically to subjects Collins has been examinining for almost 15 years. The documentary on Kiarostami is particularly telling; the contemplative air of Silence is akin to the introspection and serenity of his 1997 film Taste of Cherry.
In Silence, all this comes together in a film where little happens, not much is said and atmosphere matters most. Time slows down while watching it. Deep concentration is required from viewers.
Watch the trailer for Silence
This personal meditation blurs the boundaries between documentary and fiction
rating
Explore topics
Share this article