Shell |

reviews, news & interviews
Shell
Shell
The bleakest of father-daughter relationships is captured with warmth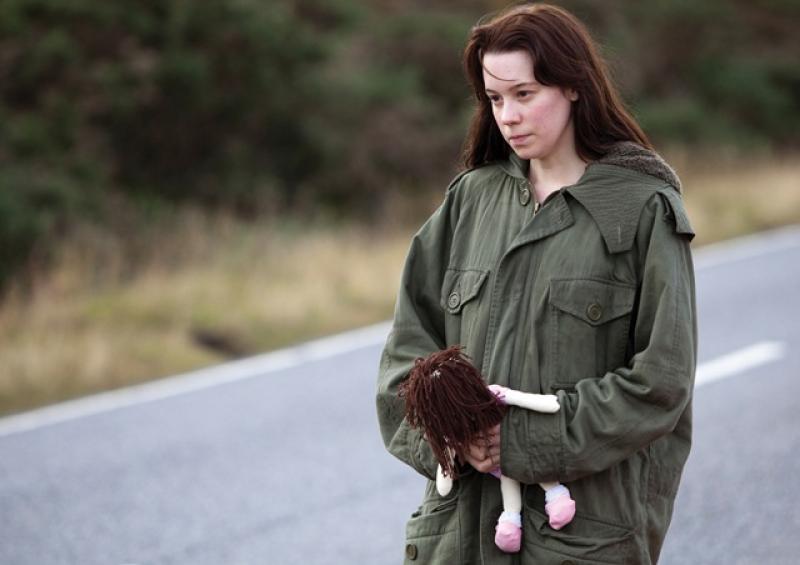 Moving: Chloe Pirrie in 'Shell'
As a finely drawn portrayal of loneliness and solitude encouraged by bottled-up emotions, Shell would be noteworthy enough. But it also contains two scenes – father and daughter interactions - that are deeply uncomfortable viewing. First-time feature director Scott Graham's encapsulation of the life of 17-year old Shell and her father Pete's life at an isolated Scots garage isn't going to be quickly forgotten.
Shell's mother left years ago, for unspecified reasons. With an epileptic father, her routine, such as it is, is set by the infrequent customers that stop to fill up on the journey between the big city and deeper in the Highlands. One, a divorced older man, is a regular visiting his kids when he's allowed to. One of the voids in his life is filled by ideas that he could have a relationship with Shell. The only other regular comes from closer to hand: Adam, just sacked from the local saw mill. His fixation on Shell results in a sad liaison that proves wounding for her.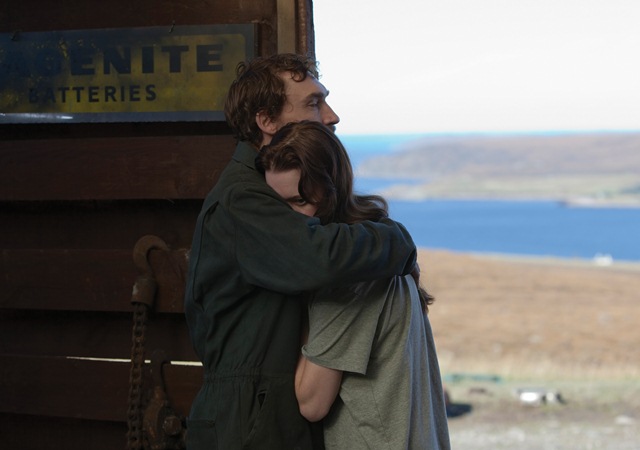 When the outside world arrives, it seems as broken as the relationship between Pete and Shell (pictured right). They hardly speak, and when they do it's invariably terse and barely conversational. Pete takes out his frustrations on the cars he breaks for scrap, sold to maintain their subsistence lifestyle. The road passing the garage seems to go on forever, but Pete and Shell are not moving along it. Stuck together, their lives are lived as though experiencing a prolonged period of post-traumatic stress disorder neither will acknowledge. Shell sings to herself but her only unfettered joy comes when dancing, on her own, to Dire Straits. Just as he does when he's in a room with her, Pete looks in on Shell's reverie from outside.
The taciturn Shell has a brooding power. After a few minutes, it becomes difficult to look away. It's fascinating. Most of the attraction stems from the new-to-film Chloe Pirrie (seen on TV in Black Mirror) who movingly captures Shell as young woman who's both inward-looking and trying to negotiate the wider world while coming to terms with the nature of her sexuality. On her own, she has no role model, no tutor. Joseph Mawle's Pete is wound so tight it's no surprise he falls to the floor in a seizure. Both characterisations of these unsettled people are utterly assured.
Equally impressive is the contrast between their hermetic life in and close by the garage, and the endless landscape, water and road which, in effect, incarcerate it and this lost duo. Less sure-footed is a repeated visual metaphor drawn between Shell and the area's deer, one of which is mown down by a passing car. Although isolated garages and communities are film shorthand for telegraphing narratives centring on damaged people, strong performances and stunning cinematography set Shell apart. Graham has expressed his admiration for Scots' director Bill Douglas, whose Jamie reverberates through Shell. There's also appears to be a kinship with early Lukas Moodysson.
Graham preceded Shell in 2007 with a short film of the same name. Although the scenario and narrative of his new film draw on it, it was not a dry run for what's released this week, more a test of his confidence. The new film does not open its precursor out. Instead, it has its own atmosphere. Seeing the 2007 film does not, in any way, add to the appreciation of Shell.
After initially appearing as bleakly forbidding as the Highland winters this father and daughter would endure, Shell reveals the moving drama of a relationship that's beyond repair, like the cars which come Pete's way.
Shell opens on Friday 15 March
Watch the trailer for Shell
The road passing the garage seems to go on forever, but Pete and Shell are not moving along it
rating
Explore topics
Share this article