Abida Parveen, Bridgewater Hall, Manchester |

reviews, news & interviews
Abida Parveen, Bridgewater Hall, Manchester
Abida Parveen, Bridgewater Hall, Manchester
One of the world's most inspirational voices at the Manchester International Festival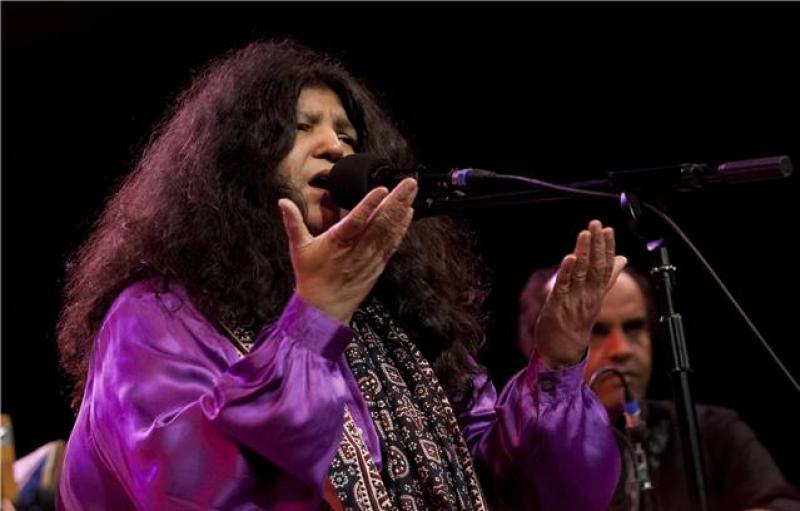 Abida Parveen: the greatest Sufi singer?
It was wonderful watching and listening to Abida Parveen through the sculptural arms of a girl sitting a few rows in front. As Abida began, with a rich, clarinet-like voice, the woman raised her arms as if to bathe in or caress the sound, elegantly turning and twisting her fingers and hands to the music.
Parveen is the greatest Sufi singer in Pakistan and is a very rare visitor to the UK, so it was something of a coup for the Manchester International Festival to get her, not just for her own show, but also to take part in John Tavener's remarkable composition
Mahámátar
, for a Werner Herzog film about pilgrimage. Tavener, we were told, had described her voice as "primordial".
At times she'd reach a note and hold it for longer than seemed humanly possible
It was apparently Björk, who appeared at the last MIF, who'd suggested Parveen, but it was a predominantly South Asian audience at the Bridgewater Hall for her solo show and they rose to their feet in appreciation as she set foot on stage in a purple dress and patterned scarf. She had with her a black book of hand-written lyrics on loose pages – the poems in Punjabi, Sindhi and other languages of Pakistan that make up her repertoire. Finishing each song to ecstatic applause, she'd sort through the pages to find the next one, suggesting that the set list was pretty fluid.
Parveen was accompanied by just three musicians on harmonium, tablas and dholak drum and the music had a rapt intensity, although muddied by too much reverb. Unable to understand the lyrics, the warmth and intensity of Abida's voice is captivating and the way she sculpts and shapes it with her hands make her thrilling to watch. At times she'd reach a note and hold it for longer than seemed humanly possible. Her songs would often end with her head thrown back, her hair cascading and her hands pointing heavenwards.
It wasn't long before the woman in front of me was on her feet, irresistibly dancing to the music as Abida sang punching the air, as if unable to contain her love of God. For the last 20 minutes virtually everyone was on their feet, particularly for the closing "Dam Mast Qalandar", a popular and rhythmic celebration of one of the subcontinent's most celebrated Sufi saints. There was no question that we were in the presence of one of the world's most inspirational voices. Hearing her unamplified the following night, alongside the solo cello of Steven Isserlis, in the Tavener totally reconfirmed that. The meeting of ecstatic spiritual traditions – Christian and Muslim – couldn't have been more apt.
Watch Abida Parveen sing the poetry of Bulleh Shah
It wasn't long before the woman in front of me was on her feet, irresistibly dancing to the music as Abida sang punching the air
rating
Explore topics
Share this article