theartsdesk Q&A: Björk |

New music reviews, news & interviews
theartsdesk Q&A: Björk
Reykjavik's favourite daughter talks remixes, smoked Danish pig and the meaning of life
Saturday, 24 November 2012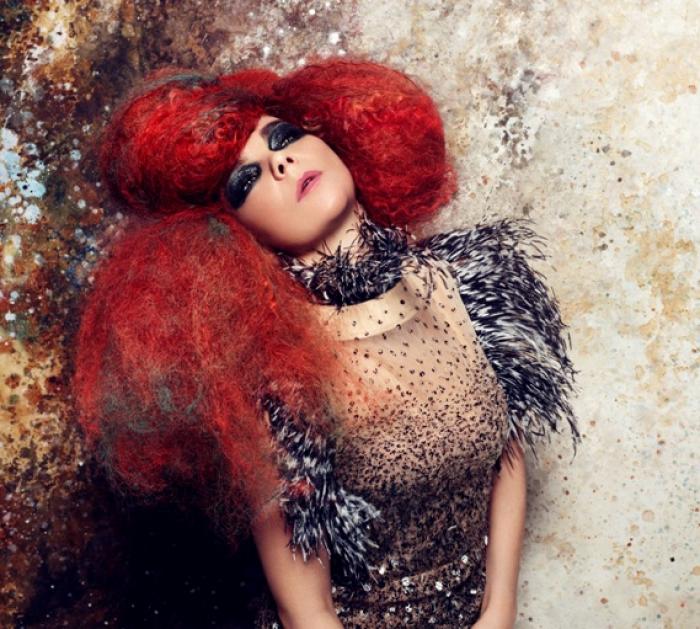 Björk: 'making music is like organising an accident'
When an artist calls the people of their hometown their family, it's usually a metaphor. In the case of Björk Guðmundsdóttir it's actually true. Reykjavik has a population of only 200,000 and everyone is somehow related. But she's more than just the capital's favourite daughter: to the outside world the diminutive singer has become as emblematic of Iceland as its volcanoes and midnight sun. In turn, the uniqueness of the country helps fuel Björk's individualism.
Her early work may be best remembered for a series of dance-pop singles, but there has also always been plenty of musical experimentation. This has developed over the years. Last year's Biophilia (pictured below) was virtually avant-garde. It was also a series of iPad apps, an experimental concert tour, a documentary, and a science/music education programme. Last Monday, an album of remixes from the album - Bastards - was released.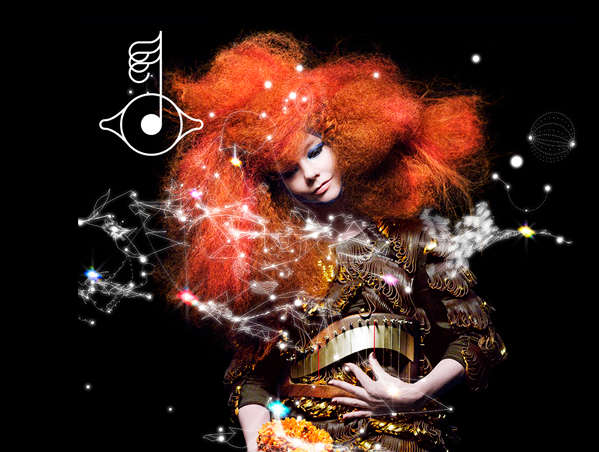 Appropriately for someone who uses technology to such effect, I meet Björk over Skype. She appears in front of the camera with no make-up, a cup of coffee in her hand and wearing a white t-shirt which contrasts with the blue ends to her long black hair. Being a mother in her forties seems not to have diminished her essential Björkness.
She explains this week she's been creating; both in a rented woodland cabin and back at her modest townhouse in the city. That's why, despite it being 11.08 a.m.– daybreak in Reykjavik – she's just got up. Björk points the laptop out of the window to show the sun coming up. Even on the outskirts of the country's capital, outside is pristine beach and rolling ocean. Björk is clearly very proud to be an Icelander. She lives there half the year with the other six months spent in her boyfriend Matthew Barney's house in New York.
Björk speaks slowly with a strong accent, but expresses herself confidently and more often than not with a mischievous twinkle in her eye. With the introductions out of the way, the conversation moves naturally on to her homeland:
RUSS COFFEY: Briefly, what's the current feeling in Iceland a few years on from the economic problems?
BJORK: It's really hard to talk about it briefly, but I'll give it a go. Being such a tiny country, the bank crash gobbled Icelanders up 100 percent and we all crashed 100 percent. There was no infrastructure to catch the collapse; but then there was a huge investigation with both the bank system and politicians and many ended up in jail. It was tough because it's a small nation with everybody related. But now I think we're the nation that's cleaned up the most. We're so tiny, we can. Things happen quickly here. We crashed quickly and we recovered quickly. But it's tricky because it's all friends and family and everybody's related to these, we call them banksters. It only took about 20 of them to collapse the nation. Basically it's like jailing one of your family
We're near the mountains and volcanoes, eruptions, earthquakes and storms
Speaking of Iceland, the songs on Biophilia have an other-worldly quality about them. How do you find living on top of the world affects your music and outlook as an artist?
Obviously I don't feel like I'm on top of the world. I feel like this is the centre. I don't mean that in a megalomaniac way; this is normal for me - you guys are the odd ones. The lifestyle here in Iceland is how I've always lived my life. Reykjavik's a modern European city, with the most Wi-Fi per person, and we read most books per person but it's still a sort of a village because there's only 200,000 people.
We have the beach here and we're near the mountains and volcanoes, eruptions, earthquakes and storms. A lot of people have boats and for others the biggest hobby is hiking. In fact about 80 percent of hobbies in Iceland involve going out into nature; like hiking or going out on four-wheel-drive jeeps. Mainly this comes out in my music without an effort. There are moments, though, when it's more conscious: for example on an album called Homogenic. I went to Spain for six months to do that album and I was really homesick. I found myself doing an Icelandic album - seeing it from an outside point of view. If you watch the video of a song called "Jóga", it's very homesick. I was trying to make techno beats and make them sound like eruptions.
How the custom instruments for Biophilia were created
I don't really see any difference between the albums I'm making now and the albums I did in the beginning
Explore topics
Share this article
Subscribe to theartsdesk.com
Thank you for continuing to read our work on theartsdesk.com. For unlimited access to every article in its entirety, including our archive of more than 10,000 pieces, we're asking for £2.95 per month or £25 per year. We feel it's a very good deal, and hope you do too.
To take an annual subscription now simply click here.
And if you're looking for that extra gift for a friend or family member, why not treat them to a theartsdesk.com gift subscription?