The Fall, Series Finale, BBC Two |

reviews, news & interviews
The Fall, Series Finale, BBC Two
The Fall, Series Finale, BBC Two
Exploitation pays as Belfast thriller draws to a temporary conclusion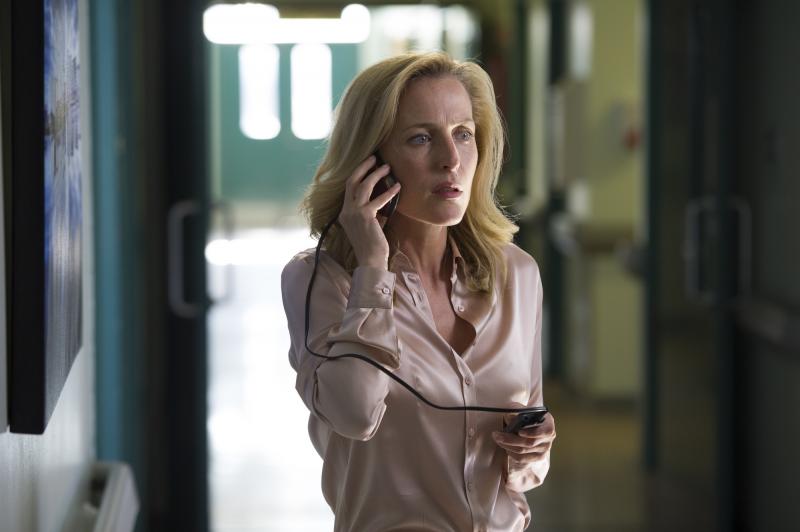 DS Stella Gibson (Gillian Anderson) closes in on the killer in the last episode of The Fall
In the end, it was always going to come down to the last episode whether The Fall was powerful female-driven drama or, to quote another writer for theartsdesk, "misogynistic torture porn". That conclusion, however, was as elusive as the ending of Allan Cubitt's thriller; cunningly set up as if to strongarm BBC Two into a second series before the announcement was made.
The Fall has avoided many of the cliches of the traditional whodunnit
Perhaps part of the confusion was mine, given that once upon a time Gillian Anderson played my first feminist hero. Having done the awkward stage door meet-and-greet, under orders not to bring any nostalgic merchandise, I know better than to say any more about it even if multiple law enforcement roles nod knowingly towards a comparison. Over five weeks DS Stella Gibson has given little away as to her passions and her motivations: given the steely, emotionless way in which she pursued creepy serial killer Paul Spector (Jamie Dornan), the character's only feminist role model seemed to be Margaret Thatcher.
And yet, week after week, Gibson bluntly said the things that you never hear on television. She made over-emotional male colleagues uncomfortable with her "woman subject man object" approach to one-night stands; she railed calmly against the media's traditional division of female murder victims into "angels or whores"; she alone kept her cool when Rob Breedlove, one of the corrupt cops entangled in a dual storyline I never really got to the bottom of, committed messy suicide in the middle of the precinct. She was at it again in her final confrontation with Spector - which, as with so much of what was often a genuinely thrilling drama, did not play out the way these things usually do - decrying him for his misogyny even as he tried to unnerve her. Excellent performances from Archie Panjabi as pathologist Reed Smith and Niamh McGrady as junior detective Dani Ferrington were reasons to tune in in their own right.
By introducing the viewer to the killer from the very first scene, The Fall has avoided many of the cliches of the traditional whodunnit. Instead the viewer experienced Spector's crimes - and the disturbing secrets hidden from his young family in their home - from his point of view. Whatever the reasons for this stylistic choice the first-person storytelling, with the camera in every case looking down on the murder victims as they fought against their restraints or tried to scream, made me uneasy. It could be argued that the director chose to linger on the details to make sure the murders appeared as horrific as they were, but it did nothing to defend the show from those of us who wondered if their presentation wasn't more than a little exploitative.
Of all the disturbing scenes the show has refused to shy away from, for better or worse, there was none more creepy than watching Spector manipulate the women in the show in an attempt to cover his tracks. Unsuspecting wife Sally Ann (Bronagh Waugh) is coerced into providing an alibi after the CCTV footage of Spector in the park with his daughter the day of Sarah Kay's murder turns up on the news, so he fabricates an affair with 15-year-old babysitter Katie (Aisling Franciosi) to cover up where he really was that night. The scene where Spector is called in for questioning at the precinct (above right) was magnificently tense.
The Fall was both gripping and disturbing, and while it often left a bad taste in my mouth Stella Gibson as a character was so intriguing that I had a reason to tune into a second series even before its concluding scenes.