The Fall, BBC Two |

reviews, news & interviews
The Fall, BBC Two
The Fall, BBC Two
There's a serial killer on the loose. Do try to curb your enthusiasm
Gillian Anderson as DS Stella Gibson, with Jamie Dornan as Paul Spector
You have to wonder if there any alternative themes permitted in TV drama apart from murder (preferably multiple, committed by a serial killer) or paedophilia. New five-parter The Fall plonks itself down squarely in category A, with its story of DS Stella Gibson (Gillian Anderson) from the Metropolitan Police arriving in Belfast to shake up a stalled murder inquiry.
This one won't be a whodunnit but rather a howtheycatchim, since we were introduced to the perp only moments after we'd caught our first glimpse of Anderson, who was cleaning a murky-looking skin care product off her face in the midst of a bout of domestic chores. Then she flopped on the bed and began coolly studying crime scene photos of the body of Alice Monroe, 32-year-old Belfast architect. The detached, affectless Saga Norén from The Bridge sprang momentarily to mind.
Cut to our killer, the frankly unpleasant Paul Spector (Jamie Dornan). He's a lean, mean weirdo who tracks his female victims with obsessive-compulsive thoroughness, taking notes and pictures along the way. His new target is solicitor Sarah Kay (Laura Donnelly, pictured right), an attractive brunette who looks almost identical to the late Monroe. Spector prepares the ground by meticulously changing into his night-stalker gear (complete with Special Forces-style wrist torch), then breaking into Kay's home and laying out items from her underwear drawer on the bed.
Rather than being some dysfunctional loner, Spector is married with young children, and works as a relationship therapist, which I guess could count as a glimmer of black irony from writer Allan Cubitt. Otherwise everything is grim, glum and ominous in a well-oiled sort of way. DS Gibson is greeted in a bleak and militaristic Belfast by ACC Jim Burns (John Lynch, pictured below), who confesses that so far they haven't a clue (literally) about who killed Alice Monroe, and she starts digging icily through the files to see where the Police Service of Northern Ireland has been screwing up.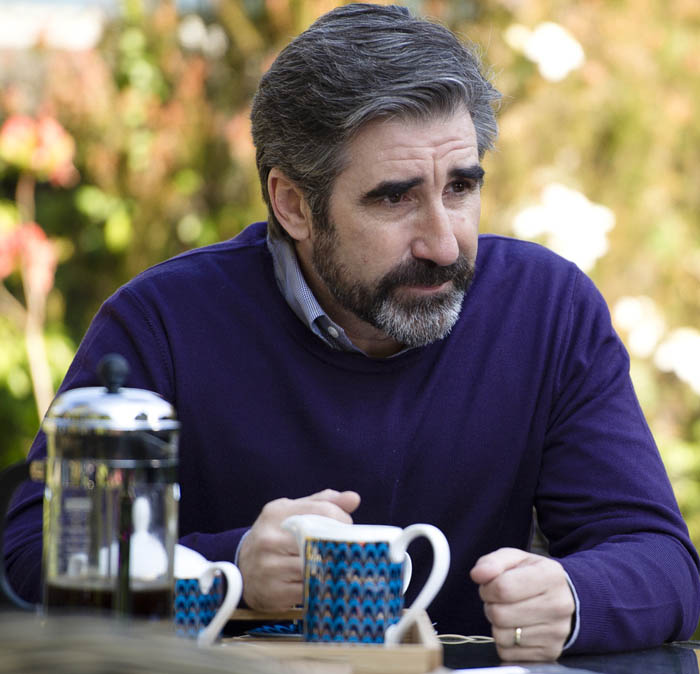 Evidently there's going to be a backdrop of political chicanery and internal squabbling as the story develops, since Monroe's former father-in-law is an Ulster Unionist MP, while the local cops (who have a collection of photos of "our murdered colleagues" on the wall at the nick) are struggling on reduced manpower and a limited budget. When Gibson suggests that an earlier killing of a nurse might be the work of the same killer, Burns can barely suppress his horror and flatly refuses to countenance the idea. Gibson calls this "linkage blindness", though Bare Cupboard Syndrome might be more accurate.
We can take it for granted that there'll be plenty of tension between the interloper from the Met and the Belfast officers. Indeed, Anderson seems hell-bent on making sure of it, swanning about like Mary Queen of Cops, giving instructions in an imperious voice she must have nicked from Helen Mirren (75 per cent Her Majesty, 25 per cent DCI Jane Tennison). Looks like there's some personal history lurking in the background too - or maybe it's just about to happen - judging by the way Gibson homed in on DS James Olson (Ben Peel) to tell him she's staying in room 203 at the Hilton. He looked a little taken aback.