The Perfect American, English National Opera |

reviews, news & interviews
The Perfect American, English National Opera
The Perfect American, English National Opera
Much to admire but little to warm to in UK premiere of Philip Glass's latest opera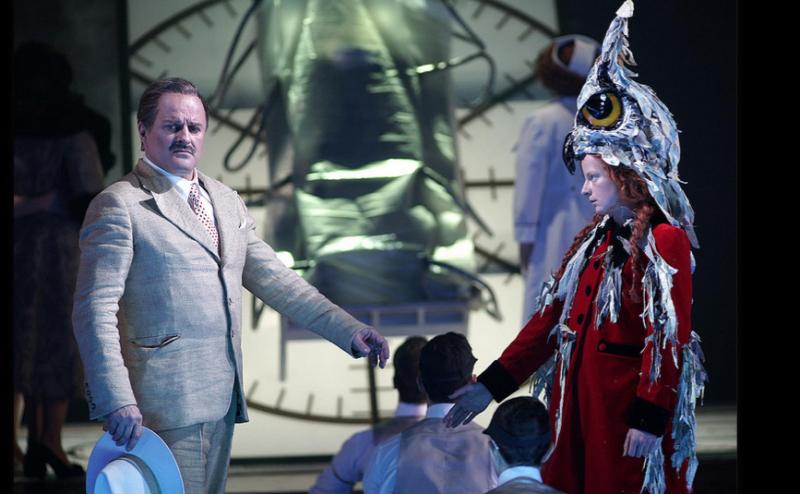 Christopher Purves, masterful as a Walt Disney stricken with 'introspective angst about the meaning of his success and legacy'
There were a small but substantial number of children dotted around the auditorium at the opening night of The Perfect American, and one hopes they hadn't been led to expect singalong-a-Disney, all bright colours and catchy tunes.
The piece takes place in the last few months of Walt Disney's life, as his diagnosis with late stage lung cancer prompts introspective angst about the meaning of his success and legacy, and the terrible contrast between his own mortality and the agelessness of his creations. The great man's personal flaws are laid bare.
Directed by Phelim McDermott – of Improbable Theatre Company – the production arrives at the ENO after an initial outing at the Teatro Real Madrid. The set, designed by Dan Potra, is an effective fusion of mechanical and digital. Two large camera cranes suspended from above circle each other, while the cameras themselves are projectors in disguise. Sketches on drafting paper spring into animated life, which, projected onto sheets of gauze, hang hologrammatically in the air. Due credit to Leo Warner (video designer) and Joseph Pierce (animation director) who provide much of the visual appeal of the production. Although no Disney characters appear, the spectre of Mickey is a frequent theme in the projections, represented simply by one large circle topped by two smaller ones.
Disney's disdain for the employees who produce his art is a central theme
Phillip Glass has tended to be drawn to themes in which the theatre is psychological and meditative, and The Perfect American follows that pattern by offering little in the way of forward narrative momentum – the 13 scenes which make up the action may seek to illuminate aspects of Walt Disney's life, but do not suggest anything like cause and effect. The libretto also occasionally seems to lack purpose, the dramatic necessity of some lengthily sung conversations being questionable, when not dipping into bathos ("I'm so cold; my jugular feels like an icicle").
Disney's disdain for the employees who produce his art is a central theme. "If I could only have my way, I would build a machine that would replace all of you", he tells William Dantine, the disgruntled draughtsman who was fired for attempting to unionise. Dantine is the narrator of Peter Stephan Jungk's novel on which the opera is based. Here he is reduced to a peripheral role, though Donald Kaasch's portrayal of Dantine's gradual descent into embittered destitution is a highlight of the production.
Walt himself is played by the masterful Christopher Purves, whose natural ease and presence make him a convincing tycoon. He is assisted by an ensemble cast who all pull their weight. John Easterlin's brilliant turn as Andy Warhol at the beginning of Act II offers a dash of levity in the otherwise dark world of the opera, while Zachary James as the malfunctioning animatronic Abraham Lincoln (pictured above by Richard Hubert Smith) is at the centre of probably the most memorable scene, his brilliantly lurching motion presumably schooled by choreographer Ben Wright.
Movement and dance are a large part of the production, with a troupe of dancers ably switching between the roles of faceless animators, nightmarish bunny rabbits and helpful stagehands. Elsewhere, the choreographed movement is less effective, as when at various points cast and chorus enact a rather stagey slow motion, the feeling being one of waiting for the music to catch up.
Conductor Gareth Jones digs into Glass's undulating textures and produces a very subtle and atmospheric performance. This is no showpiece for the orchestra, but it demands precision and commitment from the pit, and of this there is plenty. The overall result is a production with plenty of interest and moments of brilliance but one which it is, perhaps, a little difficult to warm to.
Walt is played by the masterful Christopher Purves, whose natural ease and presence make him a convincing tycoon
rating
Explore topics
Share this article