Something in the Air |

reviews, news & interviews
Something in the Air
Something in the Air
Olivier Assayas recalls his heady, heavy days as a soixante-huitard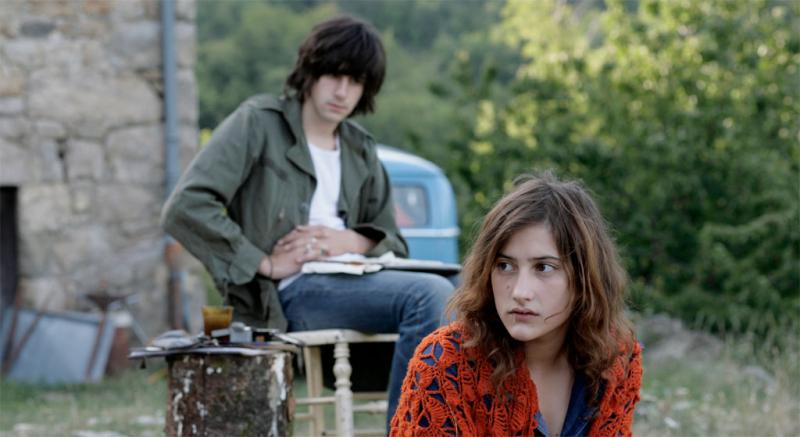 Furrowed: Clément Métayer and Lola Créton in 'Something in the Air'
Cinema sometimes seems to have left the Age of Aquarius behind. The filmmakers who came of age in the Sixties have long since said what they needed to, and nowadays the decade's evanescent aura feels confined to 50th anniversaries of the likes of Billy Liar and The Leopard.
Olivier Assayas's
Something in the Air
plunges us right back in as it which harks longingly back to the heady days of the soixante-huitards when apparently, for those who were there, it seemed possible the world could be fashioned anew.
Assayas wasn't quite there hurling bricks at the police at the Battle of the Sorbonne, but he took part in collateral évènements in his high school. Hence in part the original title Après Mai, which refers to the student revolution's aftermath in the early Seventies. The film takes its name in English from Thunderclap Newman's flowery call to arms. Assayas's alter ego is an intense young artist called Gilles (Clément Métayer) who with his chums at school takes up the fight for student rights even if it means receiving a beating from the police (pictured below).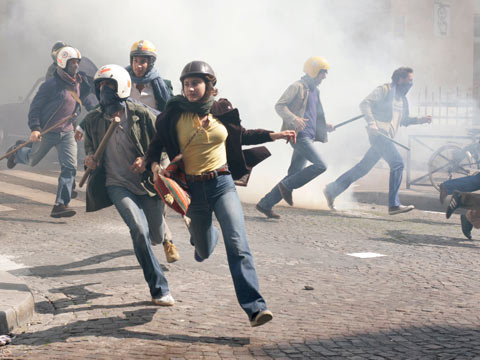 Naturally for Gilles there is space for love too, initially in the form of the beautiful Laure (Carole Combes) until she pushes off to London to get loved-up with an older junkie. Then in the summer hols he lies low in Italy with his fellow activist Christine (Lola Créton). Where Laure is a fan of Gilles's art, Christine is his muse, materialising naked in his sketches. The film's copious freewheeling nudity (not all of it female) feels like part of Assayas's commitment to period precision, caught also in the floaty fashions, the sprouting hair, the purifying conflagrations and the ceaselessly discussed plans to travel to London, New York, Kabul. Above all, there are the intensely furrowed brows. Assayas doesn't seem to remember anyone laughing much in his youth. These were serious times when, if not shagging, students conspiratorially sat around tables whispering about the failure of both the established order and its communist alternative.
As the action (although there's less and less of that after a couple of opening chase sequences) moves on to Italy, and migrates back to France, Something in the Air turns into a dramatised discourse about revolutionary aesthetics. There's an alfresco debate about the morality of using the hackneyed tropes of screen storytelling for the purposes of revolutionary agitprop. Back in France Gilles briefly takes a job typing out his father's script adaptations of Simenon. "His books are sloppy like your scripts," he rails, evoking Oedipus's patricidal assault.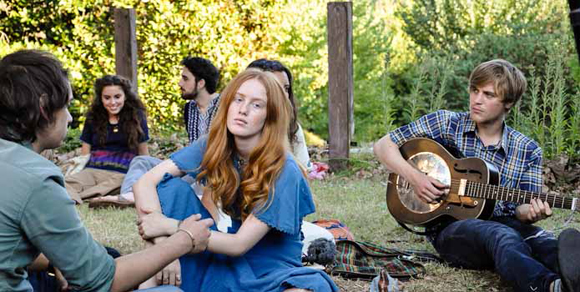 At times Something in the Air feels like a filmmaker's apologia pro sua vita. For all his youthful fervour, Gilles takes a job as a runner on the set of Maigret. His contemporaries end up casualties of their own idealism - one even goes up literally in flames. Gilles, meanwhile, works on a Pinewood film featuring Nazis, prehistoric monsters and a girl screaming in a leopard-print bikini. "Art is solitude - it's a choice," a young ideologue says. For the successful graduate of that era who has done a Faustian deal with reality, a lifetime of loneliness may indeed feel like the price.
This film reads like a casual, disjointed trawl through old photo albums and journals. It's wistfully paced, and storyboarded less as a plot than a series of happenings. But it is beautiful to look at (DoP: Eric Gautier) and listen to, and who can resist glancing nostalgically back at the Jurassic era of political engagement when students had something to fight against beyond a hoik in tuition fees?
Watch the trailer for Something in the Air