theartsdesk Q&A: Musician Steve Earle |

reviews, news & interviews
theartsdesk Q&A: Musician Steve Earle
theartsdesk Q&A: Musician Steve Earle
Once just a Nashville songwriter, now an actor, author and activist too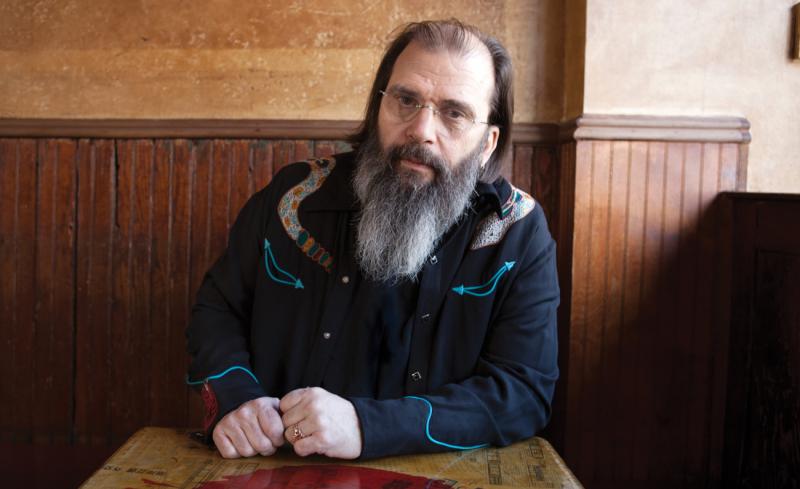 Steve Earle: 'I see theatre and baseball, that's kind of all I do'
A renaissance man from Texas? Hell yeah. Loosely pegged as "country singer" when he struck out for Nashville in the late Seventies, where he survived on a series of odd jobs before landing himself a songwriting job with a music publisher, the mature Steve Earle has blossomed creatively in all directions. Were he to use business cards, which I can't imagine somehow, he could justifiably bill himself as singer, songwriter, actor, playwright, novelist and political activist.
He made a brilliant start with his first full-length album Guitar Town (1986), a scintillating mix of rockabilly, country, rock and ballads which helped to define the "New Country" tendency of the time. However, follow-ups Copperhead Road and The Hard Way found Earle veering off into a harder rock sound, somewhat in a Bruce Springsteen/John Mellencamp vein, with his live shows growing ever longer and louder. Then his career almost plunged terminally off a cliff, as a long-standing heroin habit rendered him increasingly incapable of writing or performing at anything like his full capacity.
This new record began because I have the best band I've ever had and this band deserves a record
He now considers himself fortunate to have been jailed for drugs and weapons offences, and after 60 days in a cell in 1994 he entered a drug treatment programme in Hendersonville, Tennessee. His 1995 comeback album, Train A Comin', was a masterly synthesis of his early roots in country, folk and bluegrass, and ever since he seems to have been pouring the energies he once squandered in an opiated daze into an almost frenzied stream of creative work. Among numerous fine albums have been El Corazon, The Mountain, Jerusalem and Washington Square Serenade, with his latest, The Low Highway (out on Monday), another noteworthy addition to the canon.
Meanwhile, he published his first collection of short stories, Doghouse Roses, in 2002, and 2005 saw the off-Broadway production of Earle's play Karla, about Karla Faye Tucker, a convicted murderer executed in Texas in 1998. Earle has long been a determined campaigner against the death penalty. In 2011 he published his first novel, I'll Never Get Out of This World Alive, more or less simultaneously with his album of the same name.
And besides all that, he was reaching a new audience through his acting and musical contributions to David Simon's prestigious HBO series The Wire, in which he played recovering drug addict Walon, and Simon's follow-up Treme, in which Earle was cast as street musician Harley Wyatt in post-hurricane New Orleans. Not even Elvis Presley's leather-clad comeback in 1968 can compare with Steve Earle's amazing artistic rejuvenation.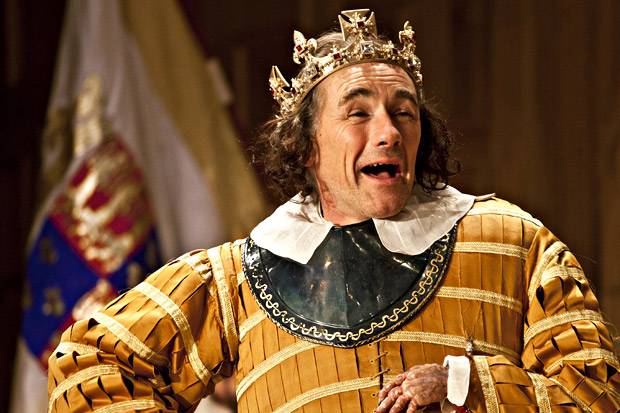 ADAM SWEETING: I think you've been visiting theatreland since you've been in London?
STEVE EARLE: I really came to London to see Mark Rylance in Richard III (pictured right), rather than intending to do press. I'm somewhat of a Rylance freak, I think he's like a badass. He's the greatest Shakespearean actor of our time. I could watch him read the phone book. Theatre's a big deal to me, the main art that I consume is theatre, it's my favourite thing. I see theatre and baseball, that's kind of all I do. I don't see rock bands very much, though I became sort of a Low Anthem groupie for a while and started going to see them every time they played near me.
But I think Rylance may be the greatest stage actor I've ever seen and I've seen a lot, I go to a lot of plays. Rylance is also an Oxfordian, which I am too - I believe that Edward de Vere [17th Earl of Oxford] wrote these plays that are attributed to Shakespeare, and I believe de Vere was probably Queen Elizabeth's son, I think it's entirely possible. He's the right age to have been, because she was rumoured to have been pregnant when she was teenager. I don't think whoever wrote the plays would have gotten away with it if they didn't have a special relationship with Elizabeth, and certainly a commoner from Stratford one generation removed from being a Catholic wouldn't have gotten away with it. Shakespeare's parents were Catholic! I just don't think the William Shakespeare we know existed. I think it's like Lee Harvey Oswald, I think he was a patsy. I think it was a front.
Billy Bragg breaks out in little assholes and shits all over himself when you suggest that Shakespeare wasn't Shakespeare, because to him it's a class issue. He's like "how dare you suggest that a commoner couldn't have written this?" Well I think a commoner could have written it as long as he was pretty well educated and had been to Italy. [laughter] And had an intimate knowledge of what goes on at court, because that's what those plays are about. It's interesting that Rylance plays Richard III the way it's written, which a lot of people don't, which is that the audience is in on the conspiracy. Because it is kind of propaganda, and the author is Tudor-sympathetic and is beginning a smear campaign, so he gets them in on it and they become part of his conspiracy. He plays it that way, it's pretty great.
Do you want to talk about your album at all?
Yeah. You have to ask me something about it though.
Ok. There are three songs on it that originated from your work on Treme. You appeared in the show as an actor, but did you find it inspiring as a writer too?
There's that. All the things affect each other. For the most part my records have either a primarily musical or primarily literary impetus. Sometimes both. Sometimes they're equal, sometimes one greatly outweighs the other. I made The Mountain [with the Del McCoury Band in 1999] because I wanted to make a bluegrass record with the best bluegrass band in the world, but it ended up being pretty political because while trying to find material that I thought fit that instrumentation and connected me to it, I ended up in coal mining and stuff from that part of the country, and that gets political for me very quickly. This new record began because I have the best band I've ever had and I decided this band deserves a record, so I was already intending to record with them. Then even though I was shot in the face at the end of season two, Treme was cranking up its third season and I started getting calls. Lucia [Micarelli, who plays musician Annie Tee] and I co-wrote "Love's Gonna Blow My Way" and "After Mardi Gras", which Lucia sang. Lucia and I had this really cool thing in the show because we just treated it as "let art imitate life", so she learned a lot about writing songs and she wrote these two songs with me, she got a songwriting lesson out of the deal (Earle with New Orleans's Preservation Hall Jazz Band, pictured above left).
I learned a lot too, because she's a great musician. She and Neil her husband are like... they started explaining to me over dinner a few weeks ago, "we're classical musicians and we feel like we can play all this really hard stuff and we should play it because we can, because not everybody can," and they're absolutely right. As for "That All You Got?" that was David Simon calling me in the middle of a tour, for the premiere of series three. The first time it was ever performed was at the Royal Festival Hall in London. I recorded it onstage at soundcheck and sent it off to David and that's where Lucia & the Red Stick Ramblers learned it from. It's good in the show but our version is better and I just couldn't let it not come out.
For the Treme songs, do you get much guidance or a brief about what to write?
It depends. For "This City" [which ends series one of Treme and was Grammy and Emmy nominated in 2010] I was asked to write a song that my character would have written in 2005, that was the first commission, and I wrote it that night. I'm pretty good at those commissions but I think "This City" is by far artistically the most successful of all of them. I think it's one of the best songs I've ever written. It was recorded separately from the rest of the material on I'll Never Get Out of This World Alive, but T-Bone Burnett produced it and Allen Toussaint wrote the horn charts. We recorded it in New Orleans and I think it's the best single recording I've ever made. I'm proudest of it anyway. It's just everything about it. My checklist was completely full at end of it. I'm not one that wastes a lot of time worrying if it's not. If at the end something's not every single thing I expected it to be, that's OK. If for the most part it lives up to my expectations - and most of them do - then I move on, I'm happy. I don't dwell on it. I don't have many artistic regrets. Almost none. I have some regrets but most of 'em aren't artistic (Nashville cat - the youthful Earle, pictured below).
How do you feel about New Orleans now after spending so much time working there?
I've gotten to know New Orleans pretty intimately because of Treme, and I always had a little connection to the city because I started school in Louisiana. But now I've got this way stronger connection to it and what happened during Hurricane Katrina. It's like, half the people are still gone, half of the schools are still closed, there's still no fully functional hospital, no full service hospital in the city limits of New Orleans. But we can't respond to what's happening there because we've run into really, really hard times. Everybody wants their taxes cut and then wonders why Homeland Security doesn't work when it's asked to. There isn't any fucking money! We tried to do something no civilisation has ever done before - take over the world and lower taxes at the same time. The Brits didn't do it that way, the Romans didn't do it that way. They raised taxes and took over the world and then eventually pissed their citizens off because they were raising taxes too much and taking over too much of the world, and the people at home didn't give a fuck and they turned on 'em. That's the cycle. We ignored all that. We went straight to Fucked.
Do people fully grasp how fucked it is?
They're starting to, but when I found myself writing more songs for the album, I'm writing on the road, and it became about what I was seeing out of my window as I travelled around North America last year. And the world too, because times are hard all over world. It suddenly dawned on me that I do a job that was invented by Bob Dylan, based on beginning with the first step in Bob becoming what he became, which is the reason all of us who came after him became what we became. It was based on his fascination with Woody Guthrie, and everybody's fascination with Woody in the circle he was in. All those guys, Dylan, Dave Van Ronk, Tom Paxton, y'know. Especially Tom is kind of important because he was one of the other guys besides Bob who actually started writing songs. Bob was way better than everybody else but he wasn't the first and the only. Tom Paxton wrote some good songs, it's just that he was competing with Bob Dylan, and Bob's really that good. But they were writing about stuff that was basically about the Depression, forensically, so they were doing it as musicologists and as historians. Bruce Springsteen was doing the same thing, but he was really one of the first people to see stuff going on around him in the 1980s, and recognised that "hey, there's something that's not right here".
Since then we've been working up to this moment where you look out there and what you see out there is not that different than what Woody Guthrie saw in the '30s. It's really genuinely hard times, y'know. Richard Pryor [American comedian, deceased] used to have that character Mudbone. Mudbone would say "people say this is hard times, this ain't no hard times, hard times was way back, they didn't even have a number for it, they just called it hard times", and it was like this thing way hidden in the past, but it's back. I didn't think we would ever see it in my lifetime but unfortunately we are. The only difference between this and the 1930s in the United States is the existence of the FDIC, the federal insurance organisation that insures banks, but banks failed even with that. People had money invested in public institutions and they lost it and never got it back. It happened. The financial system fucking collapsed worldwide. It's coming back now faster than it deserves to, but it did indeed collapse, so this album ended up being about that, and about the human side of that hopfeully. It's like looking out the windows of a Canadian-built bus travelling across America.
Who is the song "Remember Me" addressed to?
My son. I have a son, John Henry, who's not quite three. He was born when I was 55, so that's like... I can't guarantee that I'll be around, y'know, something could happen to me soon. If I died today he probably wouldn't remember who I am, and it occurred to me and so I wrote that song just in case.
It's very touching and haunting.
Yeah, I like it. it works. I'm really proud of it. It might be the best song on the record. It's my favourite song on the record I think. That or "Invisible". I'm always proud of odd things compared to what everybody thinks I should be impressed with about myself. "Invisible" took so long to write. Usually when a song takes more than a day or two I throw it away and never think about it again, I just decide I was going down a wrong path. This one haunted me though. I was working on it for I'll Never Get Out of This World Alive [2011] and I never finished it. Then I guess it needed to be written because it was about what it was about. It was always gonna be about that idea of being marginalised, and the people I see in my own neighbourhood that are marginalised. I live in the most expensive neighbourhood in New York City, I live in Greenwich Village. It's strange. It's right around the corner from where Dylan used to live. When John Henry was born we moved two blocks further west right off the park, but it's still the same neighbourhood.
So do you mostly live in New York, rather than Nashville?
I still have a house in Nashville. I have a house in Woodstock too - I have too many houses. I rent the place in New York City but it's home to me. When I was touring last summer Allison [Moorer, his wife] spent a lot of time in Nashville because she writes for a publishing company there, but John Henry's starting in a pre-school in New York when he turns three so she'll be in New York pretty much full time after that. I probably would have sold the house in Nashville years ago but the value's dropped and it's paid for, it's just sitting there and I have to work in Nashville from time to time. I'm gonna rehearse for the tour there, and me and maybe a couple of other guys in the band can stay there and save a lot of money.
Your album Washington Square Serenade [2008] was inspired by your move to New York, wasn't it?
It was about the idea of somebody transplanting themselves from somewhere else but finding themselves at home in New York. I've never been homesick in all my years of touring, but I am now. I really miss New York. I used to go there on my own at the end of tours. There was a point in the '90s when there was a lot of fuckin' people living in my house and I would get to the end of tours and my parents were there y'know, I had a girlfriend with kids, it was pretty heavily populated. Sometimes I'd hang out in New York for four or five days before going home. It was r'n'r for me. Go to Yankees games and go to the theatre, that's what I did. It finally occurred to me I could live there and do that.
As the man who wrote "John Walker's Blues", about John Walker Lindh, the so-called "American Taliban", I should ask you about your reactions to Zero Dark Thirty and Homeland.
I don't watch 'em. My suspension of disbelief doesn't extend to the CIA being the good guys. I don't give a fuck whether we got Osama Bin Laden, I never did. I didn't vote for Barack Obama because he got Osama, I voted for him because even though there was a really good chance it was going to keep him from being elected a second time, he stuck to his guns and passed some kind of a healthcare bill. I haven't seen Zero Dark Thirty, I won't give 'em my money. Though it'll probably come onto the bus and I'll end up seeing part of it. I think it's based on a lie. It's based on the idea that torture had a lot to do with us getting Osama, and I have it on very good authority from people that know that that's not true. Simply not true.
Why, because because torture doesn't work or because they had other sources of information?
Well the point's not that. The point is even if torture worked in a specific case... for instance I got clean of drugs because I got locked up, but I don't recommend tougher drug laws, I recommend treatment, y'know. It happened for me, but most guys who get locked up buy drugs in jail and get worse in jail. I was ready to get clean and the 12 step program in jail got me clean. Me being ready and the fact that there were meetings there got me clean. Anyway from what I understand Zero Dark Thirty really implies that without torture we would never have got Osama. I don't give a fuck whether we got Osama, as far as I know he was sitting in a chair jacking off in the middle of fuckin' nowhere and having no effect ... with a big stack of porn tapes. They're trying to rewrite history as if it wasn't true, but it was true. As for Homeland, I think the best dramatic art being created nowadays is being created for TV and I've been privileged to participate in a lot of it. And I love Claire Danes, I think she's really really great, but I just don't give a fuck about a soap opera that takes place in that framework. I don't watch Nashville either, even though friends of mine did it and friends of mine are in it, but that's mainly because I don't watch network TV much, I'm allergic to commercials. My guiltiest pleasure is True Blood occasionally, and it's not art but I've gotten hooked on it so I kind of watch it, I'm ashamed at that. But I don't watch reality TV on purpose because I'm trying to protect my intellect. I hold a Screen Actors Guild card, and in support of the members of my union, I shouldn't watch reality TV.
The difference between human beings and animals is not an opposable thumb, it's the fact that we make and consume art
You gotta make decisions about that stuff. It's like "Burnin' It Down", from my album. It's not about becoming a suicide bomber and taking out the Walmart, it's about the idea that at some point we're gonna have to admit that it does harm. We're gonna have to make a decision - do we want jobs or do we want even cheaper flat screen TVs? We've got to be willing to pay a little more for stuff, especially those of us that can. We've got to be willing to pay taxes. I don't think there's any secret about who I am and what I believe, but all this stuff's about decisions that we make at some point. We have the democracy in my country that we deserve. You have the government in Britain right now that you deserve, because you decided that you wanted a big fucking TV and another latte. And that's what you got. First you accepted Tony Blair as being Labour, that was the first step, and the next thing you've got this coalition of what I don't know and nobody knows which end's up any more. Your politics are more like the politics of my country than they've ever been. I think it's arguable that it wasn't that way in Britain from World War Two until relatively recently, but it's done now. The deed's done. You'll have to fight to get it back.
Do you feel you've paid penalties for your political stance?
Yeah, but I expect to. I knew when I wrote "John Walker's Blues" that I was gonna get shit, y'know. I did it with my eyes open. I told Bobby Muller, who ran the Ban Land Mines campaign, and Elvis Costello - we were sitting in Sweden somewhere on the second European Land Mines tour - I told 'em I'm working on a song about John Walker, and they told me I was fuckin' crazy. But I knew that nobody else would do it but me, and I had a pretty good idea I wouldn't die because of it. For the most part in what I do people don't die and I've tried to keep that in mind, that there's people who do stuff where people die. What I do is important to me, it's maybe even important to some of the people that come out to see me and I'm really glad that it is, but there's important and there's important. I think art's important. The difference between human beings and animals is not an opposable thumb, it's the fact that we make and consume art, so it's vital, but when I start taking myself too seriously I have to remember I make a really really great living doing something I love doing. I've just produced a record in East Jerusalem with a Jewish singer-songwriter and band with a bunch of Arab musicians, and I got to see Jerusalem finally. Then I came here and I saw the greatest Shakespearean actor of our time playing Richard III, and yesterday I sat in here and I talked to people and I went to the BBC and was on the radio. I have a really really good job and there are people that don't have jobs or don't know if they're going to have a job tomorrow, but they're still coming out to see my fucking shows. I try to not lose sight of that, and that's a lot of what this new record's about.
Last question - why have you decided that now is the time to write a memoir?
My little boy has autism and it was the money. I had a deal on the table for a novel but John Henry's school is a lot of money... he's gonna be OK. He makes eye contact, he's just still not talking and we caught it really early and he's been in treatment, he's going to the best school there is in New York. I had my manager go back to my editor and see what kind of deal they could come up with for two books, and they made me an offer I couldn't understand and they wanted the memoir first because it's worth more money. I'm writing the memoir first and I'll write the novel as soon as I finish it.
The memoir is in three acts. It's about mentors. The first part's about Townes Van Zandt [fabled Texan singer-songwriter and Earle's early inspiration], the middle part's about guys you'd never have heard of that sorta kept me alive on the street and in jail - it's about mentors for better or worse - and the third part's about recovery. And people that I connected to because of that, including my mother's stepfather who started most of the AA meetings in north-east Texas. It doesn't have a title yet though.