Broadchurch, ITV |

reviews, news & interviews
Broadchurch, ITV
Broadchurch, ITV
A body on the beach threatens to open many cans of worms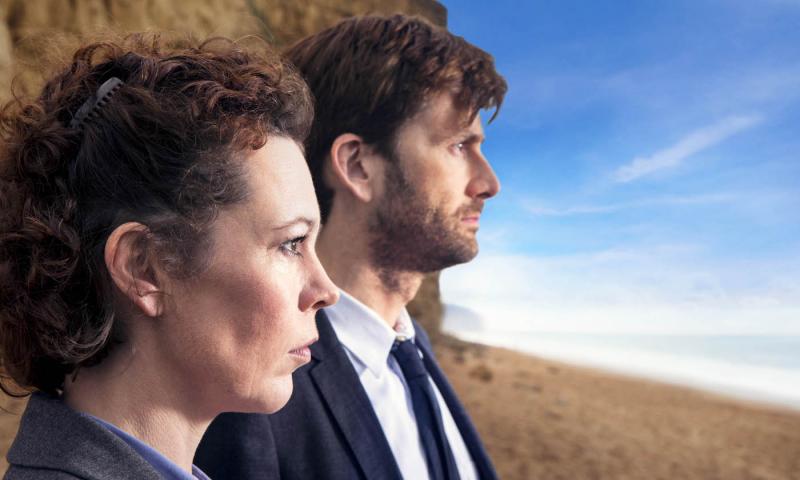 Seaside sleuths: Olivia Colman as DS Miller and David Tennant as DI Hardy
It looks as if Broadchurch will reveal itself as a "town-with-murky-secrets" story, but on the evidence of this first episode we can expect it to be done with a skilful touch and a fine eye for detail. The trigger for the action is the death of 11-year-old Danny Latimer, but writer Chris Chibnall is focusing on the effect this has on family and friends as much as on the grim event itself.
Broadchurch is a small seaside town in Dorset where violent crime is largely unheard of. When Danny's body is first discovered on the beach, suicide or an accident are canvassed as possible causes. Then the pathologist ascertains that the boy was strangled, and a tragic local incident begins to ratchet up into a potential public emergency and a developing news event.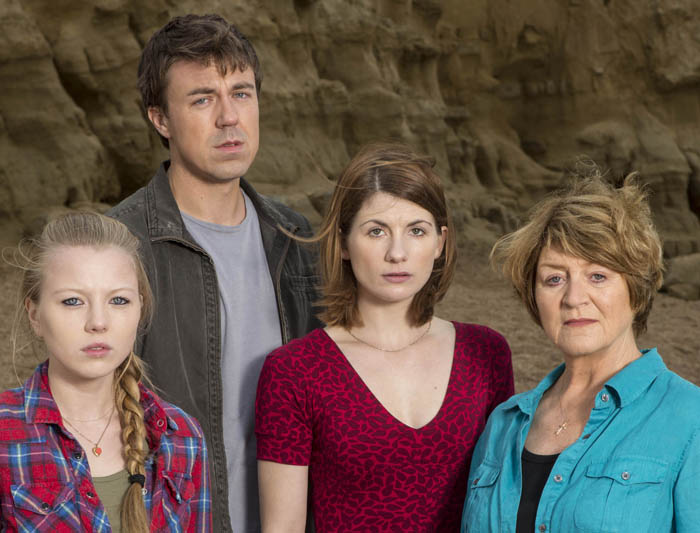 The effect of the news of the death was depicted with a horribly convincing sense of humdrum normality suddenly plunging into a bottomless black hole. The Latimer family (pictured right) were eating breakfast, husband Mark (Andrew Buchan) had to rush out in a hurry to his plumbing job, and he didn't pay much attention to wife Beth's casual query about whether he'd seen Danny that morning. The kid had a paper round, so he would have gone out early.
Then we joined Beth (Jodie Whittaker) at the school sports day. She sat down to watch the sack race. A teacher came over and asked her where Danny was. Beth thought he'd been at school, but nobody had seen him. Her sense of mounting terror was vividly caught in the way she didn't know whether to stand up, sit down, scream or make a phone call.
Despite its big skies and wide ocean views, Broadchurch is in fact narrow and suffocating, an idea conveyed by the camera following Mark Latimer as he walked through the town centre, briefly greeting or chatting to everybody he happened to walk past. One of the police officers investigating Danny's death is DS Ellie Miller (Olivia Colman), who almost collapses in shock when she sees his body in the beach, because he was best friends with her own son, Tom. As for ambitious young reporter Olly Stevens from the Broadchurch Echo, the flea-bitten local newspaper, he's DS Miller's nephew. He wants a job on a national newspaper, he sees this story as a means of leveraging his way into it, and he's an incontinent tweeter.
Into the middle of all this comes Alec Hardy (David Tennant), newly promoted to Detective Inspector. This is not a popular appointment because the job had already been promised to Ellie Miller. What's more, Hardy is on the rebound from the notorious "Sandbrook case", in which whatever happened has the potential to drop Hardy into a vat of boiling scandal and controversy.
The closing sequence, of a hollow-eyed, gaunt-cheeked Hardy promising the TV cameras that "there will be no hiding place for Danny's killer", became a round-up of potential suspects. Why is young Tom Miller deleting his phone messages and computer files? Who was the worried-looking clergyman? Where was Mark Latimer on the night before his son's death? My advice is to trust no one.