Kraftwerk: Autobahn, Tate Modern |

reviews, news & interviews
Kraftwerk: Autobahn, Tate Modern
Kraftwerk: Autobahn, Tate Modern
German electronic pioneers launch their eight-night residency at the Turbine Hall
Thursday, 07 February 2013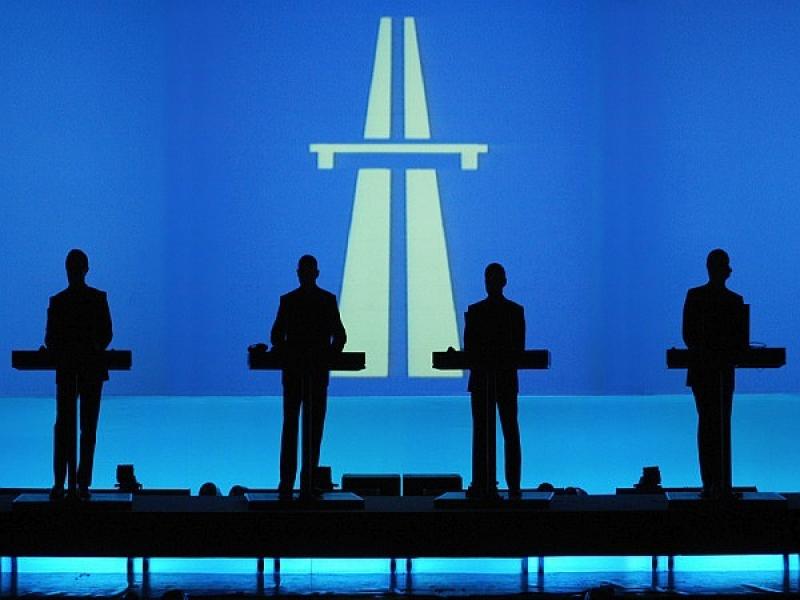 Kraftwerk give full vent to their 'impassive man-machine stances'
Childlike wonder is a rare emotion at a gig, so gasps of delight are doubly jolting as the first images appear to float out of the mammoth screen behind the stage and float over our heads. These are notes of musical notation that cascade from a car radio at the moment when the dial shifts in "Autobahn", the track where Kraftwerk's concepts first properly coalesced and that gave their breakthrough album its title.
The German electronica pioneers are to play 1974's
Autobahn
in full as they begin an eight-night residency revisiting much of their back catalogue in order.
It is also their first London date since 2004 and a UK debut for the 3D effects they have been using for the past couple of years to deflect attention from their impassive man-machine stances. Kraftwerk certainly know how to rise above the continuing taste for album gigs: rather than slumming in Kentish Town, the group have plumped for a formidable industrial space in keeping with their name (German for power station) and modernist aesthetic.
In a series of performances previously seen at New York's Museum of Modern Art and last month in Dusseldorf, Kraftwerk are skipping earlier efforts to begin with their fourth, breakthrough album. It is intriguing how in the past 10 years the group have become a potent live draw – not just due to their impact on pop and dance music becoming established, but also due to the mystique of these apparent hermits and care taken over presentation.
With speakers all around us, Kraftwerk succeed in filling the space without resorting to pile-driver techno
That faltered last year when Tate's computers crashed due to demand, but tonight is all Teutonic efficiency as a rigorous ticketing system keeps touts at bay and staff distribute cushions, cardboard 3D spectacles with a Kraftwerk logo and a crib sheet on the band and tonight's album. The latter gives the event a retrospective feel (indeed, that was how it was described by MoMa), though the visuals, although retro too, give an immediate charge, as does the sound.
With speakers all around us, Kraftwerk succeed in filling the space without resorting to pile-driver techno – an opening "The Robots" comes with a powerful bass pulse that is never overwhelming, the group seamlessly morphing their analogue artefacts into digital classics. The surround sound provides some 3D effects itself, though as with the visuals is never overused in the manner of bad cinema.
"Autobahn" itself comes shorter than the original album version, though from the opening splutter of an engine starting maintains the sense of journey over an engrossing 10 minutes, its crystalline melody floating in and out. In comparison, much of the rest of the album, mainly made up of less ambitious sound paintings, feels like an interlude. "Kometenmelodie 1" maintains its icy feel and contrasts well with the more optimistic chord progressions of "Kometenmelodie 2" – essentially the template for Orchestral Manoeuvres In the Dark's career in a nutshell.
"Mitternacht" with its eerie John Carpenter-style strains and "Morgenspaziergang" are passed over in perfunctory fashion, though the CGI morning sky for the latter looks reminiscent of a previous evocation of a previous sun here. That leaves an hour and a half for a crowd pleasing run through the rest of the group's back catalogue.
If this is a retrospective, Kraftwerk can still feel vibrantly current. It is not just the house pulse that makes "Computer Love" sound prescient, a tale of alienation with Ralf Hütter, the only founder member remaining in this foursome, pining for a "data date". Similar emotional charges break into their synthesized wonderland elsewhere, most favourably in the wistful "Neon Lights".
More recent material from when Kraftwerk became aware of their cultural impact is less enticing. "Vitamin" and "Planet of Visions" seem to lack heart as the group come face to face with their legacy in techno music. These, though, are minor faults in a set that features the electro snap of "Computer World", the enduring metallic clank of "Trans Europe Express" and the dramatic breakdowns of "Tour De France". Another stage win, then, for the Kling Klang team.
If this is a retrospective, Kraftwerk can still feel vibrantly current
rating
Explore topics
Share this article