Feast, Young Vic |

reviews, news & interviews
Feast, Young Vic
Feast, Young Vic
Can a talented team pull off an insanely ambitious depiction of Yoruba culture?
Saturday, 02 February 2013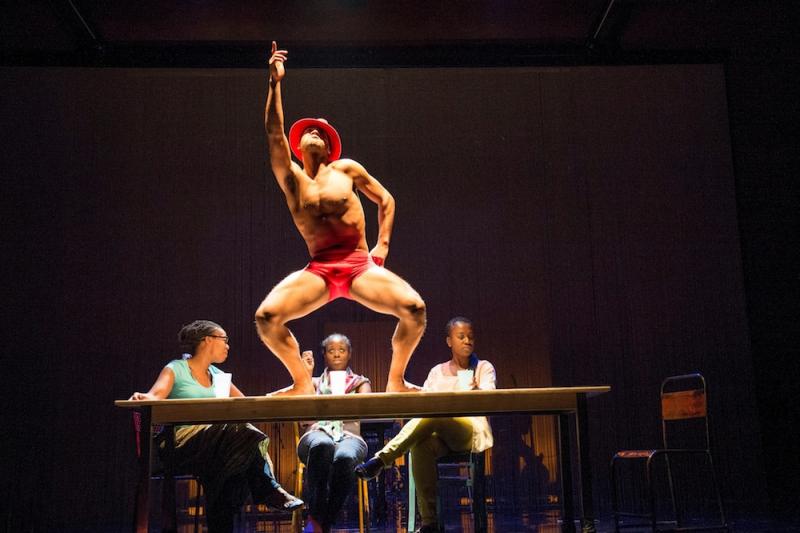 A strange dish for a Yoruba Feast
Feast aims high. Very, very high. Steered by experienced and much-lauded director Rufus Norris, five playwrights and one choreographer seek to make a fusion of physical theatre, dance, onstage music, straight drama, abstract poetic dialogue, projected animation and knockabout comedy to tell no less a story than 350 years of the history of the Yoruba people of west Africa.
It spans four continents through recurring manifestations of a group of their "Orishas", or gods, a series of meals, and an ongoing quest for eggs. Yeah, that old chestnut. It has the potential to be a glorious creation, one of a kind, a transformational work of 21st century theatre – or, more likely, to be a gigantic bloody mess.
In the event, it's a glorious mess. In tonight's opening, certain of the most important aspects of the production (a collaboration between the Young Vic and the Royal Court) were absolutely staggering in their success. In fact, in terms of the production – the precise delivery of the visual spectacle; the locking in of moving bodies with music, stage set and projections; the sense that everyone and everything on stage were part of one well-oiled machine dedicated to the delivery of a particular experience – I am not sure I have ever seen anything quite so impressive in any theatre large or small, mainstream or experimental.
Whether meeting Papa Legba at the crossroads and fleeing slavers in 18th century Nigeria, providing the impossibly saucy set-up for a scene about sex, imperialism and Santeria in Cuba, or bantering about interracial relationships in London 2012, the cast's physical set pieces were always brilliant and sometimes breathtaking. The more the moving bodies and projections on stage, and the singing voices and movements of the cast, were allowed to work together to create an image or atmosphere, the better it worked.
The music, too, was far, far better than I had expected. "Fusion" in music is always dangerous territory, but the drawing of links and the spotting of undercurrents running through the music of different centuries and continents was done with bravura style. One piece in particular in the run-up to that Cuba scene, while the names of African-descended musicians flashed on the screen behind, managed to slowly morph in and out of samba, James Brown, salsa, soul, Afrobeat, house and more without compromising any of the styles – an incredible achievement by any measure.
But then... there was the dialogue. Shifting register constantly, it never managed to lock into anything like the groove that the other elements of the production did. Sometimes overly didactic, sometimes overly broad, sometimes stumbling over its attempts to deliver local vernaculars, it constantly broke the "show, don't tell" rule of writing, spelling its ambiguities out too boldly and very rarely feeling naturalistic even when it seemed as if it was supposed to. There were genuine laughs, some real moments of mystery and wrong-footing absurdism, and a few moments of locked-together verbal interplay. Actors Daniel Cerqueira and Noma Dumezweni deserve special mention for their mercurial abilities to inhabit the constantly shifting characters and tonalities, and Kobna Holdbrook-Smith for his natural comedic skilly - but even they were all too often tripped up by unnecessary verbal clunkers.
It felt like there was too much of the academy and not enough of the theatre in the language; it's telling that one of the scenes that rang truest and was delivered with most fluidity was that of a family of academics in New York City. And when the other aspects of the production were capable of delivering the messages and stories with such force, the speeches spelling these out seemed superfluous. One prime example was the tableau set in the American south during the Civil Rights movement; there was a lot of talk in this, but the jackhammer emotional and intellectual blows that made the scene so very powerful came not from any speech, but from a single very simple physical movement, and then from song.
It's a measure of just how brilliant the physical production was that despite these faults, and despite the over-ambition of the narrative structure, it practically never dragged. A running theme of the piece was how the Yoruba mindset embraces mistakes and chaos, and there's no question that Norris has managed to balance chaos and control in a unique way. There were massively powerful messages, too, about colonialism, slavery and their aftermath without ever slipping into easy binaries, and a real sense of cultural pride without resorting to cheesy cheerleading. It may be that some of the faults can be ironed out as the cast get as slick with the multiple registers of speech as they are with every other aspect. I hope so because Feast contains a core of something brilliant and revolutionary, and a cast and crew that are capable of delivering astounding things.
Feast contains a core of something brilliant and revolutionary, and a cast and crew that are capable of delivering astounding things
rating
Explore topics
Share this article