Juan De Marcos Afro-Cuban All-Stars, Barbican Centre |

reviews, news & interviews
Juan De Marcos Afro-Cuban All-Stars, Barbican Centre
Juan De Marcos Afro-Cuban All-Stars, Barbican Centre
Top Cuban Big Band's delirious return after seven years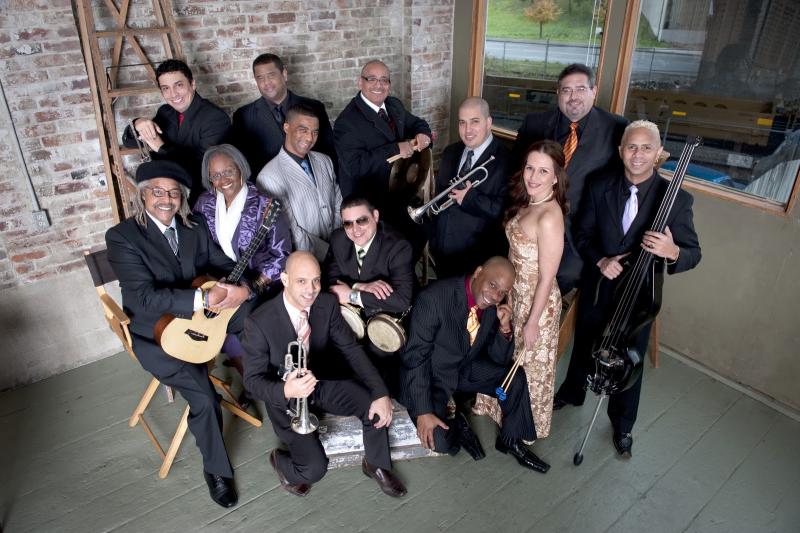 Afro-Cuban All Stars: Sophisticated but sexy
As both a catalyst and a musician, Juan De Marcos Gonalez has had a massive impact on Cuban music in the last couple of decades.
He formed the retro group Sierra Maestre 30 years ago, when to resurrect old-style Cuban music was considered decidedly odd; he had a million seller with the first Afro-Cuban All Stars album; and he not only arranged the
Buena Vista Social Club
but persuaded the great Ibrahim Ferrer and Rueben Gonzalez to come out of retirement for that album, which freakishly sold six or seven million copies.
The band's first appearance on these shores in 1998, with Ferrer on vocals and the band wearing ill-fitting Cuban suits at Ronnie Scotts, was one of the best gigs I have ever seen. Having cleaned up with their delirious first album, which was essentially 1940s and 1950s in tenor, for reasonable artistic reasons Juan De Marcos wanted to do more modern Cuban Jazz subsequently, which seemed to confuse his audience. The last time they were in London, playing Somerset House, the crowd were not sure whether to dance or listen as the dynamic of the show switched gears slightly uncomfortably at times. (Disclosure: I worked with Juan de Marcos on a yet-to-be produced musical/opera).
Suddenly a warmly received gig turned triumphant, almost transcendent
Now back after seven years, appearing as part of the consistently enjoyable La Linea Festival, Juan De Marcos seems to have squared that particular circle with his latest big band. Now living in Mexico City, most of the musicians are Cubans living in exile in Mexico, and he has found some terrific ones. The three lead singers were Jose Gil, built like an American Football player, the pint-sized high tenor Evilio Galam and 75-year-old Emilio Suarez, who gave the proceedings a Buena Vista-ish element.
Part of the strength of Cuban music has been the level of music education under the Communist system, which gives a high level of sheer technical knowledge. Cuban big bands provide some of the most sophisticated music on the planet even it is overlaying some deep African sacred drumming below the sheen.
Only once did the sleekness of the music undercut its power, during a version of the classic "Dos Gardenias", the ballad made globally famous by Ferrer. His mournful, soulful singing made the track (also performed as a duet with Omara Portoundo) but here the jazziness strayed into classy hotel cocktail music.
Other songs from the past like "Candela" and "Elube Chango" (lead singing by Juan de Marcos himself) were better balanced, the latter with a macho funk swagger which allowed space for some expert solo-ing. One of the surprises of the night was the wonderfully expressive bass clarinet of Laura Gonzalez.
The best songs of the night seemed to be new, but with an old flavour (a pop equivalent might be Amy Winehouse) notably "Sabrosura Natural" and "Misericordia", both of which had the classic Arsenio Rodriguez-style son montuno structure climaxing with ever more delirious brass, trance piano patterns and irresistible rhythms which got the entire audience dancing. Suddenly a warmly received gig turned triumphant, almost transcendent. Half the band with slightly crumpled white suits conga-ed through the crowd. At its best, as on those tracks, it's actually hard to beat this kind of music – soulful, technically brilliant, sexy and uplifting.
Listen to The Afro-Cuban All Stars play "Amor Verdadero"
Cuban big bands provide some of the most sophisticated music on the planet
rating
Share this article