Jane Birkin, Cadogan Hall |

reviews, news & interviews
Jane Birkin, Cadogan Hall
Jane Birkin, Cadogan Hall
Emotion-filled tribute to the songs of Serge Gainsbourg from his muse
Jane Birkin: her collaboration with Japanese musicians brings a new dignity to Serge Gainsbourg's songs
The notice saying "table reserved for Lord Chelsea" in Cadogan Hall's foyer bar instantly signalled this show was likely to be more rarefied than your normal pop concert. It was in keeping with the grandeur of this early 20th century, Byzantine-style former church a minute from Sloane Square. The tone was further elevated by this being a rare, small-venue British outing for Jane Birkin, an actual, proper star.
Arriving on stage, head bowed, Birkin began the evening with "Requiem pour un con", a song her former partner Serge Gainsbourg wrote for the film La Pacha in 1968. Over 90 minutes, she roamed through his songs – ones she has recorded, and others he didn't give away.
Like the genre-hopping, jazz-loving Gainsbourg, Birkin and her band weren't in thrall to traditions
Her delivery of "Fuir le bonheur de peur qu'il ne se sauve", from her 1983 Baby Alone in Babylone album, was so sensitive it brought a man in front of me to tears. Venturing into the audience for "Mon amour baiser" brought this intimacy even closer, especially when she darted up from the stalls to the balcony. A sparse, emotion-filled "Une chose entre autres" - just her and piano – was the best I've ever seen her, the simplicity of the performance bringing a new dignity to the song.
Billed as Jane Birkin Sings Serge Gainsbourg via Japan, this was a concert which has already crossed France and been seen in America and Australia – one she conceived after deciding she had to do something in the wake of the Japanese earthquake of March 2011.
Serge Gainsbourg's songs are meat and potatoes to Jane Birkin. He wrote them for her. As his muse, she has more right to carry the torch than anyone. But performing them live isn't rare for her, even though she isn't seen on British stages very often. Yet this show was unusual.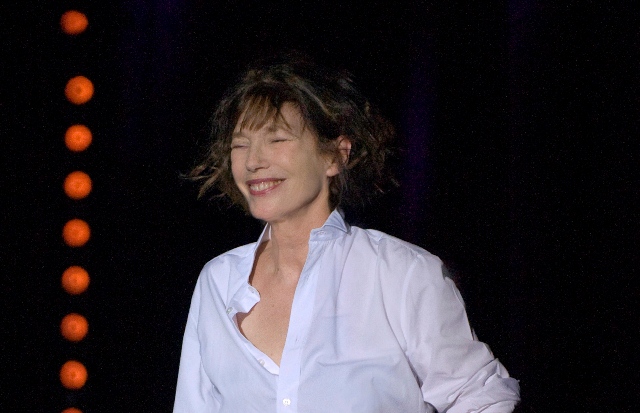 Gathering a group of Japanese musicians, she played Tokyo early that April, on the 20th anniversary of Gainsbourg's death, as a benefit for the disaster relief. Nearly two years on, she's still performing with them: pianist Nobuyuki Nakajima, drummer Ichiro Onoe, violinist Hoshiko Yamane and trumpet player Takuma Sakamoto. As her arranger for this show, the Paris-based Nakajima has a grounding in the music of France while his own recordings cross genres. Onoe also lives in Paris, while Yamane is resident in Berlin. Whatever the global nature of the players and music, this was a jazz-rooted show.
Like the genre-hopping, jazz-loving Gainsbourg, Birkin and her band weren't in thrall to traditions. Onoe's drumming was breakbeat sharp, even while ranging across the kit. Opening out chords on his keyboard, Nakajima played incisively and with precision. The violin weaved, the trumpet brought colour. "Ah Melody" caught the Histoire de Melody Nelson album's darkness, but added extra space.
Nakajima''s arrangements were fresh, throwing new light on classics. "Le couteau dans le play" nodded to Brecht and Weill. A syncopated, reggaefied "Di doo dah" sported a Hot Club de France swing. "Haine pour aime" was recast to reference Gainsbourg's own "Initiales BB". Best of all was the sensational, offbeat coda of "En rire de peur d'être obligée d'en pleurer". It's a band you wish Birkin had come to years earlier, and the evening was as much theirs as hers.
The musical makeovers don't stop here, though. Later this year, Birkin brings Arabesque, her North African-slanted take on the ever-malleable songs of Gainsbourg, to London. Summing up last night, Birkin said "if I was Serge, I'd be immensely pleased." Everyone involved in this very special show has every right to be.
Watch Jane Birkin performing and discussing Jane Birkin Sings Serge Gainsbourg via Japan
'Fuir le bonheur de peur qu'il ne se sauve' was so sensitive it brought a man in front of me to tears
rating
Explore topics
Share this article