The Last Stand |

reviews, news & interviews
The Last Stand
The Last Stand
Schwarzenegger bounces back with pace, wit and plenty of wallop
Wednesday, 23 January 2013
Schwarzenegger as Sheriff Ray Owens, preparing for a tornado of violence
It's not an easy trick for an outsized action hero to grow older gracefully or credibly, but Arnold Schwarzenegger has made a shrewd choice of vehicle with which to launch his post-political film career. The way he tells it, being Governor of California was only ever intended to be a temporary time-out from Hollywood. Back in his first leading role since 2003's Terminator 3, he has little difficulty in seizing control of the screen.
However, he has carefully scaled down his ambitions. Playing Ray Owens, sheriff of the small town of Sommerton, Arizona, Arnie has adopted a laboured senior citizen's gait and views the antics of the younger folk (not that there are too many of them in his neighbourhood) with tolerant amusement. He passes the time of day amiably with the locals, and likes to drink a leisurely cup of coffee in Irv's Diner. Time-travelling super-robots and monstrous warriors from outer space are outlandish figments of somebody else's imagination (Schwarzenegger with Jaimie Alexander, pictured below).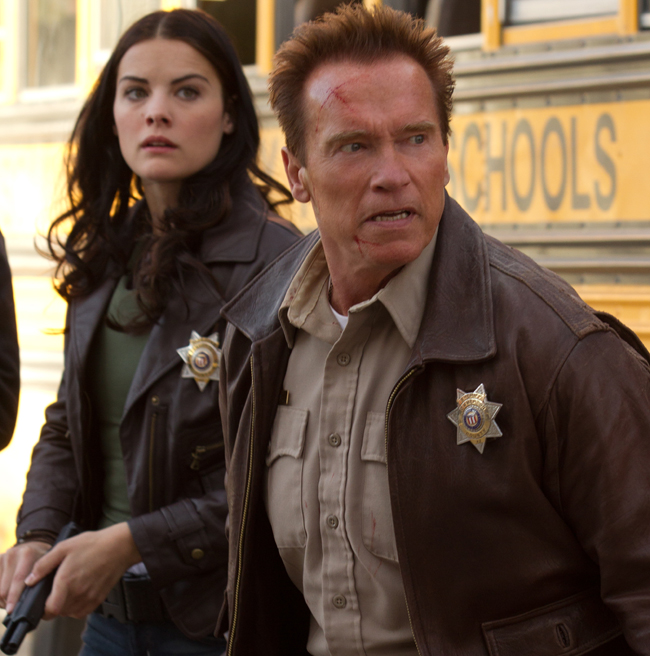 But of course Owens isn't quite the sedate old duffer he'd like to appear. In fact he's a veteran of an elite LAPD narcotics unit, and has seen more than his share of violence and bloodshed. When he spots a couple of unfamiliar truckers across the room at Irv's, his instinct tells him there's something not right about them. Perhaps that's because one of them is played by Peter Stormare, which can only spell trouble. He's relieved when they drive away, but before long they're blowing high-velocity holes in grouchy local farmer, Mr Parsons (a splendidly desiccated Harry Dean Stanton), for reasons as yet unspecified.
Meanwhile out in Las Vegas, notorious Mexican drug cartel supremo Gabriel Cortez (Eduardo Noriega) is being transported to the penitentiary by a small army of FBI agents, commanded by the rather tense Agent Bannister (Forest Whitaker). The Agency's best-laid plans are blown to smithereens when the van carrying Cortez is hoisted into the air by a crane dangling a giant magnet. The super-felon makes a brilliantly choreographed getaway, and the Feds go into a frenzy as they try to work out how to stop him.
Long story short, Cortez is making a break for the Mexican border in an exceedingly fast car (a souped-up version of Chevrolet's Corvette ZR1 for all you auto-buffs out there). The dozy Feds can't find him, the military are no better, and all that's standing in his way is Sheriff Owens and his random assortment of young, old and drunk and disorderly deputies.
Nothing is new under the Arizona sun, and Andre Knauer's screenplay is peppered with references to assorted celluloid classics. There's a dose of Two Lane Blacktop, a whiff of 3.10 to Yuma, a squirt of The Gauntlet, and, as Arnie prepares to confront the tornado of violence about to blow through his town, quite a bit of High Noon.
But South Korean director Kim Ji-woon, making his Hollywood debut, handles his material with pace and wit, with bags of wallop when required. What sets The Last Stand a notch or two above the routine action thriller is the way it manages to balance the big picture with small details, so cacophonous action sequences (like a palpitating scene in which Cortez's henchmen attack a police roadblock) are neatly knitted into a narrative which makes space to explore a little of the interrelationships of the protagonists. The 65-year-old Arnie is touchingly paternal in his treatment of his rookie deputies Jerry (Zach Gilford) and Sarah (Jaimie Alexander), while Luis Guzman lends a comic touch to his portrayal of older, slobbier "Figgy" Figuerola. Johnny Knoxville (pictured above with Arnold) is given a little too much rope as Lewis Dinkum, the town joker who seems to have borrowed his entire persona from Murdock in The A-Team.
Maybe it's not hardcore enough for Terminator junkies and Predator fetishists - and US box office takings have been disappointing - but The Last Stand illuminates a plausible way ahead for Schwarzenegger. This won't be his biggest movie, but it's surely one of his best.
The Last Stand

opens on Friday 25 January