12 Films of Christmas: The Muppet Christmas Carol
12 Films of Christmas: The Muppet Christmas Carol
Twentieth birthday re-release of the felt ones' take on Dickens
Thursday, 13 December 2012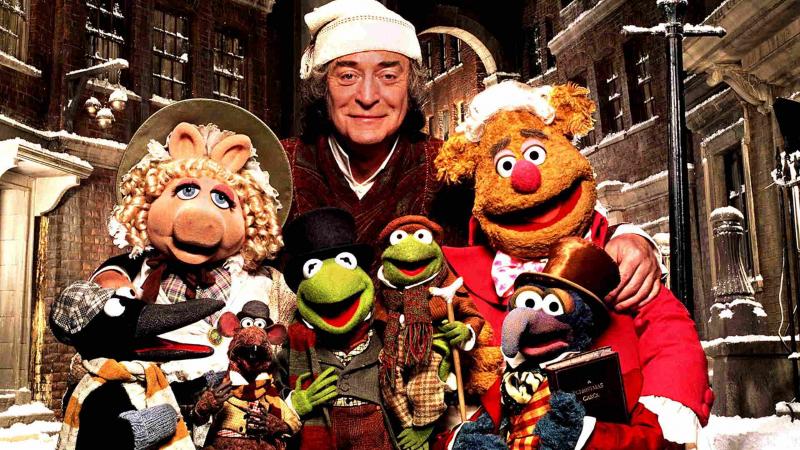 Michael Caine does a nice turn as Ebenezer Scrooge, the miser millionaire
Made in 1992, this was the first Muppets project after the death of creator Jim Henson, and was helmed by his son, Brian. It's been given a 20th-anniversary re-release by Disney, which now owns the Muppet franchise, appropriately enough in the bicentenary of Charles Dickens' birth.
There's the usual mix of puppet and human action, realised in designer Val Strazovec's foggy, filthy Dickensian London, all narrow alleyways and candelit indoor gloom. Michael Caine does a nice turn as Ebenezer Scrooge, the miser millionaire who is given the chance of redemption after being visited on Christmas Eve by Ghosts of Christmas Past, Present and Yet To Come. He plays it straight throughout, and convinces as if his acting were opposite humans rather than puppets. Kermit (Steve Whitmire) is his long-suffering bookkeeper, Bob Cratchit, daring to ask for Christmas Day off, and Miss Piggy (Frank Oz) his wife. Tiny Tim, their crippled son, is given a more prominent role here than in the book, but the film manages to avoid any gloopiness that might suggest.
It's typically family-friendly Muppets fare - the Ghosts are not terribly scary and even the rats look appealing - but this adds to the film's charm. It's unlikely anyone doesn't know the story, but this is a good place to start if it's the first version you have seen, as it's straightforwardly told in Jerry Juhl's script, in which The Great Gonzo (Dave Goelz) appears as Dickens, popping up now and then to explain what's happening and move the action forward.
There are some nice Dickens in jokes - "Please sir, I want some more cheese," says a freezing little mouse in a passing shot - and pleasant, if samey, musical numbers by Miles Goodman. Even Caine stretches his vocal chords at one point - perhaps fortunately towards the end of the movie. It's not the Muppets at their very best, but a pleasant Yuletide treat none the less.
It's typically family-friendly Muppets fare - the Ghosts are not terribly scary and even the rats look appealing
rating
Share this article