Yossi |

reviews, news & interviews
Yossi
Yossi
Israeli gay indie follows a journey from near-catatonia to a blossoming of the heart
Tuesday, 27 November 2012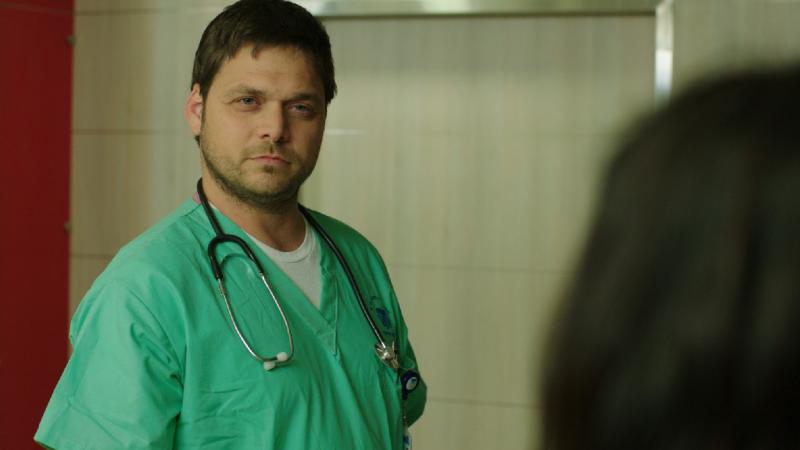 Utterly alone: Yossi (Ohad Knoller) lives an alienated life, a cardiologist whose heart is dead
Stubbled, chubby and aged beyond his 34 years, Yossi, the eponymous hero of Israeli director Eytan Fox's film played by Ohad Knoller, has a hang-dog loneliness to him that stands out a mile away. He may be a qualifying cardiologist, but his own heart seems stuck at the glacier stage.
With no friends or family in the picture, staff at the hospital seem to be the only company he gets in this sterile, green-tinged (coloured by the medical uniforms) environment. There's a nurse who feels something for him, though the play she asks him out to, titled The Stranger, hardly looks set to raise the mood. An extrovert colleague, Muti (a cameo from Israeli star Lior Ashkenazi, familiar from two of Fox's earlier films, Walk on Water and The Bubble, the latter also with Knoller) at the end of a divorce, practically forces him along to a club - "you look like an operating table" is his unsparing verdict (Yossi has some sharp one-liners) - and into the arms of an available woman. The result is as excruciating as a gay hook-up that Yossi arranges on the net.
He confronts the ghost in his past in a scene of excruciatingly gruelling, almost-silent emotions
Fox seems to be bringing us alienation Tel Aviv-style, until a middle-aged woman comes in for a regular heart check-up, and an old pain awakens in Yossi. Some context may help here (although the film works without it): ten years ago Fox made Yossi & Jagger, the story of a furtive gay relationship in the Israeli Defence Force between platoon leader Yossi and his second-in-command Lior (the Jagger moniker came from the latter's rock-star good looks). It ended in Lior's death in an engagement on the Lebanese front, the complicated nuances of their homosexuality in the macho military concealed, and for Yossi, completely unresolved.
Yossi's journey in Fox's loose sequel starts when he's made to take his annual holiday, and sets off south for the beaches. Before he leaves he confronts the ghost in his past in a scene of gruelling, almost-silent emotions, speaking of that lost love for the first time, flaying not only himself with its pain. Time for some sad solitude in Sinai.
Then, when least expected, comedy stumbles in... On the road down he ends up giving a lift to some conscripts who've missed their bus, four young men in their early twenties off for R&R in Eilat. First quandary is what music to listen to on the way: Yossi's Mahler disc does little except to earn him the nickname "Mozart", his collection of lugubrious Israeli chanteuses - "how gay can a guy be?", they ask - even less: these are Israeli pop lads, exuberant in their jostling comradeship, easy in themselves and enjoying the moment.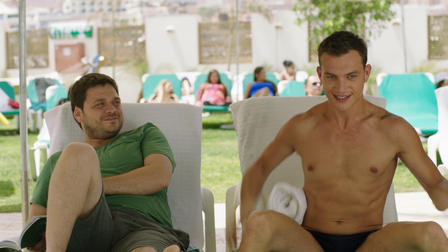 When his plans change, Yossi ends up at the hotel where he's left them earlier, and Fox moves from Mahler to Mann - the penny drops when we see his poolside reading is Death in Venice. Bringing that work into the present day offers much fun, as Richard Kwietniowski proved a while back with Love and Death on Long Island, and Fox enjoys his final inversion of its initial premise. Tadzio here is Tom (the lithe, smiling Oz Zehavi, who brings a real depth to a role that could be played by beauty alone, pictured above with Yossi), known easily and without complexes, Yossi learns, to his friends as "homo". Knoller plays outstandingly the surprise here and then Yossi's agonizing reluctance and slowness to open up his bruised shell; the younger man has a wisdom well beyond his age, though we learn along the way it's not complete. There are ambiguities around which make homosexuality a still complex issue in this complex society, ones explored by Fox in much of his other work.
The director finally moves from Mann towards EM Forster, whose unspoken "only connect" becomes the film's closing instruction. Yossi is funny and touching in its second-half development, and the contrast with the beginning, this journey from weltschmerz almost to fairy tale, doesn't jar. Guy Riaz's unobtrusive lensing relishes sunny, open landscapes after opening claustrophobia, and there's a lovely score credited to Keren Ann, whose own songs, in Hebrew and English, recall the Cowboy Junkies. It's a long, hard road to a smile. Yossi has made it.
Yossi opens at Curzon Renoir, London, on November 30, then in limited release
Watch the official Yossi trailer
This journey from weltschmerz almost to fairy tale doesn't jar
rating
Share this article