theartsdesk in Konya: Into the Mystic |

reviews, news & interviews
theartsdesk in Konya: Into the Mystic
theartsdesk in Konya: Into the Mystic
A Turkish music festival celebrates the birth of the mystic poet Rumi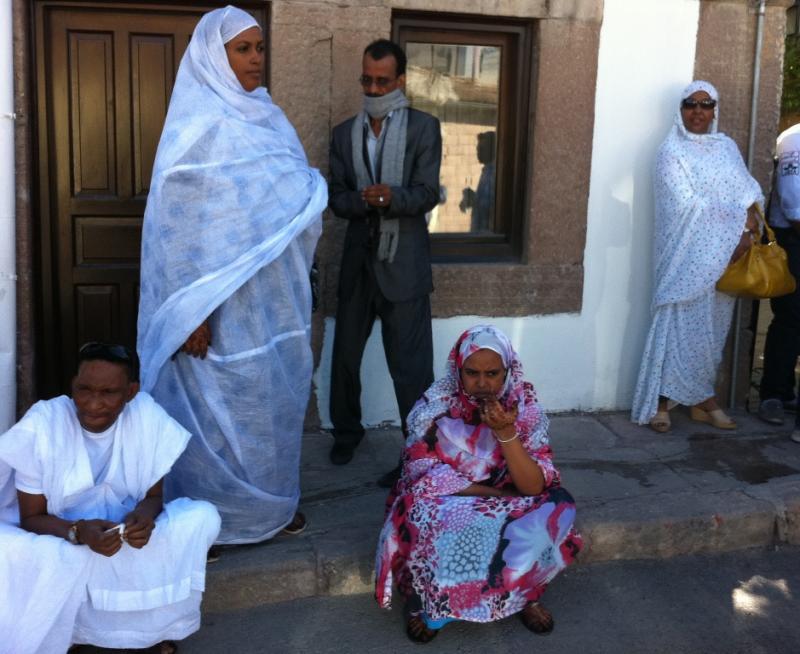 Mauretanian musicians at the Mystic Music Festival in a Konya street
Next month, as has been the case for centuries, lovers of the poet and mystic Jalaluludin Rumi (known simply as Mevlana - The Master - in Turkey, Iran and Persia) will come together to celebrate the day of his passing, on the 17th of December 1273. Thousands gather for a week commemorating what Rumi called his "marriage to eternity" with a grand ceremony of whirling dervishes.
I attended this impressive spectacle a few years ago, which took place in a basketball stadium (there were buses of Japanese tourists outside). In the last few years a more fittingly dedicated building has been erected, close to the Mevlana Museum where Rumi is buried along with about 60 relatives.
The Museum, with its distinctive green dome, was once a college for dervishes until Ataturk, in his mission to secularise Turkey, made them illegal in 1925. You can see the cells where the dervishes would study for 1001 days until they became initiates, as well as some exquisite calligraphy, assorted musical instruments and gorgeous clothes such as a robe with sacred verses written on, which was supposed to be bullet-proof. One of the more astonishing exhibits is a Koran written in silver, to be more easily read at night (silver is also a symbol of purity).
The dervishes spin round the central figure of the sheikh, as electrons around a nucleus, or the planets around the sun
Whether Rumi himself would have approved of such veneration is doubtful. He was a radical who believed that God was more likely to be found "in the heart, rather than a temple, a church or a mosque" and when it was suggested a tomb be built for his father, a venerated scholar, he is said to have commented: "Is there a better tomb that the dome of the sky?" It was Rumi's son, Sultan Walad, who codified the wildness of Rumi's practice into the institution of the Mevlani Dervishes.
Rumi certainly is revered, as a figure somewhere between Shakespeare and St Francis, throughout the Islamic world – more, if anything, outside Turkey. Iranian taxi drivers will know him and some of his poems. More startlingly, there has been a cult of Rumi in the West in recent decades, largely fuelled by the brilliant translations of Coleman Barks. At one point, in the late Nineties, he was said to have been the best selling poet in the United States. The famous spiritual entrepreneur Deepak Chopra made a Rumi album, which Madonna guested on.
But as well as the long-standing celebration of Rumi's death, for the last nine years there has been a Festival, the Mystic Music Festival, celebrating his birth. I found myself there, a superbly organised and programmed event, last month.
This is a more boutique spiritual music festival. There were Georgian choirs and Gregorian chanters as well as the celebrated Mystere Des Voix Bulgares (the provenance of that name is a tale in itself). But the core of the Festival was Sufis from different countries. The concentration of such musicians made the current split between the hard-line Islamists and more tolerant Sufis crystal clear.
As Sima Bina (pictured above, on the left), from Iran but living in Germany, put it, "religion has always been saying, 'Do this or I will kill you'. Sufism is a reaction against that hardness and aggression, and is about a beautiful expression of faith, which is why religious people have always had a fight with Sufis." If anything, the fight is getting worse – in the last year Sufi shrines have been attacked in Tunisia, Yemen and Mali, where the Islamicist black flag is flying over large parts of the country, and the musicians have been silienced.
Bina says she is not exactly in exile, but as women are not allowed to sing in public in Iran, that is a big constraint on her professional career. She still goes back to research Iranian folk music, particularly in her native Khorasan, an area noted as a centre of Sufi culture for centuries (Balkh, now in Afghanistan, where Rumi was born, was at the time in Khorasan – Rumi's family fled to escape the Mongol invaders).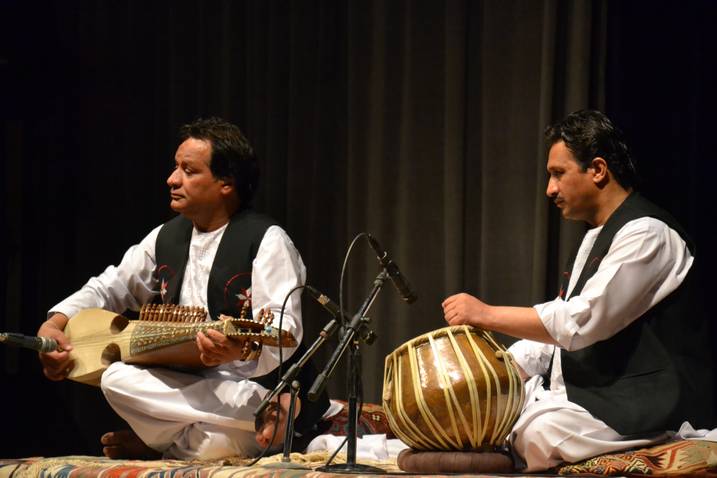 One of the highlights of the Festival was the Afghan rubab player Ustad Ghulam Hussein (pictured left), who played the art music which originated in the courts of Kabul in the 1860s accompanied by Faqeer Hassan on tabla. The music is a mix of Indian and Persian influences, but featured improvised melodies taken from Afghan folk traditions. Their minder was the suavely cosmopolitan and enterprising Mirwaiss Sidiqi who runs the music schools set up by the Aga Khan's Music Initiative in Kabul and Herat. The schools, he says, have no signs to announce where they are – no point in being an obvious "soft target" for the Taliban, who see music as un-Islamic.
There was a balance in the Festival between more academic pursuits and the lively spirits of artists like the Mauretanian singer Coumbane Mint Ely Warakane, a female griot whose father was a celebrated comedian in Mauretania, a country that has produced some wonderful female singers like the late Dimi Mint Abba. Purna Das Baul, now 78, represented the wilder Baul tradition of Bengal and was in his 1970s heyday a figure feted by both Mick Jagger and Bob Dylan.
More academic was a group the Ensemble Sanubar, Muslim Uighars from China's westernmost, oil-rich province who have long endured religious oppression. Amnesty have produced numerous reports accusing the Chinese government of systematic brutality and there have been riots in the regional capital Xinjiang. The group's spokesman said, however, that there were absolutely no problems. But his testimony should perhaps be seen in the light of the group relying on the government to allow them out of the country to tour.
Like the December celebration of Rumi's death, this festival also culminated in a night of whirling dervishes, who, with elegant weightlessness, spin with one hand open to the heavens and the other pointed at the earth, as if to distribute divine energy. The dervishes spin round the central figure of the sheikh, as electrons around a nucleus, or the planets around the sun.
Watch Ustad Ghulam Hussein and group perform
Subscribe to theartsdesk.com
Thank you for continuing to read our work on theartsdesk.com. For unlimited access to every article in its entirety, including our archive of more than 10,000 pieces, we're asking for £3.95 per month or £30 per year. We feel it's a very good deal, and hope you do too.
To take an annual subscription now simply click here.
And if you're looking for that extra gift for a friend or family member, why not treat them to a theartsdesk.com gift subscription?