theartsdesk in Istanbul: Borusan boosts the Arts |

reviews, news & interviews
theartsdesk in Istanbul: Borusan boosts the Arts
theartsdesk in Istanbul: Borusan boosts the Arts
What do you get a millionaire who has everything? An orchestra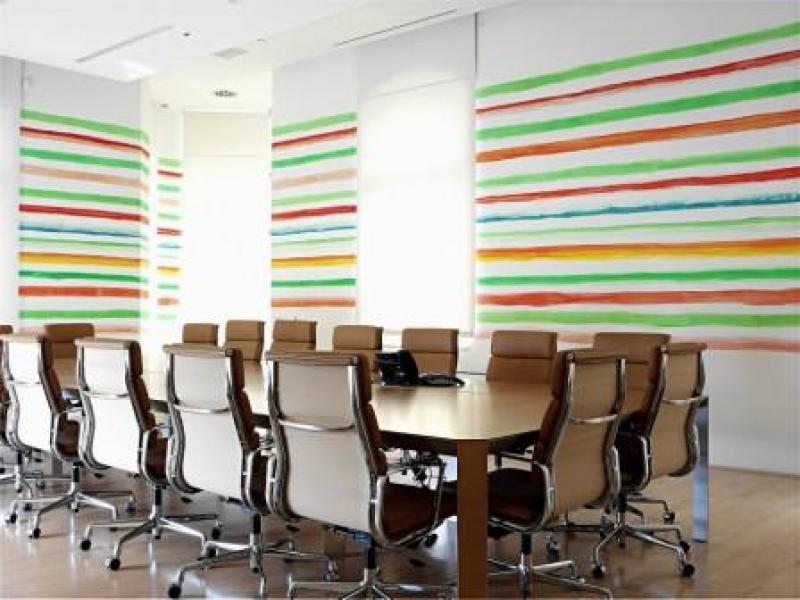 Jenny Zenuik's Wall Painting adorns the Borusan office
The workers at the smart Borusan Holdings head office are expected to be tidy, especially on a Friday. That's because their office doubles up as an art gallery, the Borusan Contemporary, at weekends. There are some paintings, like the attractive wall paintings of Jenny Zenuik, although the main thrust of the collection is up-to-the-minute electronic art. Some seem a little gimmicky, like superior executive toys, such as one where you place your finger in a hole and the frame turns into images of your fingerprint, but it's an excellent way to pass an hour or two.
There's a separate space for an ambitious installation with a theme of water called River Of History by the Madrid-based artist Daniel Canogar, combining video projections and sculpture. One piece uses 100 discarded plastic bottles hanging from the ceiling; another deploys a massive light box depicting submerged bodies in underwater chaos.
It may not be the first modern office to do this, but this is Istanbul, not generally noted for its cutting-edge status in the world of modern art. One local visitor comments to me on the "bravery" of Borusan in making the gap between "office life and art transparent". The philosophy of the place is that exposure to art can only increase creativity.
The new aim was to up the level to compete with the world's top orchestras
A clue as to who is behind it is in the best office, with a great view over the Bosphurus and a stereo system that cost $80,000 (pianist Lang Lang tinkles on the system). There is a prominent copy of the Steve Jobs biography on the desk. This is a man who loves aesthetics and design, and like Jobs you sense has the urge to do something "insanely great", as the late Apple boss would put it.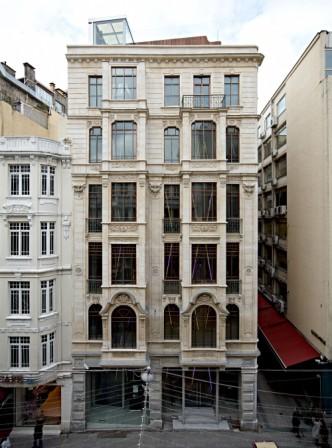 The office belongs to Asim Kocabiyik, the head of Borusan Holdings, who is having an immense impact on the arts in Istanbul. As well as the fact that the HQ is also a gallery, there's the publishing company, producing fine art volumes with architect-photographer Ahmet Ertuğ. There's another building, the Borusan Culture and Arts (BCA), a charming edifice in the neighbourhood of Begoglu, which houses a music library.
They also organise studio spaces for artists, and things like annual music scholarships to study abroad. The Borusan arts portfolio is a considerable one and includes supporting excavation of the ruins at Ephesus through the Ephesus Foundation, and a handsome new Borusan Music House (pictured above), with state-of-the-art equipment such as a top-of-the-range new Steinway piano, which presents jazz, world and contemporary music.
But the biggest impact on the international cultural scene must be Borusan's investment to the tune of millions of pounds in classical music. They already backed a children's choir and a string quartet, but the big one is the Borusan Istanbul Philharmonic Orchestra (BIPO).
The orchestra was established in 1999 and for several years played within Turkey, but in 2006 it was decided, with a certain wild (some have said lunatic) ambition, that the new aim was to up the level to compete with the world's top orchestras. Borusan and Kocobiyik may have made a fortune with industrial goods - they are big in steel and pipes - but while other oligarchs might want a football team or a yacht, for Kocobiyik a top orchestra was his dream.
Turkey's economy, unlike the rest of Europe is fizzing away at over 8 percent growth
Perhaps now might be the best time to mention Six Sigma, a management philosophy I had never heard of, but is by all accounts a great fashion among certain businesses. Six Sigma is a little complicated to explain here, and sounds rather cult-like in the way it designates individuals as "Champions" and "Black Belts", but essentially it's a methodical way of cutting down waste and keeping up a quality level of, it claims, over 99.9996 percent. Borusan and Kocobiyik are followers of Sigma Six as a way of doing business, and while it seems to work in the world of steel and pipes, whether it works in producing a world-class orchestra is another question. But an almost fanatical will for high quality is part of the culture.
Some of the context of all this is the effervescent city of Istanbul itself. Turkey's economy, unlike the rest of Europe, is fizzing away at over 8 percent growth. With its pivotal position between Europe and Asia, there is a real sense of Turkey being the bridge between East and West. There are scores of fashionable cafés and packed nightclubs with the latest sounds (I noticed, for example, one poster for a dubstep night, the sound developed in Croydon that is currently expanding round the world, that theartsdesk's Joe Muggs keeps us up to date on).
At the same time as this modernity, there are TV channels showing more traditional music seemingly 24 hours a day, and traditions like the dervishes, the followers of the 13th-century mystic and poet Jalalladun Rumi, which still have considerable weight in the culture. There are, of course, the great buildings like the Hagia Sophia and the Blue Mosque reminding us of this city's deep spiritual history.
So how do you establish a top orchestra? It doesn't matter how much cash you throw at the problem if you haven't got the right people leading the project. The appointment of Sasha Goetzel (pictured, left) in 2008 as artistic director and chief conductor seems a savvy one. He's an Austrian conductor who studied with the great Jorma Panula in Finland (through whose hands the myriad of talented Finnish conductors who seem to be ubiquitous have passed) and where he is the principal conductor of the Kuopio Symphony Orchestra.
Instead of importing plane loads of top musicians from abroad, which might have been the fast route, the vast majority of musicians in the Orchestra are Turkish. The immediate problem, says Goetzel, was not that they were not gifted musicians but "they all had different styles. It was like they were talking at once with different languages: the accents and the phrasing were wildly varied. So the first key job was to get them to talk with one sound."
Goetzel isn't expecting an instant result, but sees it as a 10- to 15-year process. But he does see that the orchestra has reached way above base camp on the mountain already. Part of the strength of the musicians, he noticed, was a fabulous rhythmic ability and strong brass, which he thinks comes from exposure to traditional Turkish music. There is "an authentic Turkish voice" developing. There are four or five composers too in the orchestra, whose work Goetzel hopes to increasingly highlight, as well as earlier Turkish composers, like Saygun whose brilliant Piano Concerto no 1 is already an established part of their repertoire.
The concert fizzed along with great verve. The potential is dizzying
Certainly their recent CD entitled Music of the Machine Age is, to agree with Andrew MacGregor on Radio 3's CD Review, "tremendously exhilarating". The artsdesk's Graham Rickson said it had "the requisite raw energy, helped by Goetzel's direction – none of this music is easy to play, and the panache and accuracy on display are impressive." It features mainly post-Rite Of Spring music from the inter-war years from Holst, Bartók and Prokoviev. The CD is released on Onyx, run by Matthew Cosgrove of the late lamented Warner Classics label. Cosgrove's advice on repertoire has been taken by Goetzel and is excellent in showing off the orchestra's strengths.
Live too, they pack a punch. I saw them with the saxophonist Branford Marsalis as a guest soloist and apart from a tricky moment when the concert stopped when Marsalis knocked over his music stand during Sally Beamish's Under the Wing of the Rock, the concert fizzed along with great verve. The potential is dizzying. If the strings seemed at times a little detached, that may be the fault of the acoustics. Whether they can really hack it doing Mahler symphonies, for example, we will have to wait to discover.
It's not all altruism, and there are PR benefits for Borusan and for Turkish culture. But among the doom and gloom in the arts, with cuts announced every day, it would be churlish not to celebrate Borusan's commitment to this new Orchestra and be thankful that Borusan's boss Ahmet Kocabiyik isn't much of a soccer or yachting fan.
Explore topics
Share this article
Subscribe to theartsdesk.com
Thank you for continuing to read our work on theartsdesk.com. For unlimited access to every article in its entirety, including our archive of more than 10,000 pieces, we're asking for £3.95 per month or £30 per year. We feel it's a very good deal, and hope you do too.
To take an annual subscription now simply click here.
And if you're looking for that extra gift for a friend or family member, why not treat them to a theartsdesk.com gift subscription?