Maestro or Mephisto - The Real Georg Solti, BBC Four |

reviews, news & interviews
Maestro or Mephisto - The Real Georg Solti, BBC Four
Maestro or Mephisto - The Real Georg Solti, BBC Four
Lots of stars and great footage, but did this film tell us anything new?
Saturday, 10 November 2012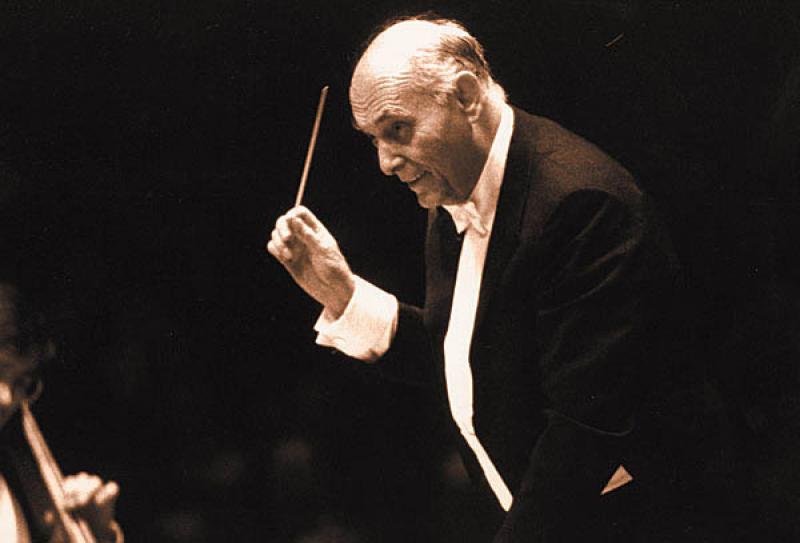 Maestro Solti in action: 'I was a sort of Prussian dictator'
The one thing you can rely on when a programme is billed as "The Real" something-or-other is that that is exactly what you won't get. This film, commemorating the centenary of the birth of the great Hungarian conductor, did a thorough job of tracing his career through the great orchestras, concert halls and opera houses of the world, pulling in various stellar musical names and bags of excellent archive footage en route.
But anybody already familiar with Sir Georg's life and works would not have come away a great deal wiser.
Fortunately it's a great story, however you tell it. A gifted pianist, the young Solti studied in Budapest with (among others) Béla Bartók, and in the 1930s became the first Jew to conduct at the Hungarian State Opera. He was working at the Salzburg festival with Arturo Toscanini when the Nazis rolled into Austria for the Anschluss, and he spent most of World War Two in the safe haven of Switzerland.
After the war, he was appointed Music Director of the Bavarian Opera in Munich (Solti in Munich 1947, pictured right). Though Munich was considered the very home of Nazism, as Solti ironically pointed out, after the war it was suddenly as if there had never been any such thing as a Nazi at all. His own family had perished in the Holocaust, yet he felt comfortable enough to spend six years in Munich, cutting his teeth on great swathes of the operatic repertoire which he'd never conducted before. He struck up a friendship with local composer Richard Strauss, and was awestruck when the octogenarian legend came to Solti's rehearsals for Rosenkavalier and conducted part of it himself. Later came his heroic decades in the pit at Covent Garden and with the Chicago Symphony Orchestra.
As the Solti story unspooled, with guest appearances by such titans as the Swedish Wagnerian soprano Birgit Nilsson, the Italian baritone Tito Gobbi or Cilfynydd's finest, Geraint Evans, it did make you ponder over how anybody could ever think classical music or opera were boring when they had thunderous personalities like these in them. Solti himself was the embodiment of the mythic notion of the conductor as a tornado of creative energy, unsparing in his mission to wring the best out of his players and inevitably ruffling a few delicate musicianly feathers in the process. As he admitted himself, when he came to Covent Garden in 1961, "I was a sort of Prussian dictator, which was very good for them... there was no discipline in this house."
For all that, even though Solti has been dead for 15 years, the film-makers had had difficulty finding anybody willing to stick the boot into the so-called "Screaming Skull" (in fact nobody in the programme even called him that). A chap from the London Philharmonic Orchestra, where Solti conducted in the 1980s, complained that he couldn't keep time and his baton-work looked like somebody having convulsions, but results suggested that he managed to get his point across reasonably successfully. Jim Naughtie's voice-over accused Solti of being "driven by overpowering ambition". Really, you think?
Nor was there any suggestion that the energetic maestro had been anything other than an exemplary husband (Lady Solti, the former BBC hackette Valerie Pitts - pictured above with Solti and daughter Gabrielle - was dutifully regal but not very revealing), other than a clip of him being flirtatious with Kiri Te Kanawa on a TV programme. The popular yarn about him giving white fur coats to favourite ladies was nowhere to be heard.
But if nothing else, it was a great excuse to start taking Sir Georg's back catalogue for a jog round the CD player. Did I hear correctly, or did Norman Lebrecht really say that Solti's classic Ring Cycle for Decca was the best-selling classical recording of all time? I thought that was Il Divo.