LFF 2012: Beware of Mr Baker |

reviews, news & interviews
LFF 2012: Beware of Mr Baker
LFF 2012: Beware of Mr Baker
A jaw-dropping, nose-breaking rock doc on Cream's self-destructive, indestructible drummer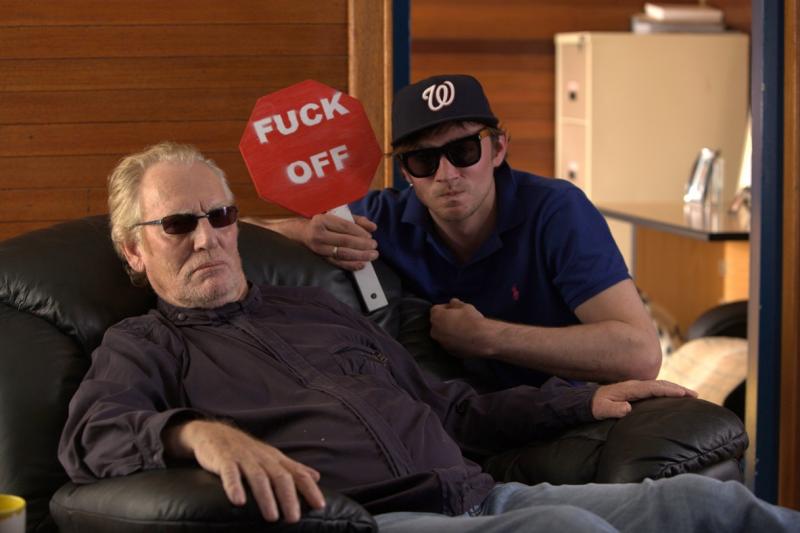 Fair warning: Ginger Baker (left) and Jay Bulger
In case you doubted the title, the great Cream drummer Ginger Baker breaks director Jay Bulger's nose with a crack of his walking stick, after Bulger's lived at his subject's South African ranch for four months. Like a zoo-keeper thinking for a fatal second the tiger was his friend, Bulger found that Baker still bites.
There's ample testimony in this hugely entertaining documentary to the enduring "Baker temper", both from former bandmates ("It wasn't the knife thing" that bothered Cream bassist Jack Bruce during a blade-wielding beating), and wives and children left wrecked in his wake. He's been damaged and damaging all his life, but Bulger keeps returning to the resultant music that is his only alibi. Many musicians are happiest on stage, but for Baker the contrast is almost bipolar. His face is puppyishly happy playing with jazz drumming greats such as Max Roach, and an extraordinary passage explores the six years he spent in Lagos living and drumming with Fela Kuti, an African immersion no other rock musician had the balls for. Yet a son is dismissed with crushing contempt.
Baker is a riotously uncivilisable, unconventional man, ruined by an expensive addiction to polo as much as heroin. His brutality extends to a reservoir of drily hilarious anecdotes and insults. But it's Bulger's determination to stick close to his subject today that pays off. The wild man whose eyes are pinball-wide in old pictures is persuaded to remove his shades and reveal their state now: small, wearily half-closed, bottomlessly sad.
Baker's a riotously unconventional man, ruined by an expensive addiction to polo as much as heroin
rating
Explore topics
Share this article