Me and Mrs Jones, BBC One |

reviews, news & interviews
Me and Mrs Jones, BBC One
Me and Mrs Jones, BBC One
Slow start to comedy about yummy mummy with love troubles
Saturday, 13 October 2012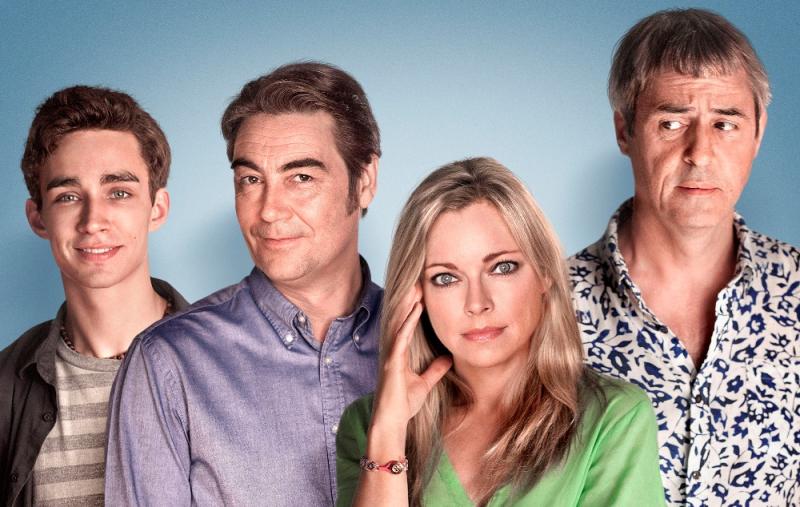 Sarah Alexander has her hands full with all the men in her life
It's always either a very good or a very bad sign when my notebook remains untainted by my scrawl when I'm reviewing; either I am too busy enjoying myself to make notes or I'm so unengaged that I can barely be bothered to lift my pen.
It was the latter with last night's opener (part one of six) of Me and Mrs Jones, despite the presence of Sarah Alexander, a talented comedy actress, and Robert Sheehan, a very fine dramatic actor whom the camera loves. And also despite the writing talents of Oriane Messina and Fay Rusling, who worked on the wonderful Smack the Pony with Alexander, and then wrote for the all-round fabulous Green Wing and also Campus, which had its moments. But their new vehicle is underwhelming.
At least it doesn't plumb the depths of My Family
Alexander plays Gemma, the yummy mummy of twin girls by ex-husband Jason (Neil Morrissey, here reprising his Men Behaving Badly useless bloke routine a couple of decades on). He's now with the much younger Inca (Vera Filatova), a cold-hearted Swedish beautician obsessed with waxing (a joke that wanes very quickly), whose cooking poisons his kids. Equally gorgeous single dad Tom (Nathanial Parker), whose daughter goes to the same school as the twins, asked Gemma to dinner and she got into a dither about what to wear and how far she should go on the first date. Her best friend, the young, free and single Fran (Kelle Bryan) offered advice while text-flirting with her dentist. So far so, cliched.
Then eldest child Alfie (Jonathan Bailey) came home early from his gap-year travels with Sheehan's Billy, a 20-year-old guy he met in China, in tow. By the end of the half-hour, she's kissed Tom on the doorstep and got into an accidental clinch with Billy, who's staying in the spare room and obviously finds her a bit of a milf. What follows, the BBC press handout tells us, is "the increasing complex life of Mrs Jones as she balances, love, sex, affection and motherhood". Ho hum.
There's a little too much precocious kids' stuff going and characters who are ciphers rather than real people (Katherine Jakeways as a competitive mum is particularly badly served), and the opening episode provoked smiles rather than laughs. While Me and Mrs Jones is no Outnumbered, at least it doesn't plumb the depths of My Family.
But the central relationship between Gemma and Billy already convinces and sitcom, as I've written before, often has a slow start (even if Me and Mrs Jones could be better described as romcom). Who knows, once Alexander and Sheehan get it together, for they surely will, the real comedy will emerge.
Characters are ciphers rather than real people
Share this article