The Judas Kiss, Duke of York's Theatre |

reviews, news & interviews
The Judas Kiss, Duke of York's Theatre
The Judas Kiss, Duke of York's Theatre
Rupert Everett has a quiet melancholy as Oscar Wilde in a so-so David Hare revival
Doomed lovers: Rupert Everett and Freddie Fox as Oscar and Bosie
David Hare's 1998 play wasn't terribly well received when it was first produced by the Almeida; several critics regarded it as a thin work, weakly directed by Richard Eyre, and opined that Liam Neeson was miscast in the role of Oscar Wilde.
Now comes a revival, directed by Australian Neil Armfield that has, on the face of it, dream casting in Rupert Everett as the Irish playwright hounded by the British ruling classes for his homosexuality.
It's a play of two halves, in more ways than one, as Hare creates a sort of diptych of Wilde's life. The first act is set in the louche Cadogan Hotel on the afternoon when his libel case against the Marquess of Queensberry, father of his young lover Bosie, has collapsed and he is awaiting arrest for sodomy. The cause of Wilde's travails, the selfish and self-obsessed Lord Alfred Douglas, known as Bosie (Freddie Fox, playing him as a petulant, screaming young fop), urges him to stay and fight his father, while Wilde's friend and former lover Robbie Ross (Cal Macaninch, pictured with Everett and Fox below) begs him to escape to France, and join the other "inverts" escaping Victorian disapproval and prosecution.
There are several lines that could have fallen from the great man's lips
The second act is set two years later in Naples, where Wilde, broke and broken after incarceration in Reading Gaol, is living out the final few years of his life in exile. Inexplicably, he has gone back to Bosie, who is working his way through the attractive local Neapolitan fishermen while Wilde sits at home alone, with writer's block brought about, Hare suggests, by the pain of being parted from his young sons.
Hare resists the temptation to litter the script with Wilde's aphorisms, although he allows an occasional quote to slip through - "I hope to survive the winter. After that, Tunis, rags and hashish!" - and there are several lines that could have fallen from the great man's lips. When Bosie, whom we have just seen lolling naked on a bed with a chap called Galileo (Tom Colley), denies he is a homosexual, Wilde replies drily, "No, just a brilliant mimic."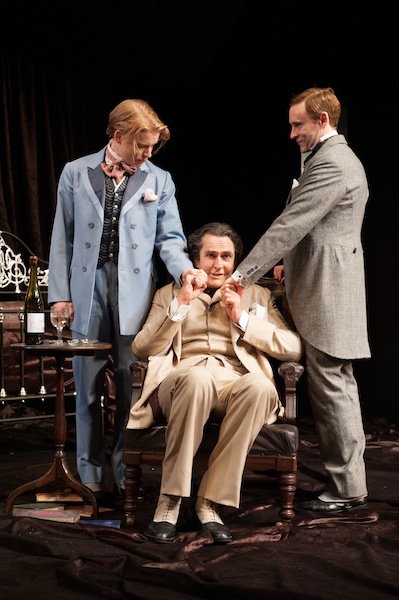 There's rather a lot of overacting in the first act by just about everybody (including Everett, whose delivery at times evokes memories of Spitting Image's Prince Charles puppet), rescued only by Macaninch's restrained and moving study of a man unable to rescue his beloved friend from a disastrous cocktail of unrequited love, hubris, arrogance and possibly a comforting delusion that his persecution has a Christ-like quality. The second act is immeasurably better, when Fox calms down and exposes Bosie's vacuity in comic but telling moments, saying that he is the real victim of this situation and that he has repaired his relationship with his mother, by which he means she is offering him money if he leaves Wilde.
Everett, seated almost throughout, conveys a deep melancholy in these scenes. Wilde appears to accept his fate with strange good humour but, when Robbie calls at his shabby apartment unexpectedly to deliver a message from Constance, his estranged wife, his bitterness at being abandoned by friends in England erupts with sudden fury.
There are moments of poignancy as Wilde and Bosie part for the last time, but the true nature of their relationship is never fully evinced and we are left to ponder how an extraordinary man was laid low by such a shallow human being.
The Judas Kiss is at the Duke of York's Theatre until 6 April. This review is of the play's pre-West End run at the Hampstead Theatre, in the same production
Everett, seated almost throughout, conveys a deep melancholy in these scenes
rating
Explore topics
Share this article