theartsdesk Olympics: Football under Hitler's eyes |

reviews, news & interviews
theartsdesk Olympics: Football under Hitler's eyes
theartsdesk Olympics: Football under Hitler's eyes
All is not fair in war and football in 1942 Nazi-occupied Ukraine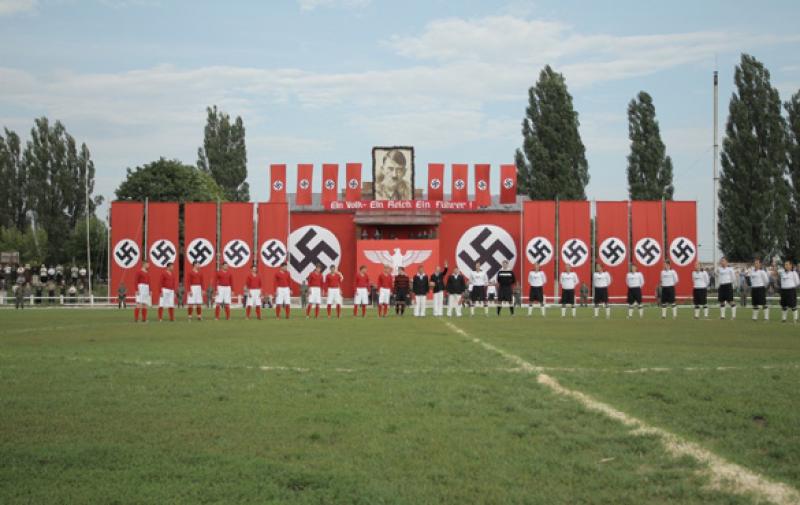 The Fuhrer looks down: August 1942 sees Kiev team FC Start winning against the Luftwaffe
A football team normally heads out onto the pitch determined to win – unless, perhaps, the match has been fixed. Or unless they've been under Gestapo pressure to lose. That was what happened at the legendary "Death Match" in Kiev in August 1942. A team of Ukrainians - eight drawn from previous Dynamo Kiev sides and three from local Lokomotiv - playing under the moniker FC Start had reassembled after the Nazi invasion of the city. Most of them had been working in a local bakery.
The controversy surrounding the events hasn't gone away. A recent Russian film Match of Death (main picture) has aroused considerable controversy in Ukraine for its depiction of events, by suggesting that their actions had been a form of collaboration in itself, and that their deaths were not directly related to their activities on the field. Echoes of another war-time football match, Escape to Victory, also ring strong.
The SS referee visited the changing room to insist players gave the Nazi salute
Over that summer FC Start had already beaten resoundingly various Axis-allied teams, including Hungarians, Romanians, and even the Ukrainian nationalists, who were Nazi-collaborators. The decisive match came on 6 August, up against the Luftwaffe team Flakelf. The Ukrainians trounced their opponents 5-1.
A requested rematch days later was even more stressed: the SS referee visited the dressing room before it kicked off to insist players gave the Nazi salute before opening. They didn't. He then went on ignoring blatant fouls, which included the Ukrainian goalkeeper being kicked in the head. At half-time the SS man returned, warning in no uncertain terms of the consequences of an Ukrainian victory.
FC Start ended 5-3 up. A Ukrainian defender made it all the way up to the Nazi goal, beating the goalkeeper, and then demonstratively kicked the ball back towards the centre circle. The Gestapo ref promptly ended the game ahead of time. The fate of the players was certainly not a happy one: 10 were sent to camps where many perished; one was tortured to death.
Soviet propaganda did all it could to milk the narrative. Then, in 2005, a German tribunal ruled that there was no direct connection between the players' action on the field and their final fates. Defiance, a new documentary for ESPN, suggests otherwise.
Watch a clip from Defiance