Usain Bolt: The Fastest Man Alive, BBC One |

reviews, news & interviews
Usain Bolt: The Fastest Man Alive, BBC One
Usain Bolt: The Fastest Man Alive, BBC One
Jamaica's sprinting superstar survives less-than-critical documentary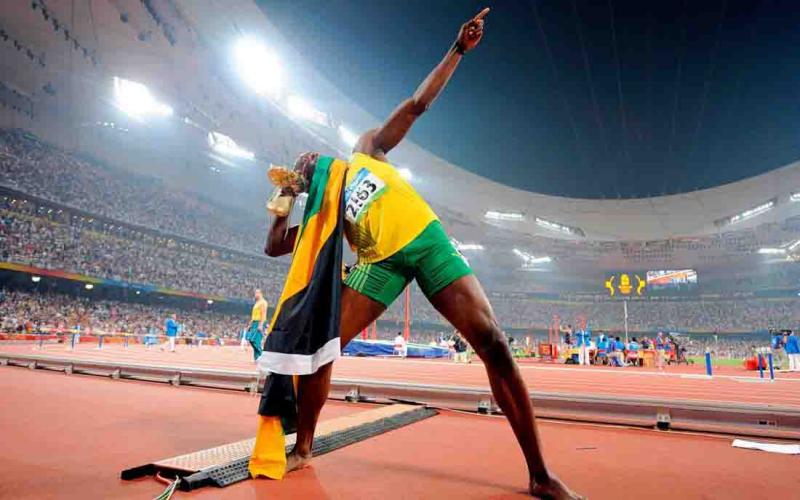 Modest celebration from Bolt after winning gold in the men's 200m, Beijing 2008
"What caused him to be so fast? Is he here for a purpose?" wondered Usain Bolt's father, Wellesley, in a mystical tone. Usain's mother, Jennifer, also seems to detect the workings of a higher power in her son's blindingly rapid progress around the world's running tracks. "Thank you, Lord, for what you have done," she said.
It was hardly surprising that this profile of the so-called Lightning Bolt, multiple record-breaker and triple Olympic medallist, oozed with awe and dripped with reverence. Getting a film crew inside the Bolt entourage presumably depends on an understanding, possibly in writing, that the world's greatest sprinter isn't going to be portrayed as a buffoon or a man given to John Terry-style behaviour, and the arc of the narrative climaxed with the searching question: "Can Usain Bolt fulfill his destiny and become a legend?" This from a documentary that had spent the previous 58 minutes telling us how Bolt was already an unprecedented god-like genius.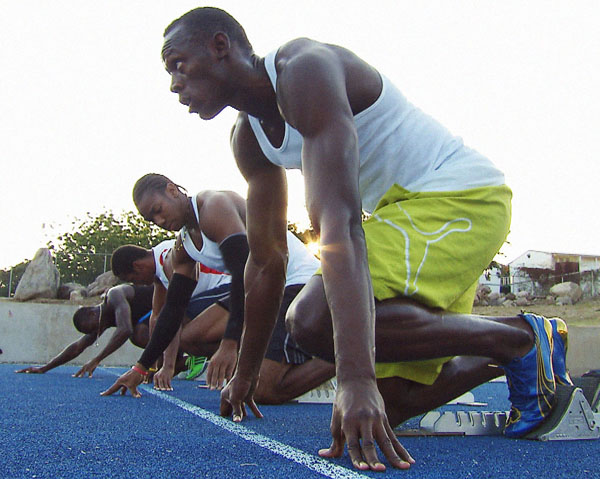 The saving grace of the film was Bolt himself, who exuded an endearingly cocky insouciance about the whole sports-and-media hurricane in which he now conducts his existence. Didn't he get fed up with all the promotional activities and media interviews, queried the unseen interviewer (who seemed to be French)? Well, it was a bit of a pain at first, said Bolt, but I've got used to it now (Bolt training in Jamaica, pictured above).
There were plenty of sequences of Bolt in action to remind you of his astounding gifts. Ever since his teenage years he seems to have been about 30 per cent larger than his opponents (he's 6ft 5in), and his huge stride is a major weapon in his armoury, though apparently it takes a few yards before he can get his long legs up to full speed. This didn't stop him from destroying all comers in the 2008 Beijing Olympics where he bagged record-breaking golds in the 100m, 200m and 4x100m relay.
Further stats-busting feats ensued in Berlin in 2009 and Daegu, South Korea in 2011, though the latter event was slightly marred, Bolt-wise, by disqualification from the 100m following a false start. Comically, this lacuna was dwelt on by the film-makers as if it were an ancestral tragedy ringing down the ages, soundtracked by the wringing of hands, the sound of garments being rent asunder and risibly lachrymose music. Bolt, however, merely picked himself up and blitzed to new frontiers in the 200m and 4x100.
What was especially striking was the way that Team Bolt appears to be a close-knit family affair, or as much of one as is possible in the cauldron of top-echelon global sport. Where British athletes seem to be cocooned by battalions of trainers, dieticians, sports therapists, media handlers and assorted nonentities decorated with Team GB logos, the key operators in Bolt-world boil down to his trainer, Glen Mills (exceedingly laid-back), his personal manager, Nugent "NJ" Walker (a childhood friend and also a teacher), and his Irish agent, Ricky Simms (who was a little bit wary of talking to the camera). Otherwise, Usain likes to hang with his gang of homies, and in fact he shares his house in Jamaica with several of them. By this account, they like to splash around in Usain's pool, have dinner together and play dominoes, but I had the sense that there were a probably a few scenes missing from this part of the story.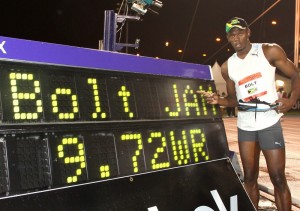 Bolt seemed to have little interest in being portrayed as Saint Usain of Kingston - "I'm a single guy, I live free," he grinned - though he was careful to acknowledge the influence of his family and the Bible on the way he lives his life. He's not interested in books and prefers his PlayStation, he trains hard because he has to rather than because he's a workaholic fitness fetishist, and he sneaks off to play football even though his coach forbids it. "You have to enjoy life," he insisted. "I don't want to catch 50 and say, 'Oh God, I missed out on my youth days'." A large chunk of the world's population will be tuning in to watch Bolt blowing the doors off the opposition in London.
Watch video of Usain Bolt winning the men's 100m final in Beijing, 2008