Reissue CDs Weekly: Jimmy Page, Keith Jarrett, Elton John, Swing Out Sister |

reviews, news & interviews
Reissue CDs Weekly: Jimmy Page, Keith Jarrett, Elton John, Swing Out Sister
Reissue CDs Weekly: Jimmy Page, Keith Jarrett, Elton John, Swing Out Sister
A mysterious soundtrack finally surfaces, plus jazz pianist's jewel, early Elton John and Eighties stylishness
Jimmy Page: in his more familiar role, taking time out from working on the 'Lucifer Rising' soundtrack
With Led Zeppelin established as world-beaters in 1971, Jimmy Page was probably entitled to take some time off. Instead, in the wake of the release of their fourth album, they criss-crossed the world in 1972. When at home, Page somehow found time to work on the soundtrack for the Kenneth Anger film Lucifer Rising. It's been bootlegged and the first official appearance of this mysterious chapter in Page's musical life plugs a gap. Page himself has released it on his own label and contributes brief liner notes.
Strictly speaking, this isn't a reissue and as a vinyl album it doesn't fit the bill here either. But it is terrifically important. Only available from Page's own website, it's been around a couple of months but has only just made its way to theartsdesk.
Page met Kenneth Anger, the writer of Hollywood Babylon, as a result of them both having bidded for an original Aleister Crowley manuscript at Sotheby's. Page outbid Anger. Their mutual interest in the occult and arcane linked them, and a meeting between the pair was arranged by an intermediary. Also a filmmaker, Anger was then trying to complete Lucifer Rising. Asked to compose and perform the soundtrack, Page agreed. It would never be heard and the film was eventually soundtracked by the imprisoned Charles Manson associate Bobby Beausoleil. Page and Anger had fallen out.
The compositions have familial similarities with his late-era Yardbirds' soundscape "Glimpses" and the bowed-guitar segments of The Song Remains the Same. They clearly informed his soundtrack for Michael Winner's Death Wish II. But these are fleeting nods. Overall, the six pieces (the main soundtrack takes up side one) are simllar to morning ragas, but threaded with percussive colour from tabla and urgent stabs from an ARP synthesiser. The pastoral, eastern-leaning Krautrock of Popul Vuh comes to mind. More than fascinating, this seductive music is essential to any understanding of Led Zeppelin and Page, and how his personal interests linked them.
Keith Jarrett: Sleeper
Peter Quinn
Recorded live at Tokyo's Nakano Sun Plaza in 1979, this remarkable double album reveals anew the unique and compelling sound world of Keith Jarrett's European Quartet. Having scaled the majestic heights of album opener "Personal Mountains", you may wish to lie down in a darkened room for a while such is its blazing intensity. Combining the huge, opalescent tone of Jan Garbarek's tenor sax, the propulsive rhythms of bassist Palle Danielsson and drummer Jon Christensen, plus Jarrett's vigorous pianism, the all-enveloping power of the music is staggering. There are moments of profound lyricism, too: emerging from nowhere, the gossamer-light coda of "So Tender" possesses a heart-breaking eloquence. On CD2, both the sprawling "Oasis" and the joyous "New Dance" offer some typically potent unison playing between Garbarek and Jarrett. Resting in the ECM archives for over three decades, Sleeper really is an unforeseen jewel in the pianist's capacious discography.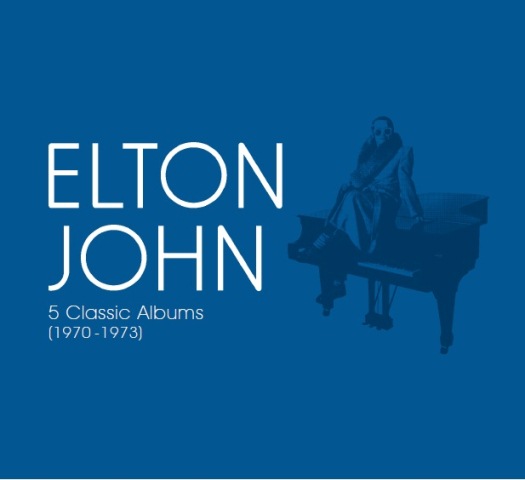 Elton John: 5 Classic Albums (1970-1973)
Kieron Tyler
No doubt issued to tie-in with the Good Morning to the Night album, this handy, keenly priced box of the studio albums Elton John issued between his debut long player and Goodbye Yellow Brick Road offers the opportunity to dig into the originals of some of what Pnau have sliced, diced and reconfigured for 2012. There are no liner notes, no booklet and the tracklists (including the extra tracks) are those of 1995 reissues. He was racing forwards. These five albums were issued between October 1970 and February 1973. The period also saw the live set 17.11.70 issued. Essentially, what's charted here is John finding his voice, trying on styles with a mix- and-match glee. In context, hit singles like the stylistically unrelated "Your Song", "Rocket Man" and "Crocodile Rock " make sense as part of the overall musical quilt. Tumbleweed Connection (1970) is in thrall to a David Ackles-inspired Americana, while parts of Madman Across the Water (1971) collapse under the weight of overbearing string arrangements. Honky Château (1972) was more confident. From then on, with "Rocket Man" lodged in the charts, his future was assured.
Swing Out Sister: It's Better to Travel
Kieron Tyler
Although the stylish Swing Out Sister are, with hindsight, too-easily thought of as glossy Eighties pop, they drew their inspirations from much more than a copy of The Face. It's Better to Travel reached number one and now, 25 years after its release, the fact that it still sounds fresh is surprising. This anniversary double CD edition is bolstered by remixes and non-album single tracks, but the meat is the album itself. The three different additional versions of "Breakout" aren't essential, but Corinne Drewery's warm, immediate vocals are. Synths were the jumping off point, but lush strings, deft rhythms and timeless orchestration set Swing Out Sister apart from, say, the similarly jazz-inclined Sade. Listened to afresh, It's Better to Travel reveals itself to be as benchmark an album for the period as ABC's The Look of Love.
This seductive music is essential to any understanding of Led Zeppelin and Jimmy Page
Share this article