Estonia celebrates 20 years of independence in song |

reviews, news & interviews
Estonia celebrates 20 years of independence in song
Estonia celebrates 20 years of independence in song
Baltic state gathers for freedom
President Toomas Hendrik Ilves takes the stage in Tallinn last night to celebrate 20 years of independence in song
The former Soviet head of state Mikhail Gorbachev was a ubiquitous presence in the British news last week, wheeled out for the 20th anniversary of the dismantling of the USSR. The anniversary, though, is not just about what went on within what is now Russia or at the Berlin Wall. Last night saw 70,000 gather in the Estonian capital Tallinn for the Song of Freedom event, to mark the country's split from the USSR.
The Estonian Supreme Council declared independence at three minutes after 11pm on 20 August, 1991. Music was central to what became known as "The Singing Revolution". There was no violence when Estonia became an independent nation. Song of Freedom celebrated "The Singing Revolution".
The crowd at the Tallinn Song Festival Grounds were addressed by President Toomas Hendrik Ilves, as well as Ólafur Ragnar Grímsson, the President of Iceland, the first country to recognise Estonia's independence. His announcement of today's Iceland Day in Estonia was preceded by Ólafur Arnalds's "Hægt, kemur ljósið" being played. Just as Estonia and Iceland are tied together, music is symbiotic with Estonia's identity.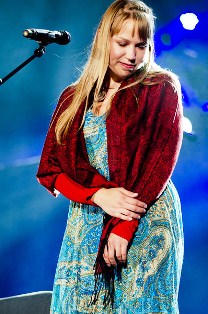 At two minutes past 11pm, Jaak Johanson, Jarek Kasar and Mari Kalkun took the stage to sing the special "Song of Creation", celebrating the creation of today's Estonia. First though, they sang the "Hymn of Estonia". In keeping with this being the singing nation, the audience joined in (see the clip below). Mari Kalkun (pictured right, photo from last night by Heiti Kruusmaa) commented that "people were singing with us. I hadn't experienced the Singing Revolution personally as I was so young then, so this was it tonight".
The US Secretary of State Hillary Clinton sent a message, saying of Estonia that "your successes give hope to those in the Middle East and North Africa who are looking to fulfil their own aspirations and realise their own potential".
In the year that Tallinn is the European Capital of Culture, this gathering was about music, and the positive power that music can have. A message that always needs reinforcing.
Watch the audience singing at last night's Song of Freedom event in Tallinn
{youtubejw}hqfBsSCmISc{/youtubejw}