DVD: Meek's Cutoff |

reviews, news & interviews
DVD: Meek's Cutoff
DVD: Meek's Cutoff
Kelly Reichardt's tense revisionist Western celebrates woman pioneers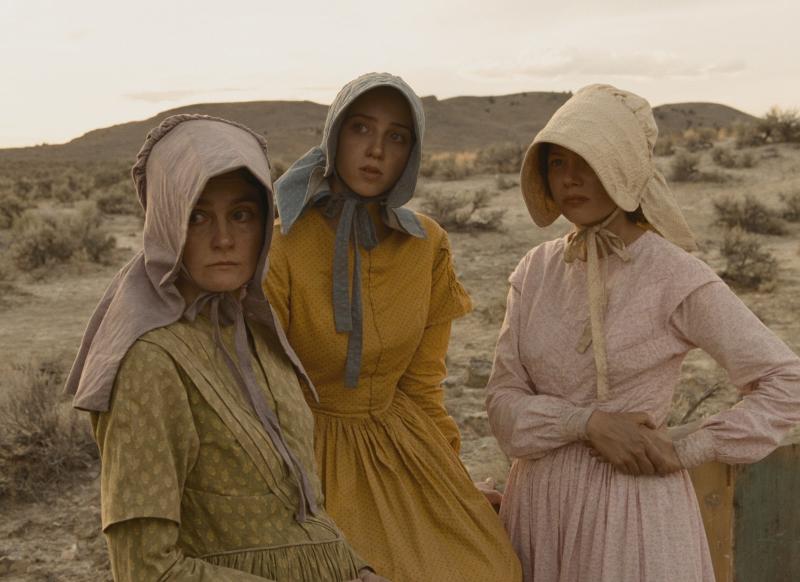 O Pioneers! Shirley Henderson (left), Zoe Kazan (centre) and Michelle Williams in 'Meek's Cutoff'
Spare, slow and beautiful, Kelly Reichardt's revisionist Western is an effective allegory about bad leadership in America, but it's as a minimalist tribute to women pioneers that it excels.
Inspired by the worst disaster to take place on the Oregon Trail, it hardly shows the extent of that tragedy. In reality, 150-300 wagons set out from Boise City in August 1845 and were led astray by the scout Stephen Meek (1807-86), whose cluelessness caused 24 deaths; maybe another 20 perished after the journey. Reichardt had three wagons at her disposal - each contains a pioneer couple, and one a young boy, whose discovery of gold is an irrelevance given their plight.
These overlanders have been persuaded by Meek (Bruce Greenwood) to leave the "main stem" to take a short cut - actually a detour into a hell of blasted plains and alkali lakes. When Meek apprehends a Cayuse Indian (Rod Rondeaux), he's all for execution but the husbands vote to preserve him so he'll lead them to water. Emily (Michelle Williams), the most principled of the wives, feeds the Indian and mends his moccasin, precipitating a showdown with Meek, who, by our standards, is a racist, sexist blowhard - Manifest Destiny in one blood-lusting, buckskinned package.
This latest "road movie" from Reichardt and screenwriter Jon Raymond, the team behind Old Joy and Wendy and Lucy, fully identifies with Emily, Glory (Shirley Henderson), the mother, and Millie (Zoe Kazan) - narrowly bonneted, treated as drudges, deprived of a voice in the decision-making process. Unlike the doughty brides in William Wellman's gritty Westward the Women (1951), however, they are not romanticised - Glory is dreamy and passive, Millie panics - which is why Emily's revolt against the patriarchal figure is all the more powerful.
Included on the disk, a lovely narrativeless featurette shows how hard it must have been to shoot the film.
Watch a clip from Meek's Cutoff

Explore topics
Share this article